Words a Word Finder for Games Like Words With Friends
By Hidden Elephant
This app is only available on the App Store for iOS devices.
Description
Wordsworth helps you quickly and easily find words for games like Words With Friends, Scrabble, and Bananagrams. Use it to learn new words, find valid words you may have missed, or to quickly settle Scrabble game disputes.

"This app is very useful when playing scrabble. It's quick, simple and to the point. I love it!"

"I love this app! Does exactly as advertised and it helped me get an awesome score on word challenge on facebook. Absolutely a must have app for word games."


FEATURES:

-Choose between the ENABLE and SOWPODS for English games
-ODS5 word list for French games
-Zingarelli 2005 word list for Italian games
-Enter blanks by pressing the space bar
-Remembers last letters entered
-Standard lower case notation to display letters generated from blanks
-Easily replace entered letters by touching and holding on a letter to move the cursor
-Simple and elegant interface
-Large word display for easy reading
-View words sorted by Scrabble score, length, or alphabetically

UPCOMING FEATURES:

Thanks for all of your wonderful feedback! We're hard at work implementing some of the most requested features. These will be available as free updates to current customers.

-Dictionary lookup
-User interface improvements
-Others yet to be determined from your requests
What's New in Version 1.10
Fixed bug where user's entered letters where replaced with wrong letters. Removed additional references to Scrabble at Hasbro's request.

Version 1.9 (December 8, 2010) Now supports both portrait and landscape modes.
Version 1.8 (September 23, 2010) Added missing high resolution images.
Version 1.7 (September 20, 2010) Added support for iOS4 multitasking. Fixed French and Italian scoring issues.
Version 1.6 (April 11, 2010): Changed name to "Words" for legal reasons.
Version 1.5 (March 17, 2010): Critical bug fix for updating users.
Version 1.4 (March 15, 2010): Changed name from Scrabby and removed TWL at request of Hasbro. Introduced ENABLE word list.
Version 1.3 (July 27, 2009): Lower case letter notation for blanks. Remembers last tiles entered. Added French and Italian word lists.
Version 1.2 (Apr 16, 2009): Added support for entering blanks.
Version 1.1 (Apr 01, 2009): Added TWL, SOWPODS preference.
Version 1.0 (Mar 24, 2009): Initial release.
iPhone Screenshots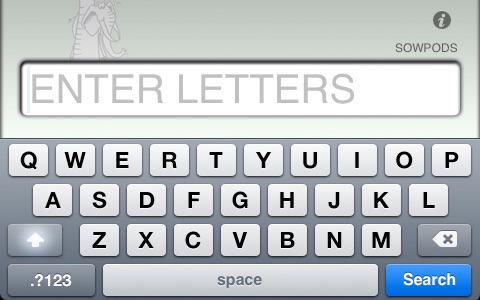 Customer Reviews
Not Worth Your Time or Money
I downloaded the app Words, A Word Finder for Games version 1.10 by Hidden Elephant onto my iPhone 5c and then again about a year later onto my iPhone 6s Plus in order to help me when I play Scrabble. At first this app seemed great, however I found that it frequently locks up, (frequently is an understatement!!). It especially locks up when you tilt the screen, which is very hard to avoid unless you lock the screen. But why would I do that? The app should work with the tilt screen feature not against it. To make matters worse, the only way to fix it is to completely delete the app and then download it again, closing the app doesn't help because it doesn't delete its prior data. Needless to say, this app gets VERY ANNOYING, VERY QUICKLY. After putting up with this for almost a year, I finally decided to write a review in hopes they it will help someone else steer clear of this annoyance of an app. FYI, I stuck with it so long because I thought there wasn't anything better (which is so wrong) and I thought they would fix the bug in an update (which they never did). Now I am trying Word Look Up Pro 4.1 and so far it works great! So please, DO NOT DOWNLOAD the app WORD, a WORD FINDER FOR GAMES, unless you want a life of frustration.
Hidden Elephant
One question I have about this app which I love; is using this app considered cheating? If so, I would feel really bad about all the games I've won because of the help I've had from finding the right word on it. I truly would like someone's opinion please. Not only do I use it to help with scrambling letters to help find the best word but I also use it to see if a word I thought of is valid. I must say though, that many words HE comes up with are not in Websters Dictionary. Makes me wonder if my opponent thinks I'm cheating when I enter a word that no one ever heard of.
Comments anyone?
Indispensable
I have been using this app for almost a year now. I love it. I find it easier to use than other products out there. Simple and effective. If I were to improve it I would add a dictionary function, which you could turn off or on in settings. Secondly, I would add a feature that would allow you to find words based on tiles already on the board, however, that would be more complicated and sort of spoil it. As it is now, it's worth it.
View in iTunes
$0.99

Category:

Games

Updated:

Mar 15, 2011

Version:

1.10

Size:

2.7 MB

Language:

English

Seller:

Hidden Elephant Software
Compatibility: Requires iOS 3.0 or later. Compatible with iPhone, iPad, and iPod touch.