WordTarget
By KickCode
Open the Mac App Store to buy and download apps.
Description
**~50% off for Black Friday until midnight Monday 28th November!**

WordTarget is a Mac OS X app designed to help you stick to a writing goal. It doesn't matter where or what you are writing - if your goal is to write a set amount of words a day, WordTarget will help you track yourself against that goal.

It sits unobtrusively in your menubar, and will track your word count across applications. You can start and stop it if you don't want something to count (like responding to emails or chatting on IM), and you can set it to count up to your target, or down from it, depending on what gets you more motivated!

You can also keep track of your totals for previous days within the improved user interface, to compare how you are doing against previous days. It might encourage you to increase your goal if you're regularly exceeding it, or decrease it slightly to meet realistic expectations if you're struggling to meet your word count each day. The target for each day is saved independently, so you can amend your current target without affecting whether you hit your target on past days!

Clicking on a day within the dropdown user interface will also reveal very useful per-application breakdowns of your words, so you can see where your words are coming from each day, and a notification will let you know when you've hit your target for the day! If you're using Mac OS X 10.10 (Yosemite) then the app works nicely with both the light and dark themes.

WordTarget helps you to manage your goals, and manage your output!

Works on Mac OS X 10.8, 10.9 and 10.10.

If you're having any permissions issues after installation stopping you from tracking your word count, see here: http://kickcode.com/wordtarget/setup/. Specifically, if you're upgrading from a previous version, make sure to re-add the permissions for the app based on those instructions, to be sure that the application has the permission it needs to run properly.
What's New in Version 1.2
* Improved user interface
* Improved support for 10.8, 10.9 and 10.10
* Easy at-a-glance view of whether you hit your target for a day
* Targets for each day are stored so changing your target doesn't change whether you hit your target for a day in the past
* Click to view the breakdown of your words per-application
* Local notification popup when you hit your target
Screenshots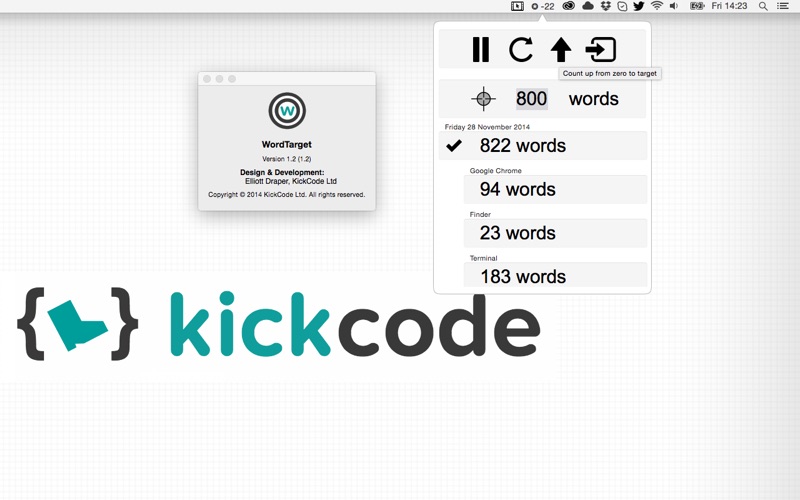 Customer Reviews
Nice interface, good concept, one serious limitation
This is a great app for those of us who chart our progress in term of word counts instead of the amount of time spent sitting in front of the computer. If the Pomodoro method isn't helping you meet your productivity goals then start setting word count goals and let this app help you meet them. (I'd also recommend the book Writing Your Dissertation in 15 Minutes A Day.)

But at present this app has a serious flaw: it counts all words that you type, even those that you immediately delete. If you write in a strictly stream of consciousness manner and never edit as you type this is fine, but for those of use who do minor editing along the way this app is essentially useless. I'm not a programmer but it seems to me that the solution is to implement a periodic recount on all open documents. I'm sure they're working on this but until this problem is fixed I won't be using this app very often.
Great app that can only get better
I was looking for a wordcounter that could tell me how much of my novel I wrote each day. The wordcount in microsoft word only displays the net word count, so that was no good. This app was almost perfect for me. Each time you open a writing document, you just start the app and it begins counting words typed since it was launched. It keeps track of previous days word counts as well, and you can set goals to motivate yourself.

The only problem so far is that when I delete a word the counter doesn't seem to recognize that. As a result when I finish typing 300 words it might say I had 350 when I deleted and reworded 50 words. Hopefully that can be corrected in an update.

I've emailed the creator and he promises lots of updates in the future. For me and my needs, this is the best wordcounter/motivator I could find anywhere. It's a little pricier than the apps I usually spring for, but to me was worth every penny.
Really love this app- wish they'd improve it!
I wish the developer would update the app to include the feature that people have discussed below, that deleting words counted against your goal. It would also be nice to have the ability to set different goals for apps or projects. But the deleting words thing is definitely a big strike against this app as it is.
View in Mac App Store
$1.99

Category:

Productivity

Updated:

Dec 05, 2014

Version:

1.2

Size:

2.7 MB

Language:

English

Seller:

KickCode Ltd
Compatibility: OS X 10.8 or later