World Conqueror 1945 for iPad
By EASY Inc.
This app is only available on the App Store for iOS devices.
Description
World Conqueror 1945 is a new style strategy game on the background of WWⅡ(Super Risk). In the game depending on troops you can compete for territories such as lands, cities and oceans, further for resources, develop economy and military, conquer enemies' capitals and destroy the enemies.
During the game you need to operate and distribute the three basic troops reasonably which include soldiers, tanks and artillery.(Soldier troop with high yields but general attack, tank troop with high attack and continue action when complete destroying the enemies, artillery troop attacks soldier troop and tank troop while they cannot strike back),judge on the current situation correctly at any time for the AI is outstanding. The attributes of arms are different from each country. For example, the tank of Germany is most powerful but with high price, the cannon of the Soviet Union is excellent, the navy of Britain is best.

The troop will gain experience by combat, and get the medal with enough experience. The troop owning the medal is with higher combat effectiveness than the normal troops and will become a Troop Ace.

In the game you need to use military cards to cooperate to the battle.
- Soldier Card (produce soldier troops)
- Tank Card (produce tank troops)
- Artillery Card (produce artillery troops)
- Battleship Card (take actions on the sea )
- Fortress Card (cannot move and attack during 3 rounds but improve defending)
- Construction Card (construct territories, improve taxes, highest level can draft army troop )
- Airstrike Card (Air attack the enemy of adjacent territory)
- General Card(equip a general to the troop for enhancing the attacking power)
- Marshal Card(equip a marshal to the troop for enhancing the defending power)
- Special Card (only owned by U.S.A, Germany, Soviet Union, Japan, Britain, France, Italy and used once every 7 rounds.)

Include two modes: conquest mode and battle mode
Conquest mode: choose one country from the 11 Axis and Allies which may change the fate of the world to dominate the world. The others will be your allies, enemies and neutral. There are 3 periods to choose from: 1940 the beginning WWⅡ,1942 the middle WWⅡ, 1944 the end WWⅡ.

Battle mode: 10 great battles which may change the fate of the world are waiting for your challenge!

1942 Pacific War
1943 China Burma India Theater
1942 The Battle of Kursk
1944 D-Day in Normandy
1941 North African Campaign
1942 Kokoda Campaign
1945 The Fate of Reich
1945 August Storm
1942 Compete for Indian Ocean
1940 Sea Road

Magnificent fighting music and sound can make you feel involvement.

Features:
- battle mode and conquest mode
- 243 territories
- 11 belligerent states
- 40 military troops
- 17 military cards
- 5 difficulty levels
- 3 periods and 10 battles
- auto save
What's New in Version 1.4
- map zoom
iPad Screenshots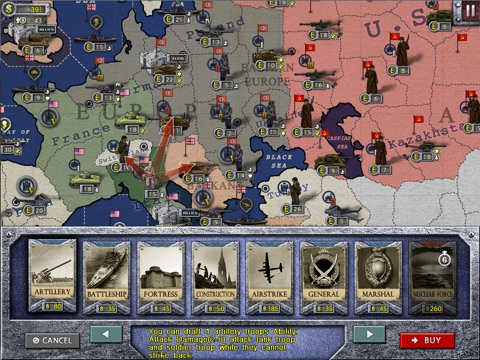 Customer Reviews
Great for killing time
Pretty easy game play. AI allies are mostly idiots and you have to kill neutrals and allies to win. AI allies spend too much time wandering around gathering points squares and attacking neutrals rather than helping in a winning strategy. OK when you play strong countries but when you want a challenge and play China or India for example your strong allies are all but useless. You are better off opening lanes for your allies to get in harms way and then when allies are depleted attack them and take their resource points. Not how real war works I suppose. Also the rules say Artillery cannot win a square and move into it immediately but enemies do that from sea. Also enemies can split their landing force and leave some units at sea while payer must land everyone. This is a bit unfair. The game interface is a lot cleaner and simpler than newer games from Easy Inc. but newer games allow forces to co-occupy a sqaure. Also once you've played a lot you realize it is simply a game of resource management and attrition. There should be a sue for peace option. When you are earning 1,000 points a round and your enemy is earning 400 but has lots of units it takes a while to inevitably end the game with a victory. Lots of fun though overall and worth playing.
Almost perfect, still worth playing
This game is patterned on Milton Bradley's "Axis & Allies" board game. This version is simple to learn and can be mastered in a few games. The game's simplicity is also its weakness. It lacks many capabilities for a strategy game like mixed weapons assaults from one space. Players cannot mix units in the same space like soldiers and tanks to amplify their strength. Battles are only waged using a maximum of five units per engagement even if an army has far more than that. This makes stockpiling weapons very easy because a player cannot use them all for battle in one turn. This unnecessarily lengthens the game.

That said I will continue to play with the expectation that these issues will be improved. The price, subject matter, and simplicity earn 4 stars. I would award 5 stars if the game limitations were fixed.
Strategy and tactics
This game is just the kind used at the war college, like Harpoon naval series. Basic tactics and combat moves dual unit attacks along with chest moves. This is great for the price and I only hope it keeps adding to it's naval and air combat units as well. Paratroopers, supply lines or a naval combat version would be great. System elements can be cross linked for dual platforms. Keep up the great work guys. When I was a kid in JROTC and ROTC in the 1980's we had the board games, Avalon Hill etc.. This is as close as it gets to those many years of play. How about A cold war, or the Soviet War we waited for and never came, nuclear war , Cuban war. Don't stop working.
View in iTunes
$2.99

Category:

Games

Updated:

May 30, 2012

Version:

1.4

Size:

57.3 MB

Languages:

English, Japanese, Simplified Chinese, Traditional Chinese

Seller:

zhang yue
Compatibility: Requires iOS 3.2 or later. Compatible with iPad.