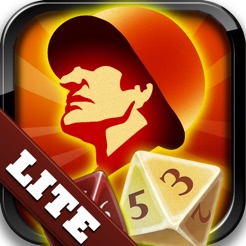 World Conqueror 1945 Lite
9+
Capturas de pantalla del iPhone
Descripción
World Conqueror 1945 is a new style strategy game on the background of WWⅡ(Super Risk). In the game depending on troops you can compete for territories such as lands, cities and oceans, further for resources, develop economy and military, conquer enemies' capitals and destroy the enemies.

During the game you need to operate and distribute the three basic troops reasonably which include soldiers, tanks and artillery.(Soldier troop with high yields but general attack, tank troop with high attack and continue action when complete destroying the enemies, artillery troop attacks soldier troop and tank troop while they cannot strike back),judge on the current situation correctly at any time for the AI is outstanding. The attributes of arms are different from each country. For example, the tank of Germany is most powerful but with high price, the cannon of the Soviet Union is excellent, the navy of Britain is best.



The troop will gain experience by combat, and get the medal with enough experience. The troop owning the medal is with higher combat effectiveness than the normal troops and will become a Troop Ace.



In the game you need to use military cards to cooperate to the battle.

- Soldier Card (produce soldier troops)

- Tank Card (produce tank troops)

- Artillery Card (produce artillery troops)

- Battleship Card (take actions on the sea )

- Fortress Card (cannot move and attack during 3 rounds but improve defending)

- Construction Card (construct territories, improve taxes, highest level can draft army troop )

- Airstrike Card (Air attack the enemy of adjacent territory)

- General Card(equip a general to the troop for enhancing the attacking power)

- Marshal Card(equip a marshal to the troop for enhancing the defending power)

- Special Card (only owned by U.S.A, Germany, Soviet Union, Japan, Britain, France, Italy and used once every 7 rounds.)



Include two modes: conquest mode and battle mode

Conquest mode: choose one country from the 11 Axis and Allies which may change the fate of the world to dominate the world. The others will be your allies, enemies and neutral. There are 3 periods to choose from: 1940 the beginning WWⅡ,1942 the middle WWⅡ, 1944 the end WWⅡ.



Battle mode: 10 great battles which may change the fate of the world are waiting for your challenge!



1942 Pacific War

1943 China Burma India Theater

1942 The Battle of Kursk

1944 D-Day in Normandy

1941 North African Campaign

1942 Kokoda Campaign

1945 The Fate of Reich

1945 August Storm

1942 Compete for Indian Ocean

1940 Sea Road



Magnificent fighting music and sound can make you feel involvement.



Features:

- battle mode and conquest mode

- 243 territories

- 11 belligerent states

- 40 military troops

- 17 military cards

- 5 difficulty levels

- 3 periods and 10 battles

- auto save
Reseñas de los clientes
Pretty good overall
This game has many excellent features which I have enjoyed. The game provides a feeling of actually controlling troopers all across the world. However this game does have a few flaws. First of all, the AI is sometimes ridiculously easy and sometimes incredibly hard no matter what difficulty you play on. Secondly, the enemy attack turn takes ages, even when put on its fastest setting. Finally, it's really annoying that it doesn't matter if your winning or losing, if any capital is taken the game ends. Which doesn't eleven make sense.
Needs offline multiplayer
Mexico didn't do any fighting though and EASY Inc. should make a pass and play multiplayer(offline) if it was online people would quit since it would take forever
I got this exact game on my DS 3 years ago
I just saw this and downloaded it so I could say I've had this exact game on my DS for 3 years but it's called World Conqueror 3D. Still great game !
Información
Vendedor

zhang yue

Tamaño

26.7 MB

Categoría

Compatibilidad

Requiere iOS 3.1 o posterior. Compatible con iPhone, iPad y iPod touch.

Idiomas

Chino simplificado, Chino tradicional, Inglés, Japonés

Edad

Clasificación 9+ por lo siguiente:

Violencia de caricaturas o violencia de fantasía infrecuente/moderada

Copyright

© Easy Tech

Precio

Gratis
Compatibilidad
Compartir en familia

Hasta seis miembros de una familia podrán usar esta app mientras la función Compartir en familia esté activada.