The World Ends with You: Solo Remix for iPad
By SQUARE ENIX INC
Essentials
Open iTunes to buy and download apps.
Description
SUPPORTED DEVICES
iOS 5.1.1 or later is required.

Square Enix's fresh-faced hit The New York Times called "one of the best role playing games ever designed for anything" has busted onto iOS in a big way, with a slick and addictive new combat system, eye-popping HD art, and (of course) plenty of zetta awesome reasons for longtime fans to double dip.

Arm yourself with psychic superpowers and battle your way through a 7-day gauntlet of action: the Reaper's Game.


THE SETUP
-------------------------------------------------
Welcome to Shibuya, a mishmash of attitudes and styles in the heart of Tokyo.

A boy named Neku wakes up in a crowded intersection, alone and unaware of how he got there. Then, he receives a weird text: "Clear this mission...or face erasure." With that, Neku is thrust into a life-or-death Game that sends him scrambling down streets paved with one riddle after another...

What is the Reaper's Game? Why is Neku a Player, and what is he playing for? Will the Game really end if he survives all 7 days? Another mystery is always around the corner.


THE PAYOFF
-------------------------------------------------
- Intuitive, addictive combat with a twist
Activate your combat abilities, or "psychs," with simple touch commands like tapping, slashing, and dragging. Comfy with that? Control Neku and his Game partner on the same screen and take the combat up a notch. Like loot? Boost your item drops in battle with the revamped Fusion system.

- Deep replay value
Finish the main story to unlock a hilarious bonus chapter, more quests and items to find, new combat challenges, and secret reports that flesh out the story even more.

- Explore a living, breathing city
Neku's sprawling world is based on the real-life Shibuya in Tokyo. Visit real locations and absorb some real Japanese culture through a hip fantasy lens.

- Redrawn art and Retina display support
Enjoy the game in full HD on your Retina-enabled iPhone 4 or later device. Art and animation across the game has been redrawn just for this release, making combat a beautiful experience. This is how all 2D classics should look.

- The ultimate soundtrack: 60 songs
Composer Takeharu Ishimoto's complete, sonically sublime soundtrack is included right in the game with high-quality audio and full vocals, including remixes and new songs.


THE VERDICT
-------------------------------------------------
Praise for the original The World Ends with You:

"Compelling and immaculately presented...from start to finish" – Gamespot

"Nails just about everything it tries – and it tries quite a lot" – IGN AU

"Full of mysteries and surprises, interesting characters" – The New York Times

"A compelling risk/reward system that...amply blesses the daring" – 1UP

"Ice-cool artwork...impossibly catchy soundtrack" – Eurogamer

"Games rarely have things this interesting to say" – G4TV

DS Best RPG/Best Story/Best New IP and DS Game of the Year – IGN
What's New in Version 1.2.1
"VERSION 1.2.1
- iOS8 support added."
iPad Screenshots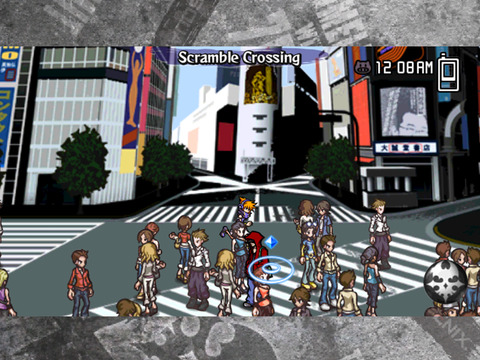 Customer Reviews
Best game on iOS
For those of you new to The World Ends With You: For those of you who don't know this was a sleeper hit on the Nintendo DS quite a few years back. It received massive critical acclaim both for its amazing art and incredible gameplay. It is by the same development team as the Kingdom Hearts franchise, and has the same amount of polish seen in those games.

For those of you who played the original release: This is not the same game as the one on the DS. Sure it is the same story, same characters, same map, but the port to the iPad is nothing short of astounding. ALL the sprites have been completely redrawn, the combat system has been completely reworked, offering an entirely new experience for the seasoned TWEWY veteran.
It's Returned Thank God
At this point I thought it would never be repaired I can't even bring myself to criticize the fact that it took half a year to fix and mark it down a star. It's a great and this version is the go to version if you aren't a fan of the ds two screen gameplay.
You did it
"If fixed it deserve 5 stars, best game in the app store" this is what I said about it before the update, and I was right, the game is back! And good as always. My only complaint is the cloud support, this game needs it. In all this mess I had to uninstall the game, and I lost my save data, if cloud support was enabled, I would have my old save data today.
View In iTunes
$19.99

Category:

Games

Updated:

Jun 26, 2015

Version:

1.2.1

Size:

740 MB

Languages:

English, Japanese

Seller:

SQUARE ENIX Co., Ltd.
Compatibility: Requires iOS 5.1.1 or later. Compatible with iPad 2 Wi-Fi, iPad 2 Wi-Fi + 3G, iPad Wi-Fi (3rd generation), iPad Wi-Fi + Cellular (3rd generation), iPad Wi-Fi (4th generation), iPad Wi-Fi + Cellular (4th generation), iPad mini Wi-Fi, iPad mini Wi-Fi + Cellular, iPad Air, iPad Air Wi-Fi + Cellular, iPad mini 2, iPad mini 2 Wi-Fi + Cellular, iPad Air 2, iPad Air 2 Wi-Fi + Cellular, iPad mini 3, iPad mini 3 Wi-Fi + Cellular, iPad mini 4, iPad mini 4 Wi-Fi + Cellular, iPad Pro, and iPad Pro Wi-Fi + Cellular.
Top In-App Purchases
Crafting Material Set x 1$0.99
Gourmet Rice Ball x 1 (Food)$0.99
100,000 Yen x 1 (Pin)$0.99
Extra CD: Track 62 (Swag)$0.99
Extra CD: Track 64 (Swag)$0.99
Extra CD: Track 63 (Swag)$0.99
Extra CD: Track 61 (Swag)$0.99
Extra CD: Track 69 (Swag)$0.99
Extra CD: Track 66 (Swag)$0.99
Extra CD: Track 65 (Swag)$0.99