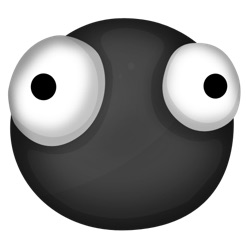 Description
Beautiful and surprising, the millions of Goo Balls who live in the World of Goo are curious to explore - but they don't know that they are in a game, or that they are extremely delicious.

Drag and drop living, squirming, talking, globs of goo to build structures, bridges, cannonballs, zeppelins, and giant tongues.

Mysterious Levels - Each level is strange and dangerously beautiful, introducing new puzzles, areas, and the creatures that live in them.

World of Goo Balls - Along the way, undiscovered new species of Goo Ball, each with unique abilities, come together to ooze through reluctant tales of discovery, love, conspiracy, beauty, electric power, and the third dimension.

The Sign Painter - Someone is watching you.

World of Goo Corporation - Congratulations! World of Goo Corporation is the Global Leader in Goo and Goo Related Product, including World of Goo Corporation Trademark Brand Soft Drink Beverage and World of Goo Corporation Trademark Brand Facial Exfoliating Lotion. Succulent!

Massive Online Competition - Human players around the world compete in a living leaderboard to build the tallest towers of goo in World of Goo Corporation's mysterious sandbox. World of Goo Corporation is contractually obligated to state that everyone is a winner and is enthusiastic to celebrate everyone's tower building opportunities equally.

Congratulations, and good luck!

Awards and recognition for World of Goo:
* Best Design -Academy of Interactive Arts and Sciences
* Best Downloadable Title -Game Developers Choice Awards
* Best Design -Independent Games Festival
* Technical Excellence -Independent Games Festival
* Best Indie Game -Spike TV Video Game Awards
* Game of the Year -Rock Paper Shotgun
* Game of the Year -GameTunnel
* Wii Game of the Year -IGN
* Best PC Puzzle Game -IGN
* Best Wii Puzzle Game -IGN
* Best Artistic Design Wii -IGN
* Best New IP Wii -IGN
* Most Innovative Design Wii -IGN
* Puzzler of the Year -Golden Joystick Awards
Ratings and Reviews
Can't Exit Full Screen EVER
The game is great—imaginative, physics-based, cool design. However, as a previous reviewer noted, you can't get out of full screen once you enter it. NOTHING works—not "ESC", or moving the cursor to the side or corner of the screen, etc. Once you quit the game and reopen it, it is STILL in full screen. The previous review was posted several months ago, and I bought this app figuring that the developer would have figured out how to address the problem, but no, they don't seem to care. If al I want to do with my computer for an hour or more is play this game, fine, but I use my computer for a lot of stuff, and often need to check mail, etc., between levels.
fun… but
The game is stable, fun and relaxing however there are three issues that I find particularly annoying.
1. No way to get out of full screen mode. In order to do anything else on my machine I have to quite the game.
2. No way to turn off the music. I don't want to listen to the tedious, unimaginative sound track. I want to listen to the music I have in my library.
3. No way to control the volume of the sound effects or music.
These are all basic interface functions and I can't imagine why the devs didn't include them.
Great Game
Good gameplay with continual twists. Funny story and good puzzles, without being frustrating.
Information
Seller

2D BOY

Size

68.1 MB

Category

Compatibility

OS X 10.6.6 or later

Age Rating

Rated 4+

Copyright

© 2008 2D BOY

Price

$9.99
Supports
Family Sharing

With Family Sharing set up, up to six family members can use this app.