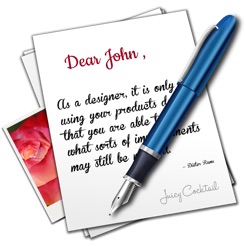 Wrіte Docs - Powerful Word Processor
4+
Description
Write Docs is a powerful word processor, with all the features you'd expect.

Choose a great design, ranging from a simple letter to a professionally polished invoice to an outlined agenda and more. Then write some clever words. That's how you create everything in Write Docs. It all looks so impressive, it's hard to believe it's so simple. With iCloud* built right in on OS X Mountain Lion, the documents you create are kept up to date across all your devices.

Streamlined word processor
• Start typing in seconds with a simple, very fast interface
• Change the alignment, font, size, color, character and line spacing and more
• Use already built-in text styles or create your own and apply them with just one click
• Use the spell checker and proofreader to give your documents the last polish
• Word processing utilities including word count and automatic page numbering
• Save your documents in iCloud*
• Auto-Save, Versions and Resume

Advanced writing tools
• Create smart headers & footers with your custom font, automatically generated page numbers, date & time or the document title
• Use one of the pre-designed templates for the most common occasions
• Advanced Template Chooser
• Add snippets to the current document
• Full-screen view
• Find and Replace

Compatibility and sharing
• Write Docs uses the RTF standard instead of its own format, so that your documents always stay compatible with other word processors
• Import and export Microsoft Word documents**
• Export PDF files
• Import and export documents in a variety of formats: Rich Text Format (.rtfd), Web Page (.html), OpenDocument Text (.odt) and plain text (.txt)**
• Add images in the most common formats (JPEG, GIF, PNG and more)
• Looks great on the MacBook Pro with Retina Display

* iCloud requires OS X Mountain Lion 10.8

** Write Docs uses Apple's native conversion. Its limitations may apply.
• OS X Mavericks 10.9 compatibility
Ratings and Reviews
Write Doc
Having used MAC word processor Pages for years, and always frustrated by needing to change the formatted font, spacing, etc. each time, Write Docs is superior to Pages in its ease of use, allowing for setting of any font or format you may desire, including and use of color. With Pages, there is the task of filing a draft or completed document, while Write Doc has its own file, simplifying reopening the draft or a finished document. A document can be sent right from this word processor, another quality Pages lacks. And you do not have the apprehension of losing a draft that you may have spent some time on, which has been an occurrence for me with Pages. Write Doc turned my iMAC into a true word processor for daily use. An exceptional bargain at $10 and more valuable than Pages.
Crippled by inconsistency. Truly a waste of money.
Here are the signs of a half-baked app: 1. Wrap-to-Window does nothing. (Unlike Text Edit which toggles with Wrap-to-Page) 2. Toolbar customizations do not stick. They are not preserved across documents or open/closing. 3. The Sidebar toggle toggles sometimes, most times not. And when it does toggle in, it collapse the writing portion of the document window to a ridiculously narrow space.

Wrote develper - no response. Asked Apple for refund - could not get form to complete ("try again later").

All those $5-$15 word processors flooding the App Store seem to be amateur efforts to adapt and brand the same code base - same limited function set, nothing original or compelling.
I asked the Write 2 developer (another example of the new breed of crapware word processors) why page breaks show up in draft mode and he simply said it just works that way and that the other customer who asked about it "was an idiot".

Buying Write Docs was like flushing $15 down the toilet. Stick to TextEdit or ...

I decided instead to update my license for Nisus Writer. That guy is a pro - the app is powerful, reliable and fun. It is not on the App Store but don't let that bother you. Some of the best developers are not.

*** Correction: Nisus IS on the App Store ***

No, I am not a shill for Nisus, just an experienced writer who flirted with cheap and got, not what I paid for, but nothing at all - not with Write Docs.
Information
Seller

Rafael Bugajewski

Size

13.3 MB

Category

Compatibility

OS X 10.7 or later, 64-bit processor

Age Rating

Rated 4+

Copyright

© 2013 Juicy Cocktail

Price

$19.99
Supports
Family Sharing

With Family Sharing set up, up to six family members can use this app.