Write - A Note Taking & Markdown Writing App
By Tanmay Sonawane
Open the Mac App Store to buy and download apps.
Description
Write is a modern note taking app with a stunning interface.

You might be a writer, student, blogger or just a simple person who likes to keep things in order and make life productive, you'll love Write!

No matter where you store your notes, Write will organise and present them beautifully.

----------------
Features
----------------

- Full Multimarkdown 4 Support
- Syntax Highlighting and a unique Rich Text Markdown mode
- Distraction free writing interface
- Beautiful handpicked fonts and support to use your own fonts
- Type Writer Scrolling
- Customisable Theme and Export CSS
- Butter smooth scrolling no matter how big your document
- Word, Sentence, Paragraph count and Estimated Reading Time stats
- Drag Drop Image/URL Support via panels
- Select to Copy HTML offers super quick way to get HTML code for a particular piece of markdown text
- Dark Theme
- Menu bar app

----------------
Tags & Syncing
----------------

- Organise your notes with tags
- Tags will be synced over iCloud with Write for iPhone & iPad
- Any tag you add via Write will be available in Finder (Mavericks only)
- Any tag you add via Write for iOS will be available in Finder
- Full iCloud synchronisation for notes and tags
- Full Dropbox* synchronisation for notes
- Ability to use Google Drive, Box.net, SkyDrive, etc to read, edit & save your notes*.

*requires respective Mac client app.

----------------
Sharing
----------------

- Export as PDF, RTF and HTML
- Share over iMessage or AirDrop
- Post on Twitter or Facebook
- Customisable Export CSS

----------------
Support
----------------

If you're facing any issues please contact us directly at support@writeapp.net instead of leaving your remarks in reviews, we guarantee a response within 24hrs.

If you like the app please take a moment to leave a nice review, it helps us a lot.
What's New in Version 1.1.4
- Fixed scrolling issues in Yosemite
- Performance improvements on Yosemite
- Minor bug fixes

We are working on some major Yosemite specific features. I highly recommend you to update to Yosemite if you already haven't.

If you find the app useful, please take a moment to give a nice rating. It helps a lot to provide you with continued support and updates.

If you face any issues please contact us at support@writeapp.net instead of leaving your remarks in reviews.
Screenshots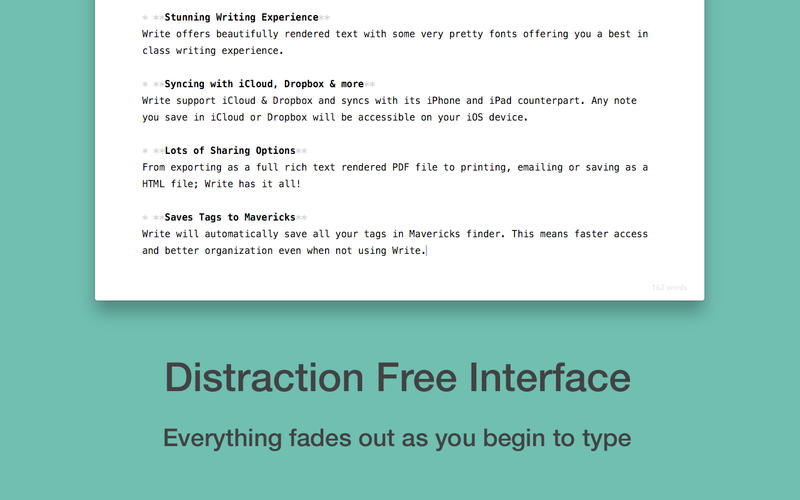 Customer Reviews
Derserves a better name than "Write." Much more than a "Notes" app, too.
Write works seamlessly with Marked 2! Even the vaunted and (I think) grossly overpriced Ulysses can't do that!

What I really like about this app:
* The files are stored as simple text docs instead of some arcane private format like so many others -- all the organizational tools seem to be internal in the program.
* Several ways to view markdown in document.
* For long-document work, it has document-management function like Scrivener or Ulysses, but without all the overhead.
* The price is simply grand!

My wish-list to turn this into my all-time favorite:
* Manual document re-ordering
* Document text zoom
* Invisibles (could help in final editing work)
* Elimination of "grocery list" in left panel: "Documentation; View Tour; Write for iOS; Feedback." You might need those once -- only; why clutter up a nice interface?
* A new name! How many "Write"-ish apps are out there now? This one is more than just a text editor or a note taker -- give it a name that gives it respect!
* Perhaps a few more updates. I know, I know...if it ain't broke.... But as a wise friend of mine once said: "People don't mind 'Under Construction' in the virtual world -- they just want to see the dust.'"

Please keep up the good work on this!
Completely new to this, but I figured it out-ish.
This morning I searched for "book writing app" and "Write" came up as one of the 5 best. I bought a copy. Several hours later I had a simple text file with several dozen images and links in place. I sized and created composite images using Ps. I used Full Screen to stay focused: it worked. After a break I went looking for ANY information on how to use "Write". I eventually found my way to the "Multimarkdown User's Guide by Fletcher T. Penney. From that I learned how to *italicize* and **mark bold**. My document included two equations, but no matter how I tried I could not get Write to respond to the syntax suggested by Penney. I will have to keep looking, or find a Forum dedicated to new users. So far, so good.
A great alternative GUI for my nvALT archives
I've been an nvALT fan for years, and I still use that quite a lot for quick access to my notes. But Write is really nice for longer format writing and as a front-end to my extensive nvALT files. Write's interface is easy on the eyes and encourages me to write. So I find I use it a lot for journaling, in addition to other tasks. The tagging interface is nicely done. The ability to connect to multiple libraries is a real plus, as I like to keep my home and work notes separate. To me, it's a great alternate interface for nvALT, and well worth the money. Keeping notes as plain text (or Markdown) keeps life simple, and is a huge improvement over bulky word processors with proprietary file formats.
View in Mac App Store
$9.99

Category:

Productivity

Updated:

Dec 14, 2014

Version:

1.1.4

Size:

13.1 MB

Languages:

English, French, German, Greek, Italian, Japanese, Polish, Simplified Chinese, Spanish, Traditional Chinese

Seller:

Tanmay Sonawane
Compatibility: OS X 10.9 or later, 64-bit processor