Write - A Note Taking & Markdown Writing App
By Tanmay Sonawane
Open the Mac App Store to buy and download apps.
Description
Write is a modern note taking app with a stunning interface.

You might be a writer, student, blogger or just a simple person who likes to keep things in order and make life productive, you'll love Write!

No matter where you store your notes, Write will organise and present them beautifully.

----------------
Features
----------------

- Full Multimarkdown 4 Support
- Syntax Highlighting and a unique Rich Text Markdown mode
- Distraction free writing interface
- Beautiful handpicked fonts and support to use your own fonts
- Type Writer Scrolling
- Customisable Theme and Export CSS
- Butter smooth scrolling no matter how big your document
- Word, Sentence, Paragraph count and Estimated Reading Time stats
- Drag Drop Image/URL Support via panels
- Select to Copy HTML offers super quick way to get HTML code for a particular piece of markdown text
- Dark Theme
- Menu bar app

----------------
Tags & Syncing
----------------

- Organise your notes with tags
- Tags will be synced over iCloud with Write for iPhone & iPad
- Any tag you add via Write will be available in Finder (Mavericks only)
- Any tag you add via Write for iOS will be available in Finder
- Full iCloud synchronisation for notes and tags
- Full Dropbox* synchronisation for notes
- Ability to use Google Drive, Box.net, SkyDrive, etc to read, edit & save your notes*.

*requires respective Mac client app.

----------------
Sharing
----------------

- Export as PDF, RTF and HTML
- Share over iMessage or AirDrop
- Post on Twitter or Facebook
- Customisable Export CSS

----------------
Support
----------------

If you're facing any issues please contact us directly at support@writeapp.net instead of leaving your remarks in reviews, we guarantee a response within 24hrs.

If you like the app please take a moment to leave a nice review, it helps us a lot.
What's New in Version 1.1.4
- Fixed scrolling issues in Yosemite
- Performance improvements on Yosemite
- Minor bug fixes

We are working on some major Yosemite specific features. I highly recommend you to update to Yosemite if you already haven't.

If you find the app useful, please take a moment to give a nice rating. It helps a lot to provide you with continued support and updates.

If you face any issues please contact us at support@writeapp.net instead of leaving your remarks in reviews.
Screenshots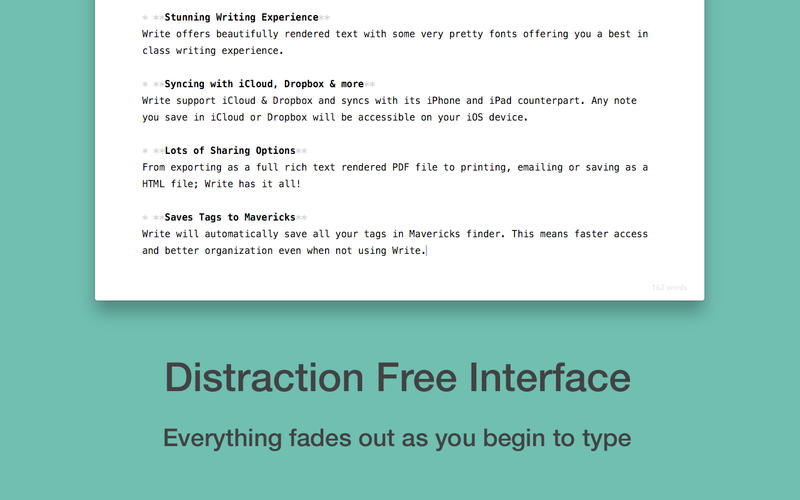 Customer Reviews
Not a frictionless experience
There are a lot of things I love about this app. I love the ability to sync with both Dropbox and iCloud drive. I love how it doesn't lock you into its ecosystem and makes it easy to work with whatever apps you want to. I love that you can use folders (I've been using it so it functions as a lite version of Scrivener). Once I realized that the Scratchpad menu bar was just that — a scratchpad — and not a quick entry bar, I really appreciated it, and like that it syncs with the iPad/iPhone versions.

But there are a lot of little usability things that keep bothering me. As far as I can tell, there's no way to move files from one folder to another within the app (definitely not via drag & drop, at least). There's no keyboard shortcut to activate the scratchpad that I can find, nor is there applescript support for me to easily make a shortcut.

And I really hate how the file pops out into a new window if you want to fullscreen it for distraction-free writing. This is definitely a personal preference thing, but one thing I LOVE about Letterspace is how the list of files slides in and out of view with a simple keyboard shortcut. It looks and feels very elegant. I also find myself missing Letterspace's support for gestures — I'm constantly swiping to delete a note, only to remember that you can't do that in the Mac app.

In short: It gets all the really important features write, but little usability quirks make it less than a joy to use.
Derserves a better name than "Write." Much more than a "Notes" app, too.
Write works seamlessly with Marked 2! Even the vaunted and (I think) grossly overpriced Ulysses can't do that!

What I really like about this app:
* The files are stored as simple text docs instead of some arcane private format like so many others -- all the organizational tools seem to be internal in the program.
* Several ways to view markdown in document.
* For long-document work, it has document-management function like Scrivener or Ulysses, but without all the overhead.
* The price is simply grand!

My wish-list to turn this into my all-time favorite:
* Manual document re-ordering
* Document text zoom
* Invisibles (could help in final editing work)
* Elimination of "grocery list" in left panel: "Documentation; View Tour; Write for iOS; Feedback." You might need those once -- only; why clutter up a nice interface?
* A new name! How many "Write"-ish apps are out there now? This one is more than just a text editor or a note taker -- give it a name that gives it respect!
* Perhaps a few more updates. I know, I know...if it ain't broke.... But as a wise friend of mine once said: "People don't mind 'Under Construction' in the virtual world -- they just want to see the dust.'"

Please keep up the good work on this!
A good start, but unsupported
This app has potential. Syncing and the ability to use your TextExpander shortcuts are the two features that compelled me to pay fo rboth the App and mobile versions. Both are buggy. Bugs were reported to developer and there has not been any effort to correct. It has been 7+ months since last update and even in the description they mention "major Yosemite specific features"…well El Capitan is already in public beta so I guess the "Yosemite specific features" are now moot. It is frustrating when app developers take your money in exchange for a supported product then simply take themoney and run. This could be THE BEST markdown editor but since it is riddled with bugs and the bugs do not seem to be being addressed (getting a Yosemite specific version out was more important) I cant recommend paying for this app at this time. What is there is good, but the bugs and lack of support make this a waste of money.
View in Mac App Store
$9.99

Category:

Productivity

Updated:

Dec 14, 2014

Version:

1.1.4

Size:

13.1 MB

Languages:

English, French, German, Greek, Italian, Japanese, Polish, Simplified Chinese, Spanish, Traditional Chinese

Seller:

Tanmay Sonawane
Compatibility: OS X 10.9 or later, 64-bit processor