Write - A Note Taking & Markdown Writing App
By Tanmay Sonawane
Open the Mac App Store to buy and download apps.
Description
Write is a modern note taking app with a stunning interface.

NOTE: iCloud sync between iOS and Mac version of Write is currently broken. I have no definite date on a fix for this. Dropbox sync should be working just fine.

You might be a writer, student, blogger or just a simple person who likes to keep things in order and make life productive, you'll love Write!

No matter where you store your notes, Write will organise and present them beautifully.

----------------
Features
----------------

- Full Multimarkdown 4 Support
- Syntax Highlighting and a unique Rich Text Markdown mode
- Distraction free writing interface
- Beautiful handpicked fonts and support to use your own fonts
- Type Writer Scrolling
- Customisable Theme and Export CSS
- Butter smooth scrolling no matter how big your document
- Word, Sentence, Paragraph count and Estimated Reading Time stats
- Drag Drop Image/URL Support via panels
- Select to Copy HTML offers super quick way to get HTML code for a particular piece of markdown text
- Dark Theme
- Menu bar app

----------------
Tags & Syncing
----------------

- Organise your notes with tags
- Tags will be synced over iCloud with Write for iPhone & iPad
- Any tag you add via Write will be available in Finder (Mavericks only)
- Any tag you add via Write for iOS will be available in Finder
- Full iCloud synchronisation for notes and tags
- Full Dropbox* synchronisation for notes
- Ability to use Google Drive, Box.net, SkyDrive, etc to read, edit & save your notes*.

*requires respective Mac client app.

----------------
Sharing
----------------

- Export as PDF, RTF and HTML
- Share over iMessage or AirDrop
- Post on Twitter or Facebook
- Customisable Export CSS

----------------
Support
----------------

If you're facing any issues please contact us directly at support@writeapp.net instead of leaving your remarks in reviews, we guarantee a response within 24hrs.

If you like the app please take a moment to leave a nice review, it helps us a lot.
What's New in Version 1.1.4
- Fixed scrolling issues in Yosemite
- Performance improvements on Yosemite
- Minor bug fixes

We are working on some major Yosemite specific features. I highly recommend you to update to Yosemite if you already haven't.

If you find the app useful, please take a moment to give a nice rating. It helps a lot to provide you with continued support and updates.

If you face any issues please contact us at support@writeapp.net instead of leaving your remarks in reviews.
Screenshots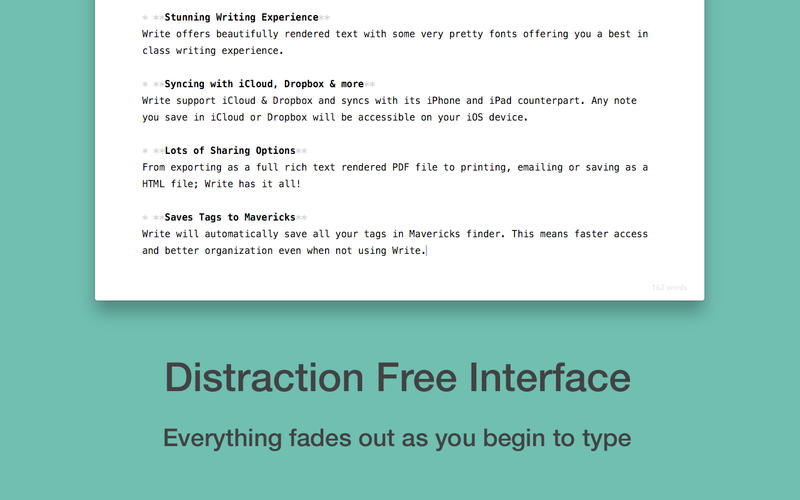 Customer Reviews
Elegant and simple writing experience
I made the move to Write from nvALT. I tried Byword first, but Write's three column layout and it's simple and elegant menus, feature sets and menu bar icon made it preferable. The pop-out to full screen poses no problems for me though I understand why other reviewers would prefer a simpler, one-step experience. I actually like the "grocery list" layout to which I was conditioned by nvALT, but do wish I had the option to hide it away like a shelf and/or recalibrate its width. Manual, drag/drop reordering of files in that list would be useful The ability to resize the windows and columns seems more fundamental, so the overall experience on a smaller screen could be made more compact.

I hope the developer will take these things into consideration and possibly add some more things (e.g., advanced search and highlight functions, advanced document statistics and grammatical checks (a la Marked 2)) for the next update, because it's a lovely app with a sound foundation — a perfect complement to an academic workflow that includes references managers, pdf annotators, data analytical packages and full manuscript preparation suites (e.g., Scrivener). I use the iOS version as well and have never had a bad experience with it.
Was decent, but the developer has abandoned it….
I loved the idea of this app, but like others, I have problems with bullets, one of the most elementary things a markdown app should do right. Furthermore, the iPad app doesn't have an sliding key row like the iPhone app does, so it all seems somewhat random. The sync issues are many; I have no clue where this app stores my notes in iCloud; strangely there is no dedicated folder for Write, although "Write" shows up on the very top as if there should be one there. yet it just dumps my files into the top level of my iCloud Drive. File management is impossible; you have click "reveal in Finde"r to find your notes. I have found only one thing to work quite well, and that is support for images. My personal sugeestion is that if you want Multimarkdown support, purchase Multimarkdown Composer created by Fletcher Penny. Go to his website first, as he has a wealth of MMD information there. He's responsive as a developer and makes the BEST Multimarkdown App for Mac, because he invented Multimarkdown. I really wanted a solution that would work on both Mac and iOS and had hoped Write would fit the bill, but sadly it seems that the developer has moved on to other things and future deveopment is out of the question.
Not a frictionless experience
There are a lot of things I love about this app. I love the ability to sync with both Dropbox and iCloud drive. I love how it doesn't lock you into its ecosystem and makes it easy to work with whatever apps you want to. I love that you can use folders (I've been using it so it functions as a lite version of Scrivener). Once I realized that the Scratchpad menu bar was just that — a scratchpad — and not a quick entry bar, I really appreciated it, and like that it syncs with the iPad/iPhone versions.

But there are a lot of little usability things that keep bothering me. As far as I can tell, there's no way to move files from one folder to another within the app (definitely not via drag & drop, at least). There's no keyboard shortcut to activate the scratchpad that I can find, nor is there applescript support for me to easily make a shortcut.

And I really hate how the file pops out into a new window if you want to fullscreen it for distraction-free writing. This is definitely a personal preference thing, but one thing I LOVE about Letterspace is how the list of files slides in and out of view with a simple keyboard shortcut. It looks and feels very elegant. I also find myself missing Letterspace's support for gestures — I'm constantly swiping to delete a note, only to remember that you can't do that in the Mac app.

In short: It gets all the really important features write, but little usability quirks make it less than a joy to use.
View in Mac App Store
$9.99

Category:

Productivity

Updated:

Dec 14, 2014

Version:

1.1.4

Size:

13.1 MB

Languages:

English, French, German, Greek, Italian, Japanese, Polish, Simplified Chinese, Spanish, Traditional Chinese

Seller:

Tanmay Sonawane
Compatibility: OS X 10.9 or later, 64-bit processor