xDiagram
By Tien Thinh Vu
Open the Mac App Store to buy and download apps.
Description
xDiagram application could help you make nice diagram graphic documents or UML documents quickly by keeping lines connected to shapes even when they're moved.

Functions of the application:

+ SUPPORT VISIO formats: VSDX, VSDM (Microsoft Visio Format)

+ IMPORT/EXPORT many other formats: svg, png, jpeg, tiff, pdf...

+ SMART LINE / CONNECTOR:
Smart Line if attached to a shape will automatically change position every time when the main shape is moved, resized.

+ BASIC SHAPE (new):
There are 92 shapes to add to your diagram. You could add/change text to display inside the shape.
Drawing UML activity diagram will be easier using these shapes.

+ PRE-DEFINED IMAGES (new):
There are 1056 predefined nice images shapes for you to add to your diagram.
Shape types are as following:
- Computer
- Network
- Office
- Life
- Traffic
- Meme
- Flag

+ OVER 2000 BEAUTIFUL SYMBOLS:
More than that, there are over 2000 beautiful symbols for you to add to the diagram.

+ ADD IMAGE:
You could add any image file (support file type: gif, jpeg, png, bmp, pict, tiff) to display as an item inside the application.
Image file could be shown in following modes: Stretch / Fit inside bound / Fit outside bound.

The application also allows to DRAG/DROP many image files directly from Finder or pasted image from clipboard to current editing window to add them to the diagram.

+ GENERATE UML CLASS DIAGRAM from C++/JAVA SOURCE:
By dragging C++ header(*.h) or Java files, folders into the diagram window, the application will auto-generate UML class diagram for you. (Accurate rate: 90%)

+ ALIGN MULTIPLE ITEMS:
Select many items then do right-click mouse to select alignment options as following:
(also allow to auto-align with another objects)
- Left
- Right
- Top
- Bottom
- Center (Horizontal or Vertical)
- Distribute
- Horizontal center in View
- Vertical center in View

+ OPEN/SAVE to "*.UMD3" file:
UMD3 (*.umd3) is the new file type created only for this application.
Press "Cmd + S" to save current diagram to an UMD3 file so that you could load it later for editing.

+ EXPORT TO IMAGE FILE:
Press "Cmd + E" to export current diagram to an image file with format of VSDX, SVG, PDF, TIFF or PNG or JPEG.

+ SUPPORT PRINT:
Press "Cmd + P" to print current document.

+ CAPTURE TO CLIPBOARD:
Press "Cmd + 4" or click on Capture button to export current diagram image to clipboard, then you could paste that image to another application.

Example: Open [Preview] application, press "Cmd + N" to paste above captured image to view or to save to an image file.
Of course, you could paste that image to Excel, Word application too.

-----------------
Other functions:
- Unlimited Undo/Redo (shortcut key: Cmd-Z / Shift-Cmd-Z)
- Copy / Paste (shortcut key: Cmd-C / Cmd-V)
- Duplicate select items (shortcut key: Cmd-D)
- Group / Ungroup Items (shortcut key: Cmd-G / Shift-Cmd-G)
- Lock/Unlock items position (shortcut key: Cmd-L / Shift-Cmd-L)
- Rotate left, rotate right (shortcut key: Cmd-J / Cmd-K)
- Press Cmd+T to move, resize group of items temporary
- Short cut key CMD+B, CMD+I to change text to Bold or Italic
- User could drag right mouse on a current shape to create a new attached object with line
- Double click on the canvas to create a new text box item
- Allow to switch current select object to another shape type
- Allow to change selected items display order
- Scale size of select items
- Path boolean operations supported
- Flip select items
- Shadow supported
- Snap to Grid
- Auto Align with another object when resize or move
- Change display order
- Export to png, jpeg, tiff, pdf image file (shortcut key: Cmd-E)
- Print supported (shortcut key: Cmd-P)
- Customizable color / Font / Size / Line Type
- Support gradient fill to shapes
- Customize measure unit and scale (point, cm, mm, inch….)
- Allow to Export image in 300dpi
- Allow user to select items then save them to Favorites list to reuse later
What's New in Version 3.2
- Fix bugs
- Improve UI
- Add support for VISIO formats: VSDX, VSDM (Microsoft Visio Format)
- Add support for SVG
Screenshots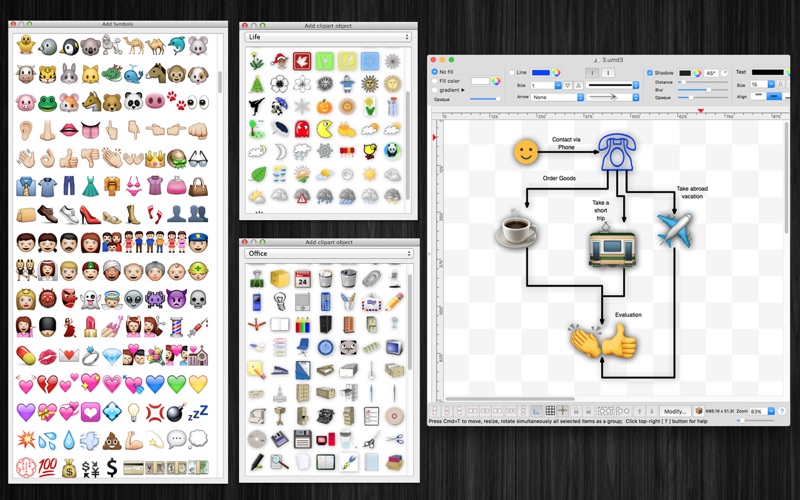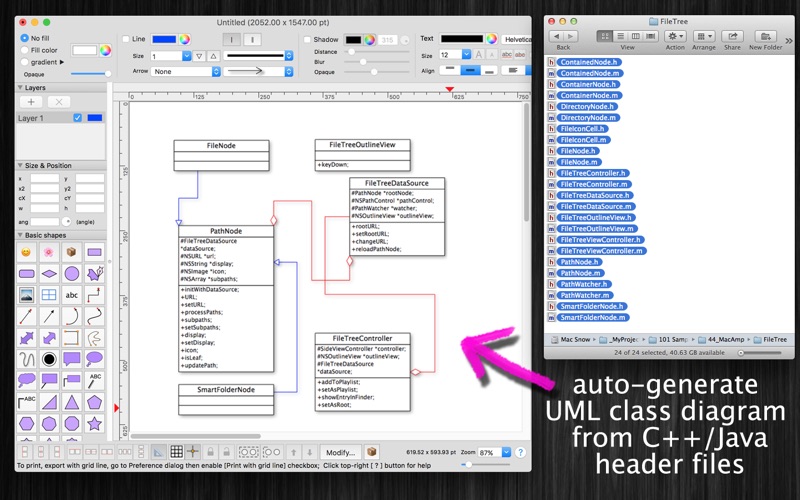 Customer Reviews
Easy to use yet powerful
I agree with the other reviewers of this version. I've tried many other drawing apps, including Adobe's Graphic. This app is so easy to use. It is just more Mac-like than other drawing apps I've tried. As just one example, it provides dimensional information that lets me know exactly what sizes of objects I'm creating and where they are positioned, and makes it easy to set object sizes when I want to make adjustments.
Awesome. Easy to Use. Works great!
This is an amazing program that, amazingly enough, does what it claims to do:
A simple and easy-to-understand program for creating documents/visual renditions using shapes/lines/arrows/etc.
I use it to create examples of web page layouts for my art dept. when going over site design ideas with clients.
love it. love it. love it!
The best tool for UML and other diagrams
I've used it for several years and it's terrific. It works for UML diagrams and other types, including general-purpose diagrams for books and articles. I've paid more for other tools that didn't do nearly as much or do it nearly as well.
View in Mac App Store
$13.99

Category:

Graphics & Design

Updated:

May 29, 2017

Version:

3.2

Size:

49.0 MB

Seller:

Tien Thinh Vu
Compatibility: OS X 10.8 or later, 64-bit processor