Yoink
By Matthias Gansrigler
Open the Mac App Store to buy and download apps.
Description
Yoink simplifies drag and drop between windows, apps, spaces and fullscreen apps.

When you start dragging a file in Finder or content from an application, Yoink fades in a tiny window at the edge of your screen so you can drag to it.
This frees up your mouse so you can comfortably navigate to the destination of the drop and resume the drag from Yoink's window.

For a video and other information please visit Yoink's website.

If you have any feedback or questions, please do not hesitate to write me by mail at support@eternalstorms.at, or on twitter at @YoinkApp or @eternalstorms.
Thank you.

Yoink has been featured in the Mac App Store's 'New Year, New You', 'Invaluable Utilities', 'Get Stuff Done', 'New and Noteworthy' and 'Staff Favorites' sections.
What's New in Version 3.0.5
Yoink 3.0.5 brings the following new features, improvements and bug fixes:

New Features
- Portuguese Translation
- Double-click onto a file with the option key pressed to instantly select all files of the same type in Yoink

Improvements
- List of ignored apps now includes Finder and Dock
- List of ignored apps is now sorted alphabetically
- Yoink reacts to renaming or deleting of files in Finder
- Performance improvements when watching for drags (less load on the system, less battery drain)
- Drag recognition improved in general
- When the keyboard shortcut is pressed to show Yoink manually, there's no delay anymore to show files in it
- Improved support for Microsoft Word, SketchBook, Adobe Bridge and Lightroom
- If Yoink is set up to show at the mouse location, it now shows always below the mouse cursor, not at what appeared to be random locations around the mouse cursor
- Performance improvements regarding QuickLook (icon) Previews
- Files don't disappear for a short period of time anymore when Yoink's window position or size is changed
- If a stack is selected and then split up, the resulting files are now selected, too
- Color Swatches now work with iWork Apps
- Yoink now puts less stress on the CPU when waiting for larger file drags to be fully created

Bug Fixes
- Fixed a bug that caused Yoink's window to disappear even though something was dropped on it
- Fixed a bug where Yoink would fade out when dragging from an ignored app even though it was forced to show by its keyboard shortcut
- Fixed a bug where Yoink would fade in again even though it was manually hidden by its keyboard shortcut
- Fixed a bug where, when shown at the mouse location, the arrow in Yoink's window would animate
- Fixed a bug where, if Yoink is set up to show if the mouse is at the edge of the screen, Yoink would show up immediately at drag start if files were already in it
- Fixed a cosmetic bug where Yoink would blink once after dragging out all files
- Fixed a cosmetic bug where Yoink wouldn't show the drag area if files were already in it
- Fixed a bug where Yoink would show up if a drag happened in the Mac App Store app
- Fixed a bug where, after changing the setting for Yoink to show up at the mouse location, Yoink's window would revert to left- or right center
- Fixed a bug where the app could be launched twice
- Fixed a bug regarding QuickLook Previews during launch time
- Fixed a bug where sometimes Yoink's buttons wouldn't work after a restart of the app
- Fixed a bug where color swatches didn't work when dragged to Yoink
- Fixed a couple of bugs regarding files and the OS X sandbox
- Some fixes regarding memory / resource management


Thank you for using Yoink and the great feedback you've been giving me.
If you have a minute, please consider leaving a little review on the Mac App Store - it would mean a lot to me.
I'd like to invite you to my blog at http://blog.eternalstorms.at or to follow me on twitter (@YoinkApp or @eternalstorms) if you'd like to follow the development process of my apps or get tips and tricks on how to get the most out of them.
Thank you kindly,
- Matt
Screenshots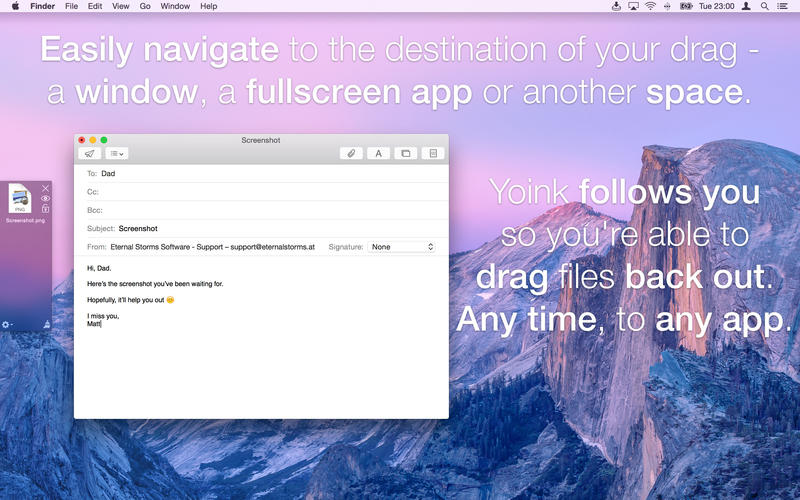 Customer Reviews
Simple app, great support
This application provides a convenient parking place for moving files around and collecting them. It adds a feature that is present in Pathfinder, but missing from Apple's Finder. I tend to use pathfinder for very specific things, such as when I am doing some specific file intensive tasks, but this app runs all the time.

One thing that is nice is the ability to exclude apps from causing Yoink to appear. I don't want to drag things from mail, though I'm sure some people do.

Additionally, I emailed the developer about a slowdown I was seeing when dragging a stack of large files off Yoink and he responded quickly and was very helpful.
Essential App
I have been using Yoink ever since it was introduced and it has become a part of my daily workflow. It is a true solution for copying/moving files from place to place without having to juggle multiple finder windows. The developer is quick to respond to any issues you may have, and addresses them as soon as possible. I highly recommend Yoink without hesitation.
Good but problems launching update
I have gotten really used to using Yoink. Now that its not opening up, I am missing it terribly. Its frustrating. I don't know what the conflict is but it won't open up. I found a back route by downloading the demo but I expect to run into problems with that because I can't rebuy something that I have already bought <00> Not that I want to. I just want Yoink to work again!
View in Mac App Store
$4.99

Category:

Utilities

Updated:

Feb 27, 2015

Version:

3.0.5

Size:

1.9 MB

Languages:

English, French, German, Portuguese

Seller:

Matthias Gansrigler
Compatibility: OS X 10.7.3 or later, 64-bit processor
More by Matthias Gansrigler