ZENONIA® 3
By GAMEVIL USA, Inc.
Open iTunes to buy and download apps.
Description
ZENONIA® 3: The Midgard Story, Dynamic Action RPG.

The ZENONIA series gets revamped and up-scaled for an epic third generation, providing even greater enjoyment than the previous two ZENONIA's combined!

─────────────────────

NEW FEATURES

VAST AND FASCINATING REALM OF MIDGARD
227 unique maps of Migard and 136 quests of action-packed adventure.

FOUR DISTINCTIVE CLASSES
Melee and range type classes to choose from; Sword Knight, Shadow Hunter, Mechanic Launcher and Nature Shaman.

ADDITIONAL NETWORK MODE
Combat through the new Execution Room Mode dungeons in single or asynchronous co-op play.

COLLECT ACHIEVEMENTS & TITLES
Acquire and show off 48 Game Center achievements plus 47 in-game titles with special effects.

OUT WITH THE OLD, IN WITH THE NEW
No more weight or hunger system. New slot-based inventory management and easier item combining.

─────────────────────

IMPROVED FEATURES

DYNAMIC CHARACTER CUSTOMIZATION
184 weapons, 120 helmets, 120 armors, 100 gauntlets and 100 footwear for maximum character customization.

THREE DIFFERENT MODES WITH PVP ARENA
Normal, Hard and Hell Mode plus an asynchronous online PvP arena to challenge friends.

GREATER RPG EXPERIENCE
Over 200 intelligent monsters, intuitive Fairy synchronization and more mini-puzzles to master.

INTRIGUING EPIC STORYLINE
An immersive new tale from the world of ZENONIA. What has happened to Regret? Who is Chael? What lies in Midgard?...

─────────────────────

OTHER GAMEVIL GAMES

Air Penguin
Baseball Superstars® 2010 HD
Baseball Superstars® 2011
Boom It Up!
Chalk n' Talk
HYBRID: Eternal Whisper
HYBRID 2: Saga of Nostalgia
ILLUSIA
KAMI RETRO
NOM: Billion Year Timequest
Soccer Superstars® 2011
VANQUISH: The Oath of Brothers
ZENONIA®

─────────────────────

NEWS & EVENTS

Website http://www.gamevil.com
Facebook http://facebook.com/gamevil
Twitter http://twitter.com/gamevil
YouTube http://youtube.com/gamevil
What's New in Version 1.2.1
Minor bugs fixed

Your 5 star rating keeps us motivated to produce upcoming updates to make ZENONIA 3 even better!

Contact GAMEVIL Inc. @

Tips & Tricks: http://iphone.gamevil.com
Facebook: http://facebook.com/gamevil
Twitter: http://twitter.com/gamevil
YouTube: http://youtube.com/gamevil
Email: iphone@gamevil.com
iPhone Screenshots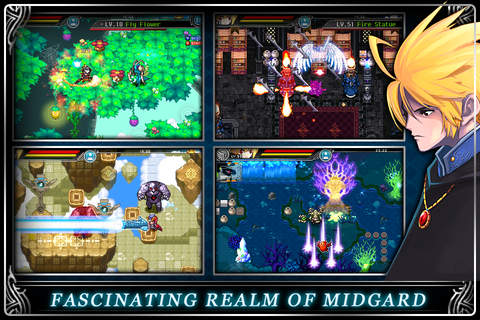 Customer Reviews
Game
It is a good game. Story is decent. Although you have to spend more time learning how the game works so more files helps out. A tip is to level up your person in the execution room after level
20. I believe you can go all the way to level 60 this way. Battling monsters regularly is long and boring. The only complaints are that I sometimes get mixed up with the controls. It also needs to tell all the details on how to play without having to go to help.

Do not read this part unless you want to hear some of what happens at the end!!!!!!!!!!!!!!!!!!!!!!!!!!

At the end you basically beat all the bad guys although you lose valuable characters. Although the worst part of the game is that a character basically tells you that an object you get while going through the story and send you back in time and change your characters fate. This ultimately forces you to restart the game with the monsters having different colors and a lot more stronger. Although you are stuck at level 60. I stopped at this point because the kraken took little damage and regained health quickly. I guess this keeps going on forever.

Another issue is the amount of money you spend on zen. Zen is very valuable in the game so only use it when needed. I wound not suggest using it in execution mode. There are many more secrets to this game
Felt clunky at first
Zenonia 1 was very compact and smooth. Zenonia 2 was less so, but had new features like ranged classes and crafting, and the ranged classes were actually made slightly worse by how fast it still ran, always having to stand still to fire on moving enemies. Zenonia 3 is, by comparison with Zenonia 1, very irregular and choppy. However, Zenonia 1 required quick, smooth gameplay because it was a strictly melee combat game. Zenonia 3 does very well with its ranged classes, and while the choppy irregularity can make combat against charging enemies unpredictable, the great graphics and combo-heavy basic combat make up for the lack of the smoothness found in Zenonia 1. I will say, however, that in terms of NPC-granted features, the Execution Room is a little overpowered. A single session often grants multiple levels and epic items for a tiny sum.
Great game
If you liked the other games, you might like this one. The concept and gameplay of the app is not much different than the previous one. The story will have you sucked in for hours.

My complaints are
1) More of the same. The game is pretty much the same as the last except for the graphics. It has the same cheesy story, same annoying grinding requirements, and same amount of button mashing. I wish they would change it up, y'know?
2) Final bosses are ridiculously difficult. You have to fight like 4 final bosses in total and each one is harder than the last.
3) origin of life's cost money. Really now? I ran out of the free Zen which made the ending of the game so hard.

If you only have enough money for 3 games, get the first one, second one, and fourth Zenonia. I'm sure many of the fans of the first two were probably disappointed with this one. Luckily the fourth Zenonia is pretty good.
View In iTunes
$0.99

Category:

Games

Updated:

Sep 26, 2011

Version:

1.2.1

Size:

18.4 MB

Languages:

English, Korean

Seller:

GAMEVIL USA, Inc.
Compatibility: Requires iOS 3.0 or later. Compatible with iPhone, iPad, and iPod touch.
Top In-App Purchases
3000 ZEN$0.99
9900 ZEN$2.99
17250 ZEN$4.99
38400 ZEN$9.99
128700 ZEN$29.99
243000 ZEN$49.99
More iPhone Apps by GAMEVIL USA, Inc.