Zombie Parkour Runner Plus
By jidongnet
This app is only available on the App Store for iOS devices.
Description
"Zombie Parkour Runner is not just a recommended game, it's a must have." – Christopher Mack, Gamezebo.com

"a surprisingly large amount of gameplay" – Justin Davis, IGN.com


Run like your brain depends on it!

What's worse than zombies who eat brains? Zombies who eat brains *AND* steal all of your stuff! And what's better than shotguns for dealing with zombies? Parkour, of course!

Use awe-inspiring parkour skills to navigate your way through the city using everything in your path to put distance between yourself and the rotting undead. Vault over obstacles, jump from rooftops, run across billboards, swing and zip over huge gaps – no zombie can stop you. Who needs shotguns and shovels when you have moves like this?

Run and jump through 48 levels over city rooftops, construction areas, and an amusement park filled with more mindless shambling hordes than Disneyland on a summer Saturday. Do you have what it takes to get back all of your stuff while not becoming just another meal for the brain-starved?

TONS of Zombies…there are jockey zombies, giant zombies, diver zombies, wheelchair zombies, hippie zombies, and even plain old zombie zombies for the zombie purists. There's a zombie for everyone!

Overachievers take note: if merely surviving isn't enough, you can unlock levels and new areas, accumulate coins and collectibles, master achievements through OpenFeint or Game Center, and attempt to get three stars on every level. Just don't hurt your tasty brain trying to get through it all.


GIFT THIS APP: Click the "Buy App" arrow on the iTunes® App Store

Get all your Zombie Parkour Runner+ info online:
Visit Us: www.runzombies.com
Like Us: www.facebook.com/ZPRunner
Email Us: mob02support@snsplus.com

Compatible with iPod touch 3rd gen and above, iPhone 3gs and above, and all iPads.

What's New in Version 1.1.0
*Colleting coins are no longer useless! Each coin you get in levels will be your wealth to buy items!
*Brand New Store! All the powerful items can be purchased by coins.
*Caught by zombies! Invisibility potions are available in the store. Drink it and you will be invulnerable to them.
*Fixed some bugs
iPhone Screenshots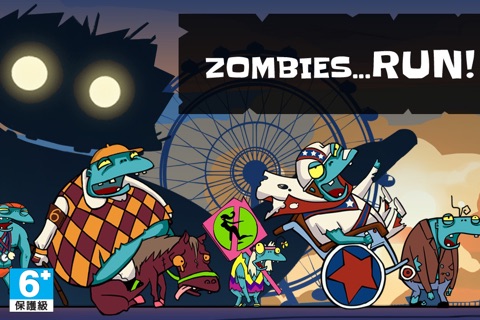 Customer Reviews
Love the game, but...
Device info: iPhone 4S, 64GB, OS 6.0.1, AT&T, latest app update to date:

.... but we like the old icon better - lol! Why were the first and second versions developed by two different devs? We weren't even aware of the second version, due to this, until reading the reviews for the first! My 7yr old son LOVES this game! He plays it ALL the time! No problems with crashing or anything. Anyone with crashing probs probably has all their apps open for multi-tasking & doesn't even know it - it still AMAZES me how many don't know to do that, and I've even had to show other ADULTS! If you're not sure what I'm referring to, you're probably "guilty" of it as well & should read the iTunes website info on the 5.0 update. And then READ ALL UPDATES BEFORE DOING SO!!! My guess is that this isn't the only app that's crashing, either. Just a thought....
Anyway, like I said, our only "complaint" (if you even want to call it one! 😄) is that we like the old icon better - there are already too many zombie icons out there, plus it's rare to find a game w/a girl, so why not advertise the fact? - that's why he likes the game! Lol! 😉
Frustrating curve
I kind of like the idea of these runner games; like a classic platformer with the "run right" button stuck on. It's a little simplistic, but it minimizes the control difficulty of a platformed with an onscreen D-pad.

ZPR starts out a lot of fun; it's got a colorful aesthetic, funky soundtrack, cute punk-chick protagonist, lively, fluid levels, and a reasonable difficulty curve. There's even a tiny bit of plot doled out as you collect the obligatory "hard to collect items" on each stage, explaining the backstory of the character.

Unfortunately, as the levels get harder, the game gets more and more frustrating; getting it to register a tap of the right length to jump the correct distance becomes an ongoing frustration, and it seems to miss taps with annoying regularity when the timing is tight.

By about ⅔ of the way through the game, it had gone from being fun to a chore, where I was dying dozens of times in a row on the same section of the same level due to what felt like imprecise controls rather than lack of skill.

Basically, it went from fun to I Want To Be The Guy, but without the creativity or intentional malice.

And I don't think I'm being a wimp--I've been playing (and finishing) platformers since the original Super Mario Brothers. Heck, I finished Battletoads--I know my difficult games.
If ure game crashes read this!
This game is so much fun and challenging I had it like forever and it's so cool i really like how Kara looks like but then I had that same problem and it kept crashing then I played it when I was at the car and it worked the problem was THAT THIS GAME WORKS ONLY WITH THE WIFI OFF and u can do this at the settings when u finish playing turn it on again and that's it the game doesn't works with Internet but only without I hope they fix this problem soon!
View in iTunes
Free

Category:

Games

Updated:

Jan 05, 2013

Version:

1.1.0

Size:

24.2 MB

Language:

English

Seller:

Shanghai Jidong Network Technology Co., Ltd.
Compatibility: Requires iOS 4.3 or later. Compatible with iPhone, iPad, and iPod touch.
Top In-App Purchases
Super Kicks$0.99
Trampoline Pack$0.99
Combo Pack$1.99
More iPhone Apps by jidongnet