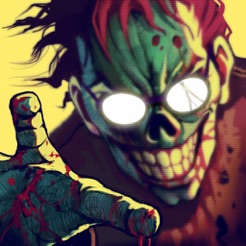 Description
** Blow away your stress with ZombieShock!!
Now Free! (ads version) - Download it!

"Zombie Shock is still a great action oriented title with castle defense elements that make this an extremely addictive title to own."
- [5/5] appspy.com, Andrew Nesvadba

"The game is wonderfully designed with graphic novel type visuals and amazingly detailed zombies, and animations."
- [4.5/5] appadvice.com,Trevor Sheridan

"The game is excellent. Fast, frantic, fun. So polished it hurts. The upgrade system is fast and flawless. You level up at a perfect rate.
Shooting is spot on with a really nice laser site. Enemies are varied and very imaginative.
Best shooting/zombie game in ages."
- Toucharcade, sammysin

ZombieShock is an action-adventure game set in New York City in turmoil.
A wide variety of zombie characters, numerous weapons, and the endless
zombie-chases invite you to the world of great suspense.

GAME FEATURES

1. The mounting suspense as the game progresses.
- There are large-scale battles between the dreadful zombies and the main character.

2. Dynamic battles will blow away your stress!!! Feel the thrill of attacking zombies.
- Zombies move in various quick motions.
- The electrifying deaths of zombies vary by the attacking methods.

3. Fight the Small zombies with unique identities as well as the gigantic Boss zombies.
- Each of the 6 small zombies has unique characteristics.
- There are 5 dreadful boss zombies with various patterns of behavior.

4. Play strategically by using various weapons and upgrades.
- There are more than 18 unique weapons available in the game.
- There are 5 different status upgrades.
* You can play with different strategies by using these unique set of weapons.

5. Exciting heavy metal sounds
- Listen to the breathtaking heavy metal sounds recorded by Funnybucks studio.

6.Game modes : Scenario / Survival
- 50 stages in the background story of ZombieShock and the characters.
- Survival mode of battling against endless zombie attacks.

7. Breathtaking scenario in between game stages.
- Cartoons were used to draw players' attention to the breathtaking scenario.

SUPPORT INFORMATION
- help@abluewind.com
- twitter: @abluewind_com
Ratings and Reviews
EROR
rn't Any names that I can use
Great know I just remembered that the computer version has a different back round pic so that means the advertising pic for when you upgrade your weapons the back round pic is photoshopped but overall great game worth down loading hope you add the mall lvl like in the computer version and add that you can put the same kind of weapon upgraded in multiple slot and add perks I know it's not in either version but you should add them like a perk where you can slowly over time it starts to heal you and you can upgrade it so it can heal even faster
Free Zombie Fun
This game goes above and beyond for a free game. It's a side-scrolling zombie blasting good time. You shoot zombies, earn cash, upgrade and power up your character, buy weapons, repeat. Interesting bosses and monsters to shoot, and the game has great graphics. It is free, so there are ads, but they only appear at the top of the screen and In-between levels, so no interference while playing.
Highly addicting!
Though you can easily tell this is a Japanese game, it's actually pretty great! It can really hard but that feeling you get after beating a level makes you wanna keep going!.. My only complaint.. You guys should really put more work into the achievements.. They are undiscriptive and they are all similar..
Information
Seller

BLUE WIND

Size

49.9 MB

Category

Compatibility

Requires iOS 3.0 or later. Compatible with iPhone, iPad, and iPod touch.

Languages

English, French, German, Japanese, Spanish

Age Rating

You must be at least 17 years old to download this app.

Frequent/Intense Horror/Fear Themes

Infrequent/Mild Profanity or Crude Humor

Frequent/Intense Cartoon or Fantasy Violence

Frequent/Intense Realistic Violence

Copyright

© BLUE WIND

Price

Free
Supports
Family Sharing

With Family Sharing set up, up to six family members can use this app.