Zombie Shock
By BLUE WIND
This app is only available on the App Store for iOS devices.
Description
* 7 games are purchased by a second. *
"593k of downloads for Zombie Shock, 593k people addicted to Zombie Shock can't be wrong"
- August 4, 2010.

GAME INTRODUCTION
** Blow away your stress with ZombieShock!!

"Zombie Shock is still a great action oriented title with castle defense elements that make this an extremely addictive title to own."
- [5/5] appspy.com, Andrew Nesvadba

"The game is wonderfully designed with graphic novel type visuals and amazingly detailed zombies, and animations."
- [4.5/5] appadvice.com,Trevor Sheridan

"The game is excellent. Fast, frantic, fun. So polished it hurts. The upgrade system is fast and flawless. You level up at a perfect rate.
Shooting is spot on with a really nice laser site. Enemies are varied and very imaginative.
Best shooting/zombie game in ages."
- Toucharcade, sammysin

ZombieShock is an action-adventure game set in New York City in turmoil.
A wide variety of zombie characters, numerous weapons, and the endless
zombie-chases invite you to the world of great suspense.

GAME FEATURES

1. The mounting suspense as the game progresses.
- There are large-scale battles between the dreadful zombies and the main character.

2. Dynamic battles will blow away your stress!!! Feel the thrill of attacking zombies.
- Zombies move in various quick motions.
- The electrifying deaths of zombies vary by the attacking methods.

3. Fight the Small zombies with unique identities as well as the gigantic Boss zombies.
- Each of the 6 small zombies has unique characteristics.
- There are 5 dreadful boss zombies with various patterns of behavior.

4. Play strategically by using various weapons and upgrades.
- There are more than 18 unique weapons available in the game.
- There are 5 different status upgrades.
* You can play with different strategies by using these unique set of weapons.

5. Exciting heavy metal sounds
- Listen to the breathtaking heavy metal sounds recorded by Funnybucks studio.

6.Game modes : Scenario / Survival
- 50 stages in the background story of ZombieShock and the characters.
- Survival mode of battling against endless zombie attacks.

7. Breathtaking scenario in between game stages.
- Cartoons were used to draw players' attention to the breathtaking scenario.

FUTURE UPDATES
- Updated scenario: Episode 2
- Higher-quality presentation

SUPPORT INFORMATION
- help@abluewind.com
- twitter: @abluewind_com
What's New in Version 1.1.0
1) Added easy-to-control "Auto" Control Mode
--> Select Auto or Manual before starting the game

2) Multiple equipment of weapons with same type disabled
iPhone Screenshots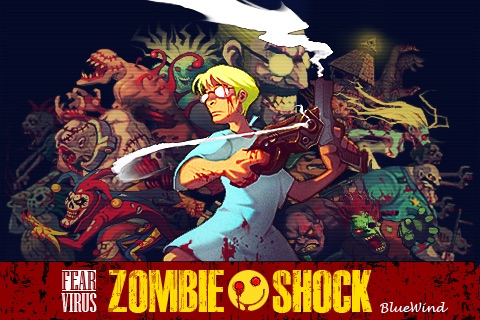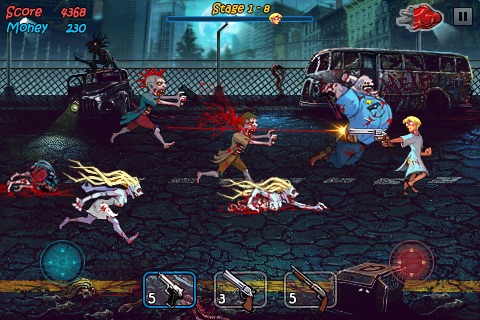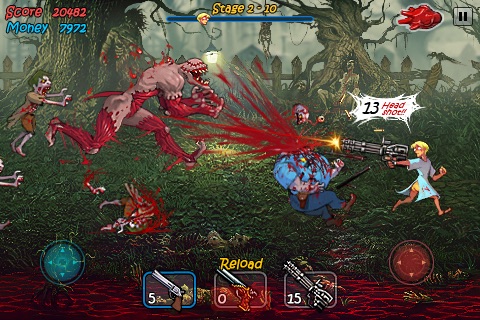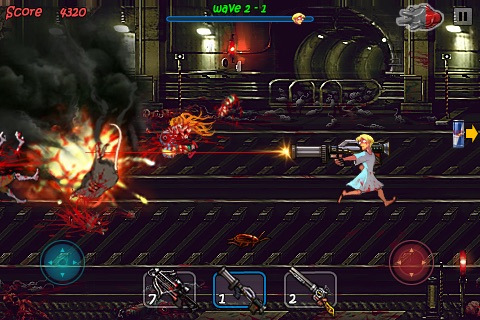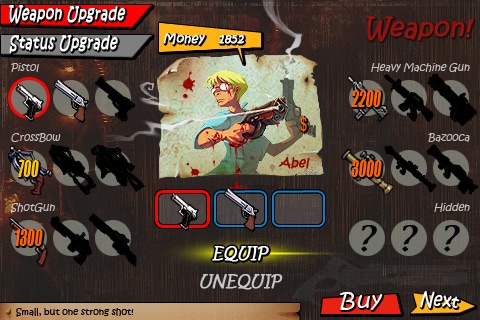 Customer Reviews
Almost better than cod zombies
Ok so i got this when it was free and usually if a game is hard or whack ala dawn of the dead(whack), i delete them because they are just taking space but im glad i didnt delete this one. Now that i can choose what way to play its awesome and it is definetely fast paced especially after 2-5. Love the art, i like how they have different zombies come every chapter and the bosses are really creative altho i have no idea how to beat chapter 3 boss with his bible and pentegram blocking my attacks. Usually i give up on games but this one is just addictive and i cant stop playing. You really have to strategize what to upgrade and what not to buy. Like the bow to me is useless as is the chainsaw but shotgun is my pal with pistol, just stick with pistol when it runs out switch to shotgun and by the time shotgun runs out pistol will be reloaded, so theres no way to run outta ammo and im sure you can do that with any weapon. This is really up there with cod zombies minus the multiplayer because i have not once gotten bored and when i die it just pumps me up and makes me want to have revenge. So for .99 cents its def worth it, its awesome. If there is more coming i patiently await for the next installment, k gotta go play some more now.
Definitely Getting You're Money's Worth
Zombie killing lover? Well Zombie Shock brings you the side scrolling, bloody, addicting zombie shooter you have been waiting for!

There are 2 options in the game: Story mode; which takes you through the life of Abel, a mad scientist who has created a vaccine for the AIDS virus. It is presented like a graphic novel. The story mode allows you to unlock 5 different weapons as well as 3 special weapons. You can also upgrade your character. There is also a survival mode where the zombies keep hoarding toward you and you have to try and last as long as you can. Both are extremely fun, and incredibly addicting.

The control are easy to master and is fit for the experienced as well as the beggging players with an "auto" aim gameplay mode. I use the manual aiming which makes killing the rats and legless women much easier.

The graphics are up to par with the rest of the apps on the itunes store and you will enjoy landing a headshot and watching the bloody remains of the undead fall to the floor. The boss battles are really fun, and every world gives you more variety of enemies.

Overall you will get a lot of playing time out of this game, and tacking on a achievment system through openfaint will leave those hardcore gamers trying to get 100's of headshots in a row for hours. Take the 99 cents you were going to use to buy fast food and buy this game! It will be the best decision you've made all day!
Addicting, fun, and unique!
Zombie Shock is a game that defies genres: it's part side-scroller, part action game, and part shooter. Regardless of labels though, it's a fresh, unique, and super fun experience! Zombies attack you from the left as your character -- an escaped mental patient (?!) -- runs away from them while blasting bullets their way. The cartoony 2D artwork is great as are the funny quips the main character blurts out at the zombies as he runs away from them in terror! Money collected during the levels can be traded in for weapon and status upgrades, which will help you pull off incredible headshots (which are a blast to do, no pun) and make fighting certain enemies and bosses a little easier. Once you download Zombie Shock, I doubt you'll delete it from your device: it's that good!
View in iTunes
$1.99

Category:

Games

Updated:

Aug 30, 2010

Version:

1.1.0

Size:

48.8 MB

Language:

English

Seller:

BLUE WIND
Compatibility: Requires iOS 3.0 or later. Compatible with iPhone, iPad, and iPod touch.