Zombie Survival Handbook Lite - Premium Guide to Survive the Dead and Undead Walkers End All Apocalypse
By Steven DeArmond
This app is only available on the App Store for iOS devices.
Description
Are you prepared for people or dead trying to eat you? Are you prepared for mass chaos? Are you prepared for a Zombie Apocalypse?

Now you are! The Zombie Survival Handbook is the perfect guide for when this Apocalypse breaks out. So get it and be prepared. With plenty of information and helpful tips you will be ready for any situation. It includes:

*Outbreak - find out the different possible causes for the zombies.
*Armory - All the weapon info you need
*Forts - Don't know where to go when it all starts? Find some good places nearby.
*Hand to Hand - Defend yourself against zombies bare handed.
*Transport - Not sure what vehicle will be best for you? Take a look here.
*First Aid - Mend wounds and save lives
*Survival Kit - The gear you need to survive Z-Day
*Tip - Read over the tips and keep them in mind. Your best chance is being prepared.
*Tools - Flashlight

Plenty more content coming in future updates!

Do you see yourself as an expert on the subject? Do you want your name well known during the Zombie Apocalypse? Well feel free to send info regarding the subject. It can be tips, weapon stats, vehicle info, the best forts. I'll get the info you send up with your name or alias. Just shoot me an email.

Suggestions, comments, questions, or concerns? Feel free to send me an email anytime. If you dislike something in the app or have an idea to make it better feel free to tell me. I will take care of it.

If you enjoy the app please toss it a good rating? Help it be spread to everyone so more people are prepared.
What's New in Version 2.5
**Update 7/15**

~New submissions to Armory

~New submissions to Crafting

~New submissions to Tips

~New Questions answered on Q and A

~New Forts

**New Section Update coming soon!
iPhone Screenshots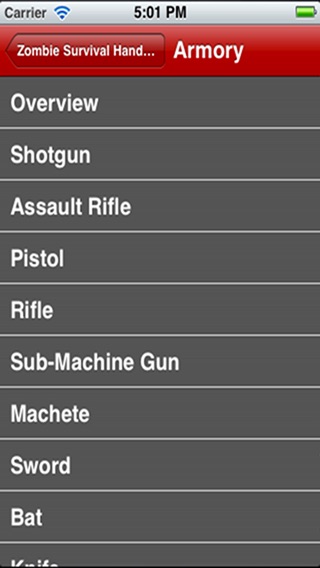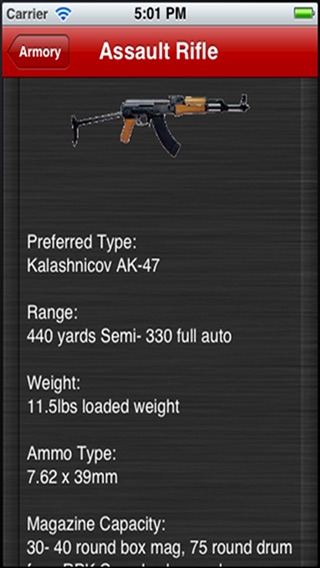 Customer Reviews
Saved my life!
I was at school in the middle of a big math test. The fire alarm rang, and an automated voice on the loudspeaker commanded that we evacuate the building immediately. When we got outside, the entire school was surrounded by zombies! Thanks to this app, I was able to get away from the crowd and craft myself some nice weapons. Sure, everyone else got slaughtered, but I was able to fight back and be rescued with half of my left arm and a bit of my torso remaining! Get this app, it can save you, too!
The Garbage Guidebook
Okay, I get it. Zombies are not real! I should not even need such a disclaimer, but for those who have difficulty distinguishing fiction from reality… Well that said, I think there is way too much on zombies in all manner of media. Why waste so much attention on something obviously fictional? I understand that these zombie survival guides are very tongue-in-cheek. Very well, but how about something more original?

That out of the way. My personal boredom with the zombie problem is not even my problem with this app. I notice it is full of grammatical, spelling, and typographic errors. Plus, so much of the information is just wrong. The information about firearms obviously comes from an author who knows nothing about guns beyond the fact that they shoot out bullets and usually are made of metal and go "BANG!" Even if you are a huge zombie fan I would not get this app.
Just bad
The app crashes a lot, a ton actually. The firearm info is just plain wrong. It has the same inaccuracies perpetuated by most action movies but to a higher level. They seem like they want to follow the George Ramero lore but fail at that. It seems the app was created by bored middle school kids who's parents did not allow them access to the actual zombie movies so they asked their friends for info and then took their firearms knowledge from watching really really bad made for TV movies. There is a good chance you won't even get the chance for disappointment because most of the time the app just crashes anyway. Just a aid it.
View in iTunes
Free

Category:

Entertainment

Updated:

Jul 21, 2014

Version:

2.5

Size:

6.2 MB

Language:

English

Seller:

Steven DeArmond
Compatibility: Requires iOS 4.3 or later. Compatible with iPhone, iPad, and iPod touch.