Zombies, Run!
By Six to Start
This app is only available on the App Store for iOS devices.
Description
Get ready for the run of your life. Join 4 million runners on an epic adventure!

You tie your shoes, put on your headphones, take your first steps outside. You've barely covered 100 yards when you hear them. They must be close. You can hear every guttural breath, every rattling groan - they're everywhere. Zombies. There's only one thing you can do: Run!

Zombies, Run! is an ultra-immersive running game and audio adventure, co-created with award-winning novelist Naomi Alderman. Every run becomes a mission where you're the hero, with our immersive audio drama putting you at the centre of your very own zombie adventure story. While you run to the perfect mix of heart-pumping audio drama and pulse-pounding songs from your own playlist, you'll collect supplies to grow your base back home.

BBC NEWS - "The only way to save yourself is to run for real."
WIRED - "In the style of Runkeeper, with an exciting undead twist."
LIFEHACKER - "A really cool way to get outside and exercise."
CNN - "Turns exercise into a game - a terrifying, terrifying game."
TIME - "Takes all the fun of a zombie game and funnels it into a fitness app."

WHAT PLAYERS SAY:
"Evaded all zombie mobs :-) One of my best sprints ever; this app works!"
"This game will make you sweat. Perfect junction between game design and run tracker."
"Just tried @zombiesrungame and for the first time in my life I feel truly alive."

WALK, JOG, OR RUN ANYWHERE
Zombies, Run! works anywhere and at any speed. You can jog in a park, run along a beach, or walk along a trail. It even works on treadmills!

YOU ARE RUNNER 5
Hundreds of lives are counting on you. You've got to rebuild your base from a few shivering survivors into a fortified beacon of civilization by collecting critical supplies and avoiding roving zombie hordes. Can you save them and learn the truth about the zombie apocalypse?

A WORLD OF STORIES
You become the hero in an epic story of humanity's struggle for survival where your running really matters, and there's a deeper mystery to be uncovered as well. Play the first four missions for free and unlock one extra mission every week.

UPGRADE TO PRO
Unlock 260+ story missions for unlimited play, plus Interval Training and Airdrop Mode.

YOUR OWN MIX
Choose your own custom playlists: the story unfolds in between your tracks through a series of dynamic radio messages and voice recordings.

ZOMBIE CHASES
Saving the world not exciting enough? When you hear zombies on your six, it's time to speed up. Can you escape every mob or will you drop some of your hard-earned supplies to distract them?

KEEP THE SURVIVORS ALIVE
Every run, you'll automatically collect vital supplies like medicine and ammo. Use supplies to build your very own post-apocalypse community. Do you strengthen your defences against the zombies or build a new farm? Share the results with your friends and find out who can make the brightest future for humanity.

VIEW YOUR RUNS ONLINE
Register on our free ZombieLink service to view and share your runs, maps and stats!

SYNCS WITH APPLE HEALTH!

Pro Membership subscriptions for Zombies, Run! are $2.99/month or $19.99/year. Legacy Membership is $7.99/year. Subscriptions will be charged to your iTunes account after your confirmation of purchase. Your monthly subscription will automatically renew each month and be charged through your iTunes account, yearly subscriptions will automatically renew each year. Pro Membership renews at $2.99/month or $19.99/year, and Legacy Membership renews at $7.99/year, automatically unless cancelled at least 24 hours prior to the end of the current period. You can turn off auto-renew at any time from your iTunes account settings. Cancellation of the current active subscription period is not allowed.

Full terms and conditions and our privacy policy are at https://zombiesrungame.com/eula/ and https://www.zombiesrungame.com/terms respectively

Note: Continued use of GPS running in the background can dramatically decrease battery life
What's New in Version 6.0
Season 6 is here! With it, we've tidied up our app and eradicated more zombies bugs from their hiding places deep in the code. That means you'll have smoother runs – all the better to escape the looming zombie hordes.

It's time to raise the gates, Runner 5!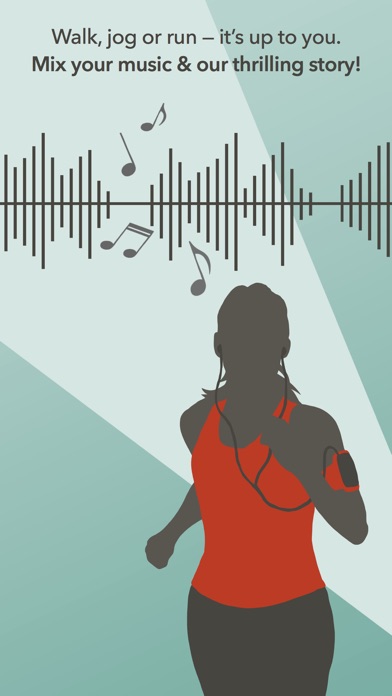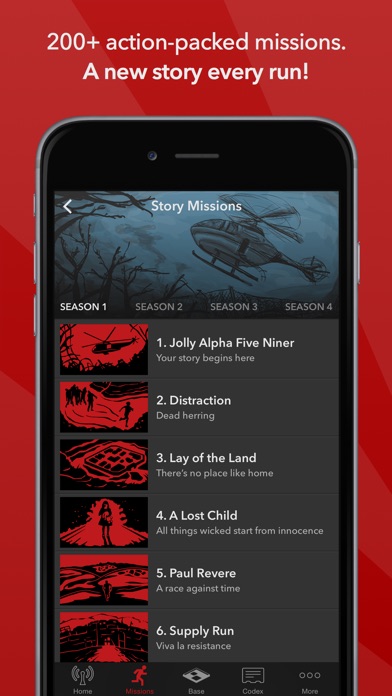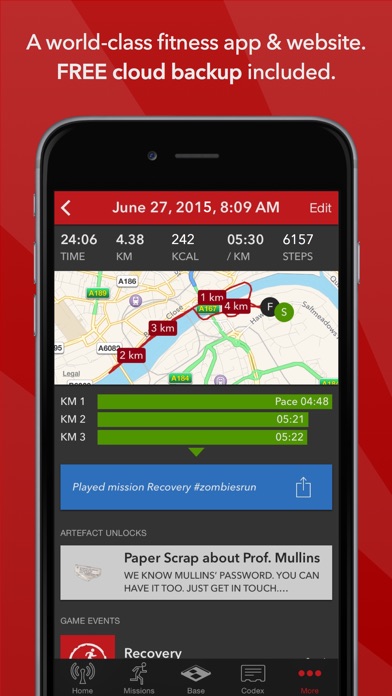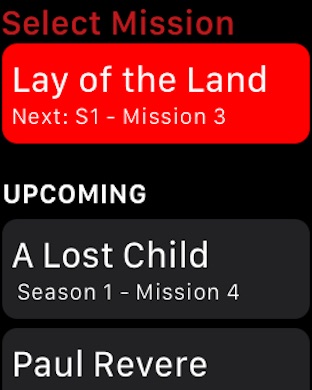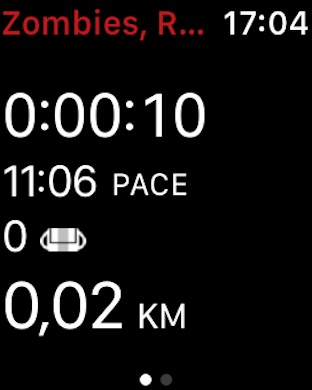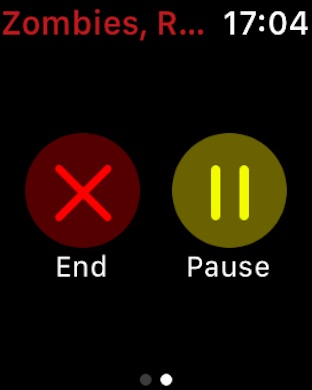 Customer Reviews
Worth every penny
This is an AMAZING app!!! Interesting story, heart-pounding zombie chases, sports bras, side-missions, this app has it all. And I'm not even into zombies otherwise! There is something so inspiring about going on missions for Abel Township with Sam or others in your ear all the way. I've always been on the imaginative side, so to immerse myself in this world and run like my life depends on it is awesome.

I have encountered no bugs in six months of use. The app has season upon season of main story, with more on the way, plus side missions such as interval training, airdrop, and supply runs. Then there are six super awesome race missions for 5k, 10k, and 20k.

When I purchased the year subscription for the pro version, I thought the price was very steep for an app. But the motivating story, number of interesting voice-acted characters, and diversity of easy-to-use features make it my favorite purchase of the year. The developers do a great job of improving and adding to the app on a regular basis. They are always working on new seasons, and I feel my money helps make that happen!
Great Concept, Buggy App
I really love the idea behind this app -- the narrative storyline does a great job keeping me motivated to get out running consistently, and the writing is funny and engaging. The app also has a decent amount of free features like the settlement mini game and item collection. Unfortunately, the app is really buggy and the amount of bugs really minimizes my willingness to pay a subscription for this service. For instance, in the seven weeks I've been using the app: it counted chapter one twice, it only randomly calculates calories expended per run (and sometimes not at all), the zombie chases seem really inconsistent in whether it senses you speeding up (even if I'm all-out sprinting), and sometimes you get two zombie chases that overlap each other so that I can't tell what's going on. I really wish they would polish the main functionality and fix these bugs before trying to do spin-off apps or make people pay subscriptions for content. If they did that, it would be a killer 5-star app. But as it stands, it's just a decent app that I don't think is worth the money for the premium features.
Love it!! Would Recommend
I can't believe there aren't more reviews for this app - it's fantastic! It's the one thing that's kept me running and exercising through the winter and beyond. The writing is fantastic, the storyline is great, I love being able to build my own little base, and I constantly can't wait to see what happens in the next mission. I've gone from 220lbs with no running experience to 180lbs and almost making a half-marathon, in less than 5 months! And I'm not even in it for the weight loss anymore - I'm in it for the story!
The company is fantastic, too - always looking to see what their fans have to say, and doing their best to use that input to make this game even better. They always seem to be striving to make it open to everyone, too - it doesn't matter what kind of runner you are, or what shape you're in, anyone can play this game.

Tl;dr It's a great app made by a great company and if you're thinking about giving it a try, I'd definitely recommend it!
View in iTunes
Offers Apple Watch App for iPhone
Free

Category:

Health & Fitness

Updated:

Oct 20, 2017

Version:

6.0

Size:

279 MB

Apple Watch:

Yes

Language:

English

Seller:

Six to Start
Compatibility: Requires iOS 8.0 or later. Compatible with iPhone, iPad, and iPod touch.
Top In-App Purchases
Pro Membership$3.99
Pro Membership$24.99
Pro Membership$7.99
Season Pass Plus$5.99
Season Pass$7.99
Race Missions pack$1.99
All-Access Pass$17.99
Season 3 Pass$7.99
1 Month Pro Membership$2.99
Season 3 Access Pass$9.99