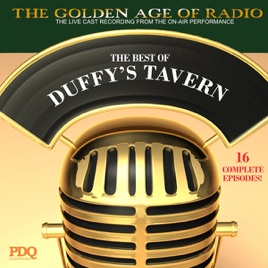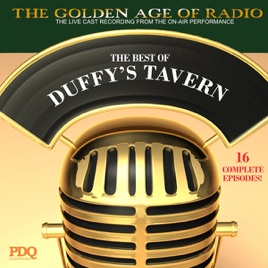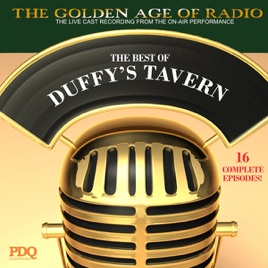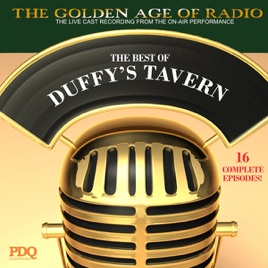 The Best of Duffy's Tavern: The Golden Age of Radio, Old Time Radio Shows and Serials
Publisher Description
Duffy's Tavern, an American radio situation comedy which ran for 10 years, often featured top-name stage and film guest stars but always hooked those around the misadventures, get-rich-quick-scheming, and romantic missteps of the title establishment's malaprop-prone, metaphor-mixing manager, Archie, played by the writer/actor who co-created the show, Ed Gardner.

In the show's familiar opening, "When Irish Eyes Are Smiling," either solo on an old-sounding piano or by a larger orchestra, was interrupted by the ring of a telephone and Gardner's New Yorkese accent as he answered, "Duffy's Tavern, where the elite meet to eat. Archie the manager speakin'. Duffy ain't here - "oh, hello, Duffy."

Duffy, the owner, was never heard (or seen; when a film based on the show was made in 1945, or when a bid to bring the show to television was tried in 1954). But Archie always was bantering with Duffy's man-crazy daughter, Miss Duffy (played by several actresses, beginning with Gardner's real-life first wife, Shirley Booth); with Eddie, the waiter/janitor (Eddie Green); and, especially, with Clifton Finnegan (Charlie Cantor), a likeable soul with several screws loose and a knack for falling for every other salesman's scam.

16 Half-Hour Episodes:

The Pilot Episode
Auditioning Cast Members
Guest Star: Clifton Fadiman
Guest Star: Dinah Shore
Archie's Taxes
Guest Star: Dennis Day
Guest Star: Charles Coburn
Audit Trouble
Archie Takes Up Reading
Guest Star: Joan Bennett
Guest Stars: Minerva Pious & John Anthony
Miss Duffy's Coming-Out Party
Archie Has Three Days to Live
Schoolmate Visits
Archie Wants to Patent Electricity
Guest Star: Shelly Winters


Digitally remastered from the original on-air recordings.