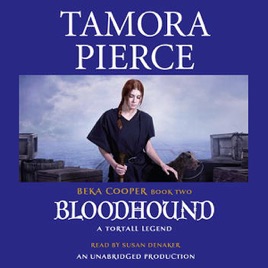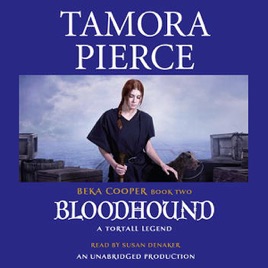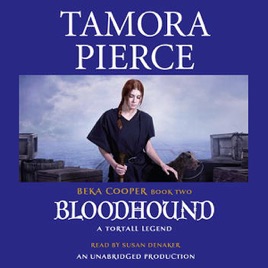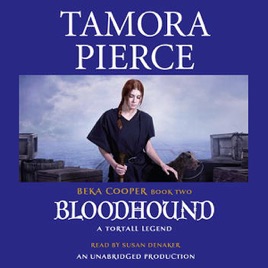 Bloodhound: The Legend of Beka Cooper, Book 2 (Unabridged)
Publisher Description
Beka Cooper is finally a Dog, a full-fledged member of the Provost's Guard, dedicated to keeping peace in Corus' streets. But there's unrest in Tortall's capital. Counterfeit coins are turning up in shops all over the city, and merchants are raising prices to cover their losses. The Dogs discover that gamblers are bringing the counterfeit money from Port Caynn.

In Port Caynn, Beka delves deep into the gambling world, where she meets a charming banking clerk named Dale Rowan. Beka thinks she may be falling for Rowan, but she won't let anything - or anyone - jeopardize her mission. As she heads north to an abandoned silver mine, it won't be enough for Beka be her usual terrier self. She'll have to learn from Achoo to sniff out the criminals, to be a Bloodhound.
I've been Tamora Pierce's #1 Fan for like...12 years now?
She's seriously awesome, really. Anybody who hasn't read Tamora Pierce is either a dolt or doesn't listen to who's writing the best books right now. I love Pierce's new addition to her Tortall realm series, and this second one has satisfied my expectations. I expected it to be a little longer, but as I read it, I realized it was just the right length. Go Tammy! Write some more books to brighten up my colorless life!
Beka Cooper Terier
Tamora Pierce is the best author of this life time. Before i had found her books i had no idea what type of books i liked. She knows that women were treated dogs. if you havent read any of her books that you are missing out on some rilly good stuff. Pick up one of her books today! belive me you wont want to put it down.
Haven't finished it yet, but it's already good
I just started this book, and I'm only on page 50, but it's already intruiging. Tamora Pierce is one of my favorite authors and I'm really looking forward to seeing what happens in this book.