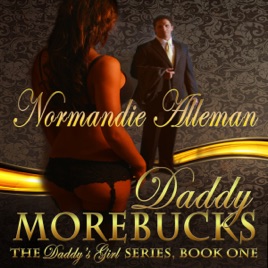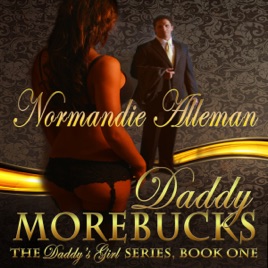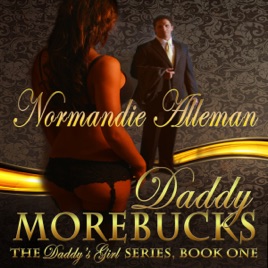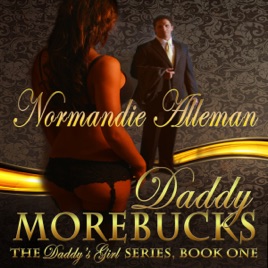 Daddy Morebucks (Unabridged)
Publisher Description
From the moment she laid eyes upon him, Marley knew in her heart that James was not just another client, and the difference wasn't even the large sum of money he offered in return for a single night of submission. No, what set him apart was the fact that when she called James "daddy," it was her own heart which beat faster and her own body which ached with need.

After that night, Marley does her best to put all thought of him behind her, using the huge payday he provided to get on her feet again and start over…until James knocks on her door and walks right back into her life. He makes her a simple offer: if she will live with him and submit to him whenever he wishes, he will provide for her every desire.

Even before she accepts his offer, Marley knows that what she truly wants is not money or clothing or even a fancy new car. What she longs for is a daddy who will give his little girl what she really needs…a daddy who will spank her bare bottom when she is naughty, tie her up and take her any way he pleases, and then cuddle her until she falls asleep in his arms. Can she dare to hope that James will be that daddy?
Daddio
Well, this was different. I read all genres. Sometimes I like a little dirty kink. But I can't seem to wrap my head around the whole daddy/ little girl scenario. Maybe a sugar daddy. Right now that wouldn't be so bad. Lol. I'm broke. I loved the characters. Marlee was so poor and a hooker who had no one. She meets James and they hit it off. She teaches him the important things in life and that money isn't everything. I don't want to spoil it but just so you know, it ends in HEA. I liked how Marlee made lots of good friends.
BDSM story of love really enjoyed it
This is a BDSM story. James and Marley meet when he hires her for one night. They both have had bad experiences in the past. Their one night together changes both of their lives forever.
The emotional aspect of the story really caught my attention Marley had a terrible life and has had to do a lot to survive. Marley's strength and perseverance made Marley a very likable character.
James has put his work first in his life with nothing else to look forward to having had trouble finding a woman who fits into his lifestyle and wants the same type of relationship he craves.
The BDSM scenes were well written and certainly very hot and steamy this couple had chemistry in boatloads, and you could sense it from the first time they met.
I have read many BDSM books and I enjoy the genre this one was little different for me with the Daddy/Dom aspect of the relationship. I still liked it though because it was written so that you understand this was the kind of relationship they both needed to be happy and content.
If you are not into the genre you won't like the book, D/s scenes can be overwhelming if you are not a fan.
This was my first audio book and my first book by Normandie definitely glad I decided to give it a try. I happily add Normandie to my list of favorite authors this story is told from multiply POV's but mostly by Marley. I might have liked James' POV a bit more but other than that a great story.
This is a standalone book with an HEA.
RECEIVED AN ARC IN EXCHANGE FOR AN HONEST REVIEW.