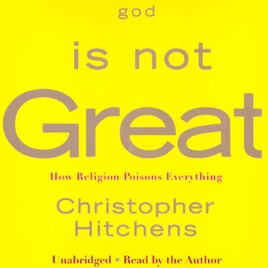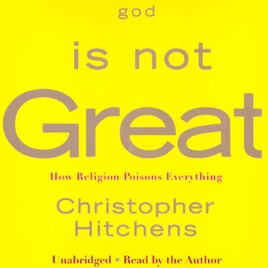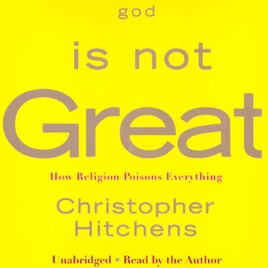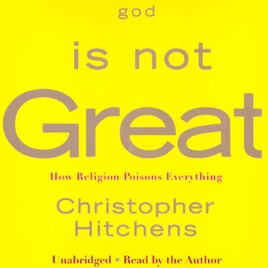 God Is Not Great: How Religion Poisons Everything (Unabridged)
Publisher Description
In the tradition of Bertrand Russell's Why I Am Not a Christian and Sam Harris' recent best-seller, The End of Faith, Christopher Hitchens makes the ultimate case against religion. With a close and erudite reading of the major religious texts, he documents the ways in which religion is a man-made wish, a cause of dangerous sexual repression, and a distortion of our origins in the cosmos. With eloquent clarity, Hitchens frames the argument for a more secular life based on science and reason, in which hell is replaced by the Hubble Telescope's view of the universe, and Moses and the burning bush give way to the beauty of the double helix.
Turned me into a ravening atheist
First of all, this book is enlightening, raucously entertaining, and compelling in every detail of its argument. Second, it is read by the great man himself. I would listen to Mr. Hitchens read the proverbial phone book in that wonderful booze-soaked Oxford accent of his. Made me the venom-spitting anti-religious ball of spleen I am today. A tour de force. Bravo.
God Isn't, But Hitchens is...
Mr. Hitchens is of sound mind, outstanding intellect and throughout the rich arguments he entertains with brilliantly sharp wit. His arguments are reasoned from the human experience, his writing style is sincere and focused, embellished with the humor only a genius like Hitchens can deliver. I highly recommend this essential addition to the defense of reason and life.
God is definitely NOT great
Great book. I have listened to it several times. It's nice to hear someone put things into perspective that I have thought about for years. Growing up in several denominations, I never felt comfortable with the Word of the bible. It just did not seem logical. I enjoyed having Mr Hitchens read his work. Well done.
I applaud him for writing this book. Living in the bible belt, I still feel uncomfortable talking to others about my "non-belief" in a magic man in the sky.