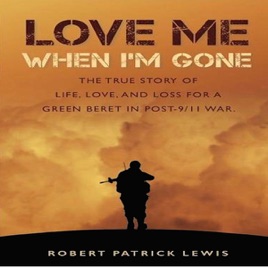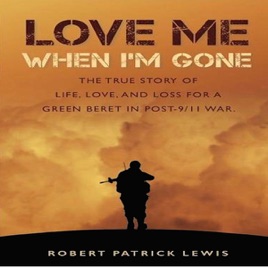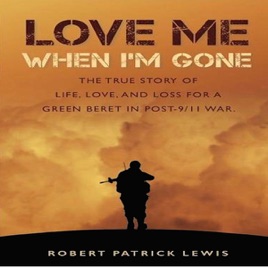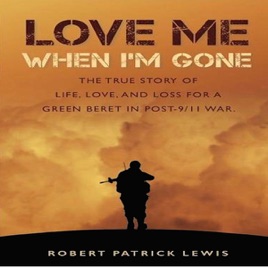 Love Me When I'm Gone: The True Story of Life, Love and Loss for a Green Beret in Post-9/11 War (Unabridged)
Publisher Description
Love Me When I'm Gone is a tale for the ages, the perfect blend of action, romance, heroes, villains, patriotism, and valor. What holds this story above all others is the fact that this one is true.

Rob had a pretty rough childhood: He was given up for adoption as an infant, brought into a family of highly decorated military men, suffered the loss of his mother to cancer, rebelled, and landed himself in military school.

When he finally returns home, he meets Cindy, who quickly becomes his best friend. After graduation the two go off to college at opposite ends of Texas, and their paths diverge.

Eight years later, when Rob returns home from SERE school and being a POW in the cold North Carolina woods, he wakes up one morning to discover that Cindy has contacted him on Myspace. He is very surprised, as he has been searching for Cindy for the past few years to no avail. The two reunite to spend his month of leave together, both knowing at the end he will be leaving for the illustrious 1st Battalion, 10th Special Forces Group (Airborne), the elite Battalion of Green Berets stationed in Germany for quick-reaction missions around the globe. The two share a heart-felt goodbye at the airport, each hoping that somehow they can find a way to keep their love alive throug whatever the future has in store for this newly crowned Green Beret.

Rob's time in Germany is a whirlwind. In his first trip to Iraq, he encounters three distinct situations which will haunt him for the rest of his life. At HAVE-ACE, the Special Operations school which he attends with his team, he finally becomes one of the gang. In Africa, Rob learns many valuable lessons about life. In Afghanistan he and his team are tested in many life-or-death situations, including Operation Payback, where he and the Captain are wounded in a sustained firefight in the middle of a village.

The culmination of the story is the quintessential fairy-tale ending: Rob moves back to California to spend the rest of his days, and the final chapter is the full military wedding, complete with his teammates as groomsman and sword bearers.
Awesome!!!
This is such a great book! It kept me on the edge of my seat at all times & I felt like I was right there with them. Rob is one very tough/stubborn Green Beret and I am very proud to say he served our country very well!! I honestly cannot say one bad thing about this book, but Thank You!!!
Wow
Please purchase this...the book was great. Hearing it from the man...is better.
A True American Hero
Thank you, Robert Patrick Lewis for your service and your sacrifice.