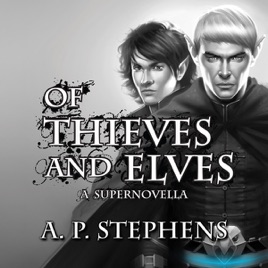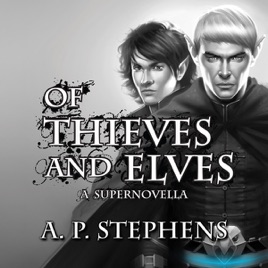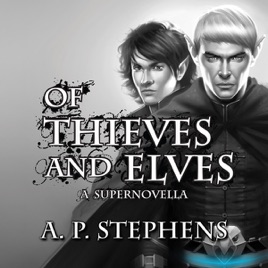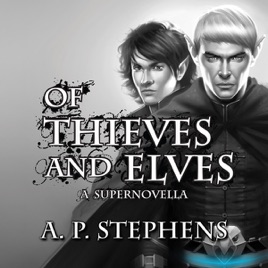 Of Thieves and Elves: A Supernovella (Unabridged)
Publisher Description
A monumental tragedy has befallen the Clan of Ionor, an ancient brotherhood of elven warriors. Concerned when their Master does not reach his secretive business in a distant kingdom, the Elders learn that Tryn, their beloved leader, has been captured by a cutthroat gang of bandits known as the Steel Claw. Yet this is not the darkest of their tidings. The relic under the clan's safekeeping, a weapon of terrible power that was forged by the gods themselves, is also missing.

The Ionor dispatch Eonen, a headstrong Elder, and a young and talented apprentice, Tride, to rescue the Master and the relic by infiltrating the bandits' stronghold - the formidable Fortress of Toppledom. As the two determined elves hasten into the unknown beyond their borders to restore balance and honor to their clan, they encounter the true darkness behind the matter - the very origin of the world's evil.

Allegiances will be twisted. The fates of many will be set into motion. And the destiny of one will be realized.
Outstanding narrator!
I love this guy's voice. I'd love to listen to more from him.
Sometimes it's the teller who makes the tale worth hearing. That is the case with this audiobook. I'm so glad I found it.
Great audiobook!
Of Thieves and Elves is a tale of an elf, Tride, an outcast of his clan trying to prove that he is worthy to serve them. Along side his hero and the only person that believes in him, Enonon, Tride sets out to recover a powerful artifact that, in the wrong hands, could be detrimental to not only his clan, but all of Londor.
Although it is a prequel to The Whiteshadow Saga you do not have to have read them first, it can be a stand alone book. This story is great and builds up a momentum as it progresses that won't let you stop. The action scenes pull you in with their detail, making you believe the author was watching the fights as he wrote them down. And to top it all off the narrator was excellent! All in all if you are looking for a great fantasy read or considering delving into The Whiteshadow Saga get this book!! You won't be disappointed.