100 Things That Make Me Happy
Amy Schwartz
This book can be downloaded and read in iBooks on your Mac or iOS device.
Description
In the grand tradition of "Raindrops on roses and whiskers on kittens" comes an uplifting tribute to 100 everyday things worth celebrating. The list, in rhyming couplets, draws directly from a preschool­er's world—from slippery floors to dinosaurs, from goldfish to a birthday wish. Amy Schwartz weaves a masterful balance between art and text, with each of the 100 items portrayed as its own well-observed and warmly detailed vignette. While the contents provide readers with a frame of reference for the quantity of "100"—a celebratory milestone in preschools and early elementary grades—the oversized pages envelop young children in the wonderful things surrounding them.

Praise for 100 Things That Make Me Happy
STARRED REVIEW
"A fun, engaging read."
--School Library Journal, starred review
From Publishers Weekly
Aug 11, 2014 –
Move over, BuzzFeed, Schwartz (Dee Dee and Me) has come up with the ultimate list and it rhymes: "Red bow/ Tic-tac-toe/ Hula-hoops/ double scoops." It seems pretty effortless, especially given that most of the sources of happiness catalogued are pretty down to earth. But in fact, Schwartz employs some skillful anti-soppy strategies to ensure her book stays bright, breezy, and buoyant. Hairpin category turns putting "Something sweet" (a trio of cupcakes) adjacent to "a parakeet" create a sense of playful spontaneity. The tightly rendered illustrations, which usually appear in twos or three against white backgrounds, have a refreshing emotional reticence; the kids' happiness is shown as matter-of-fact and grounded rather than euphoric or manic. And then there are the descriptions themselves, eloquent in their unfussiness: it's enough to say "Grandma's lap" (the rhyme is completed with "a gingersnap") and show an image of a child snuggled up and reading with this beloved adult the author knows her audience can fill in the rest. Schwartz isn't the first to try a compendium of this sort, but she sets a new benchmark. Ages 3 6.
Screenshots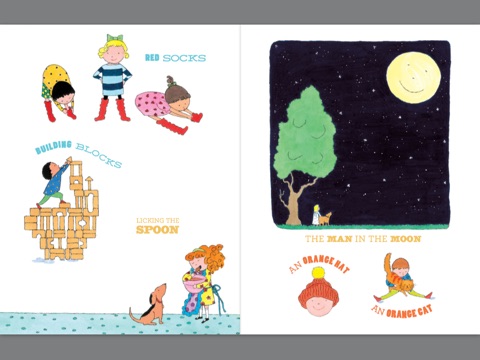 View in iTunes
$6.99

Category: Poetry
Published: Oct 07, 2014
Publisher: ABRAMS
Seller: Harry N. Abrams, Inc.
Print Length: 40 Pages
Language: English
Version: 3.0