50 Cent Flash Fiction - Anthology 2: Portland
Book 2, 50 Cent Flash Fiction - A Volume of Short-Short Fiction
Jaan Seunnasepp & Katrin Orav
This book can be downloaded and read in Apple Books on your Mac or iOS device.
Description
Three short-short stories by Jaan Seunnasepp with original illustrations by Katrin Orav and photographs by J M Manness.

WAITING FOR A LATTE  (CONTEMPORARY —  598 WORDS) - Donald tries to entertain himself while waiting in line for coffee.

GOODIE TWO-SHOES    (URBAN FANTASY —  499 WORDS) - Down and out former CPA Martin Pechowski finds two pairs of shoes in a free box at the free kitchen. Each pair has its own personality.

SOLITAIRE    (CONTEMPORARY — 660 WORDS) - "She would rather play solitaire than spend time with me!" the narrator laments.
---------- Editor's note:
A few years ago, my wife and I took a trip to the west coast that ended in Portland. Though we were there only a couple days, I fell in love with that city. The people were friendly and helpful. The food was spectacular. And the air had a familiarity to it, as if it were the home I'd grown up in. We had great sushi, visited Widmer Brothers brewery, caught an outdoor art show, and took in the wonderful scenery. I most vividly remember our trip to Multnomah Falls. We marveled at the water's needle like descent over the rocky cliffs. My favorite picture from the entire trip is a horizon shot of the falls, with the black outline of pine trees reaching into the royal blue sky.

  I missed Portland the moment we departed and I've always wanted to return. That's why I love this collection of stories. It captures the essence of the Portland and it refreshes my longing to return. Whether it's at the local coffee shop or walking down the street in one of Portland's famous rains, it feels like you're right there with the characters, not just observing their world, but a part of it. 

The opening paragraphs of both Solitaire and Waiting for a Latte stand out like a painting in my mind. The description of the winter and the rains that Portland is known for are but two little things Jaan Seunnasepp uses to accurately and artistically capture the feel of the city. He uses this language throughout this collection to weave together a blanket that you can wrap yourself in. In reading Solitaire, I was especially enchanted by a scene in which the narrator takes refuge in a bar. Not only does Jaan capture the mood of the scene perfectly, but he uses the mood almost as a character itself which allows the story to come full circle in a very pleasing way. 

Solitaire is my favorite piece in this volume, and I hope you enjoy it as much as I have. It spoke to me. I could relate to it. But don't let that overshadow his other two meticulously crafted stories. Waiting for a Latte is the perfect fare for someone hungry to eat at the buffet of witty cynicism. Goodie Two-Shoes is a quick, delicious appetizer that will leave you hungry for the entrée.  It is a the prefect blend of dark humor and serious story telling. 

It's always great when writers are inspired by the places they call home. In a way, we're not just reading a story, we're reading a little more about them. I hope you enjoy this volume, and I'm sure that you will. May the words and descriptions linger with you in the same fashion that the image of Multnomah Falls has lingered with me. 

- Alex Stevens, Editor
Screenshots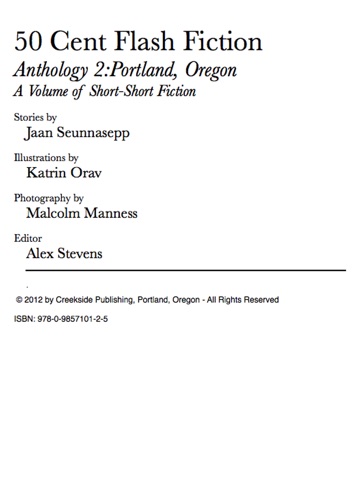 Customer Reviews
A Tokaji taste of 50 cent Flash Fiction
I first ran across Jaan Seunnasepp by reading his in depth articles on Apple Inc products. It's obvious many many people are reading his well researched work. It's very rare that anyone criticizes his articles and many compliments and thanks are always written in the comments of his pieces. From reading those articles I became aware of his fictional writing.

It's the tone or mood of these 50 cent Flash Fiction micro stories that stay with me like I imagine a taste of the great Tokaji wine he writes about might linger within us.

The story that impressed me the most was Solitaire. I don't know if any of you have read Jack Karouac, but Solitaire affected me like a Karouac story. It wasn't so much what the story was about but the way Seunnassepp is able to just make you feel the atmosphere in a intimate way, from the rain to the couch to the mold. It made me want to continue flowing in those atmospheres that I personally know, having lived in northern Washington state and Northern California.

Truman Capote once commented on Karouac's writing that it wasn't writing, it was typing. But there is a reason why Karouac has lasted. It's the capturing of that atmosphere which Seunnasepp also captures. I would caution against underestimating Seunnasepp's work as Capote did Karouac. It's in the taste, like in the taste of the wine. That wine is touched by the "Noble Rot". It's a developed taste.

The photographs by Malcom Manness are Zen-like quiet. Contemplative. I found myself wishing they would by presented in something like an Apple Keynote show: music, fades, etc. Not because the photographs were not stimulating enough; on the contrary, beacuse they deserved a more important showing.

Contratulations Jaan Seunnesepp and Malcom Manness
more from less & couches have flavors
Waiting for a Latte, is story that connects to place. Everything about Portland the reader knows, or thinks, gets tapped into here. Seunnasepp brings our own urban anxiety to the table and gives the reader a glimpse of self-awareness through the situation and character interactions. Read in a coffee shop on an iPad, how perfect. A nice multidimensional story focusing on the social subtleties embedded in the mundane.

In Goodie Two-Shoes we meet characters we all already know. Seunnasepp gives us context and details, and a chance to spy on the inner essence of these people we all see on a daily basis. The writing is never dense, never showy, but just right.

Couches have flavors. This is an unsettling fact that will no longer be overlooked by the readers. Seunnasepp is heavily influenced by the climate of the Pacific Northwest. We all discuss the weather as a basis of social interaction, and this is the foundational thoughts from which the stores develop.
Like a roller coaster
I have studied literature at the graduate level, and read Chekhov in the original. These quick little stories are no Chekhov or Kingsolver, but they are tight and well crafted, and have their surprises.

They are a bit like a roller coaster - not a deep experience, but a hell of a lot of fun!

I hope you enjoy them too.
Other Books in This Series
View in iTunes
$0.99

Category:

Short Stories

Published:

Aug 31, 2012

Publisher:

Creekside Publishing

Seller:

JOHN MALCOLM MANNESS

Print Length:

30 Pages

Language:

English

Series:

Book 2, 50 Cent Flash Fiction
More by Jaan Seunnasepp & Katrin Orav