This book is available for download with iBooks on your Mac or iOS device, and with iTunes on your computer. Books can be read with iBooks on your Mac or iOS device.
Description
Pourquoi l'apôtre Jean dit-il précisément que « 666 est le nombre d'un homme » dans son Apocalypse ? C'est parce qu'il pointe son doigt sur le seul système financier décrit dans un texte sacré de son époque, celui parlant du roi Salomon à qui il restait, chaque fin d'année, un excédent de 666 talents d'or.
Pierre Jovanovic explique dans les détails les raisons qui ont poussé Jean à insister sur ce nombre, pourquoi il a associé le « 666 » à l'esclavage, pourquoi il a décrit une « Bête à 7 têtes » servant le Diable, et, surtout, pourquoi ce dernier « s'est installé sur une plage » pour lancer un système mondialisé sans lequel plus personne « ne peut ni vendre, ni acheter » sans disposer d'une « banque ». Avec des documents uniques, ce livre expose le plan impitoyable de mise en esclavage des peuples au service d'une seule entité... la Finance américaine.
Dans le sillage de ses deux livres précédents « 777 » et « Blythe Masters », ce « 666 » révèle le fil conducteur invisible, qui déclenchera INEVITABLEMENT la révolte des peuples. Si l'Argentine a été la seule à faire faillite en 2001, bientôt toute l'Europe ainsi que le reste du monde feront faillite.
Screenshots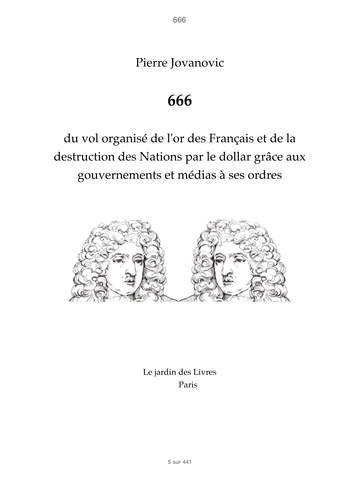 View in iTunes
$15.99

Category:

Business & Personal Finance

Published:

Nov 14, 2014

Publisher:

Le jardin des Livres

Seller:

Le Jardin des Livres

Print Length:

378 Pages

Language:

French