A Boy and a Jaguar
Alan Rabinowitz & Catia Chien
This book can be downloaded and read in iBooks on your Mac or iOS device.
Description
2015 Schneider Family Book Award Winner

Alan loves animals, but the great cat house at the Bronx Zoo makes him sad. Why are they all alone in empty cages? Are they being punished? More than anything, he wants to be their champion—their voice—but he stutters uncontrollably.

Except when he talks to animals…

Then he is fluent.

Follow the life of the man Time Magazine calls, "the Indiana Jones of wildlife conservation"as he searches for his voice and fulfills a promise to speak for animals, and people, who cannot speak for themselves. This real-life story with tender illustrations by Catia Chien explores truths not defined by the spoken word.
From Publishers Weekly
Mar 03, 2014 –
In his first book for children, conservationist and adult author Rabinowitz frames his lifelong struggle with stuttering against his equally long-held love of animals, which led to a career spent studying and advocating for them. "I am a stutterer," he explains. "If I try to push words out, my head and body shake uncontrollably." The first-person present-tense narration creates an intimate connection to the author's pain as he is placed "in a class for disturbed children," subjected to unsuccessful treatments, and considered "broken" and disruptive by teachers. With animals, however, his words flow easily, and a young Alan promises a lonely jaguar at the Bronx Zoo: "If I can ever find my voice, I will be their voice and keep them from harm." Shadowy charcoal lines and the often-muted colors of Chien's paintings amplify Alan's solitude, but also reflect the profound joy, wonder, and healing he discovers studying animals in the wild. It's a candid and deeply resonant account of a hard-fought battle against societal stigma, and an embrace of one's true talent and calling. Ages 4 8. Author's agent: Anna Olswanger, Liza Dawson Associates. Illustrator's agent: Steven Malk, Writers House.
Screenshots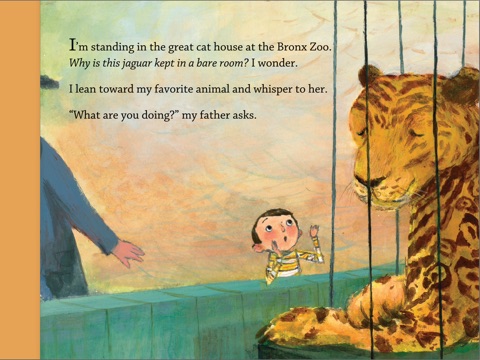 Customer Reviews
A powerful children's book for all ages
Every children's book I've ever read, no matter how beautiful, formative and inspiring, although based on human nature and our ability to choose right from wrong, heroism from egotism and greatness from mediocrity, are all imaginative fantasies in which the best of human nature triumphs.

But Mr. Rabinowitz's "A Boy And A Jaguar" gorgeous book gives us something very rarely found: A true story on how to be an exceptionally great human being, growing stronger from difficulty and making a difference in this world. I think it is priceless that children know true heroes do exist, and even more, the fact that this book was actually written by a true hero, showing that as a kid he made the promise, he made the right choice that defined his greatness as an adult.

This is a book to inspire us all. Thank you Mr. Rabinowitz for your story and for your life devoted to saving earth's last wild places.
View in iTunes
$9.99

Level: Grades P-3
Category: Biography
Published: May 06, 2014
Publisher: Houghton Mifflin Harcourt
Seller: Houghton Mifflin Harcourt Publishing Company
Print Length: 32 Pages
Language: English
More by Alan Rabinowitz & Catia Chien