A Donkey Reads
Adapted from a Turkish Folktale
Muriel Mandell & Andre Letria
This book is available for download with iBooks on your Mac or iOS device, and with iTunes on your computer. Books can be read with iBooks on your Mac or iOS device.
Description
This digital edition includes an optional read aloud and highlighted word feature.
A fanciful adaptation of a Turkish folktale that tells the story of a poor villager, a donkey, and wise man whose clever plan outwits a tyrannical Mongol ruler.
From Publishers Weekly
Mar 28, 2011 –
Mustafo, a poor Anatolian villager, has to find something to give the new Mongol leader, who demands tribute. A broken-down donkey is all he has, and he knows he'll get beaten for such a pitiful offering. But Nasreddin Hoca, the village wise man, interrupts the leader's tirade: "I believe that I can teach him to read," Nasreddin says. Nasreddin delivers on his promise, too. His donkey-training secret (barley between the pages to get the donkey to turn the pages with his tongue) is revealed to readers, who will thoroughly enjoy watching the Mongol leader get his comeuppance. Portuguese artist Letria paints figures in a naïf, folk-art style nicely suited to this traditional story; their movements are puppetlike, yet their expressions are convincing, even moving. Full-bleed spreads alternate with entertaining spot illustrations of rows of villagers or miniatures of their offerings to the Mongol leaders: "a huge bag of grain, a fat rooster, a basket of apricots." Mandell's (the No-Sweat Science series) retelling is a fine introduction to the dozens of tales about Nasreddin, the legendary 13th-century wise man. Ages 5–8.
Screenshots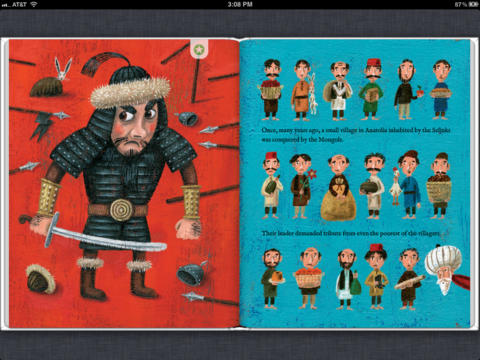 View in iTunes
$4.99

Level: Grades K-3
Category: Fairy Tales, Myths & Fables
Published: Feb 21, 2010
Publisher: Star Bright Books
Seller: Star Bright books
Print Length: 32 Pages
Language: English
More by Muriel Mandell & Andre Letria