A Fox In Paris
Mary Nelson Carter & Perry G. Vayo
This book can be downloaded and read in Apple Books on your Mac or iOS device.
Description
On a sultry August day in the summer of 1836, a young boy from the countryside of Bordeaux is abandoned to his fate on the streets of Paris.  Far from being the "City of Light," for the poor and the homeless the streets of Paris are a dangerous and unforgiving place.  For 11-year old Lucien Lehun they are now home.
Up to the moment he is abandoned by his jealous older cousin, Lucien enjoyed a life of privilege in the home of his adoring uncle, who took the boy in after he is orphaned.  Raised and educated as a young gentleman by his wealthy uncle, it is the old man who instills in the young boy the values that will ultimately be his salvation.
Upon his uncle's death, Lucien's cousin Gustave takes control of his father's estate and decides to rid himself of his new ward, rather than share any of his newly inherited wealth.  It is this selfish ambition that lands Lucien – frightened, penniless, and alone – in the Tuileries Palace gardens in Paris, with only his treasured copy of "Robinson Crusoe" to call his own.  It is here that the desperate boy rescues a stray dog that is about to be killed by the palace guards.  Doing his best to care for the badly injured animal, Lucien carries him along as he wanders the streets of the city in search of help.
Over time, the little dog regains his strength, and the two become an inseparable team, caring for each other through good times and bad, like Crusoe and Man-Friday, in Lucien's favorite book.  By remembering the values of generosity, charity and optimism, instilled in him by his beloved uncle, and with  the help of his clever dog, the two manage to thrive on the streets of the city.  
In the end, by staying true to himself and the timeless lessons of his uncle,  Lucien succeeds not only in saving himself, and the dog, but also in resurrecting his shattered family in ways he could never have imagined.

Based on an unfinished work by Mary Nelson Carter, and adapted and expanded by Perry Vayo, the timeless lessons of A Fox in Paris, are as meaningful for young readers (of any age) now, as they were more than a century ago.  Generosity, selflessness, and personal honor are in short supply these days, and this story is a warm-hearted, captivating, and elegantly written reminder of their eternal value.   It's a story we can all take to heart.
Screenshots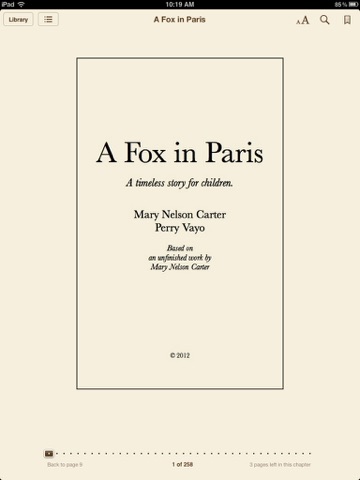 Customer Reviews
Great Children's Story with 3D Fun in Paris!
What a phenomenal children's book! In addition to being a timeless story of a boy and his dog surviving in 19th century Paris, this one-of-a-kind iBook has incorporated great graphics and interactive maps in context with the story… each chapter begins by asking where the central character is in Paris and, with the touch of a button, a cool rotating video reveals the location. It not only adds fun to reading the story, but also gives a wonderful geography lesson about one of the greatest cities in the world. As an extra bonus, the publisher has created a companion 3D website of modern Paris that shows where the story actually takes place, chapter by chapter, location by location. After reading the story, the reader can interactively explore how 21st century Paris looks today thanks to some amazing, hi tech wizardry. Highly recommended for all ages and a special treat for those who love the great "City of Lights." A great gift for anyone with an iPad or iPhone.
Loved it!
I loved it... we loved it! It was a great story to read with my son. He couldn't wait to get to the next chapter to see where the story had moved and to find Lucien. The 3-D maps were also really fun. Now, I want to take a trip to Paris! I feel Iike I know it already. Great iPad book and a heart-warming story.
GREAT GIFT FOR KIDS!!
I got the book for my nephew, and now, I'm the "best aunt ever." So, I guess it was a hit.
View in iTunes
$9.99

Category:

Fiction

Published:

Oct 18, 2012

Publisher:

Infonouveau

Seller:

Perry G Vayo II

Print Length:

272 Pages

Language:

English
More by Mary Nelson Carter & Perry G. Vayo