This book can be downloaded and read in Apple Books on your Mac or iOS device.
Description
Conor Broekhart was born to fly. It is the 1890s, and Conor and his family live on the sovereign Saltee Islands, off the Irish coast. Conor spends his days studying the science of flight with his tutor and exploring the castle with the king's daughter, Princess Isabella. But the boy's idyllic life changes forever the day he discovers a deadly conspiracy against the king.
From Publishers Weekly
Dec 31, 2007 –
An homage both to the 19th-century science fiction of H.G. Wells and Jules Verne, and to the superheroes of Marvel and DC comics, Colfer\x92s latest brims with boy appeal. The story starts with the hero\x92s portentous birth in a hot air balloon above the 1878 World\x92s Fair, in Paris. But Conor Broekhart\x92s home lies in the Saltee Islands, two (real) islets off the Irish coast, where he is raised as a favorite son, his best friend being Princess Isabella, King Nicholas\x92s only heir. His key association, however, is with Isabella\x92s tutor, a Frenchman who takes Conor under his wing, instructing him in fencing, fighting and the fledgling science of human flight\x97a consuming passion for many in the decade before the Wright Brothers\x92 1905 breakthrough. While the king is a progressive pacifist, his economy hums on the strength of diamonds mined in Little Saltee by prisoners under the control of Hugo Bonvilain, a Machiavellian despot harboring a deep grudge against the king. When Conor inadvertently witnesses a coup d\x92 tat, Bonvilain twists facts to ensure the boy gets sentenced to mining gems in dank caves. The race to fly becomes more than a scientific pursuit; it turns into Conor\x92s only chance to escape. Artemis Fowl fans will flock to this novel, and the polished, sophisticated storytelling here deserves an even wider audience than that bestseller. Conor Broekhart\x92s superpower is his brain, and he uses his smarts to fight tyranny. A tour de force. Ages 10-up.
Screenshots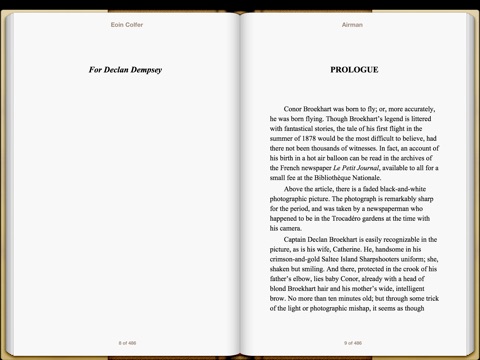 Customer Reviews
Great book
Can get boreing
Great!
Good job Eoin! I loved the Artemis Fowl series, bit this is a whole new idea. It's suspenseful, interesting, and cunning.

I would recommend this book to anyone!!!!
Airman
Both my son (13) and I loved this book. Feel good ending.
View in iTunes
$6.99

Category: Coming of Age
Published: Nov 02, 2009
Publisher: Disney Book Group
Seller: Disney Electronic Content, Inc.
Print Length: 416 Pages
Language: English