Always Emily
Michaela MacColl
This book can be downloaded and read in iBooks on your Mac or iOS device.
Description
Emily and Charlotte Brontë are about as opposite as two sisters can be. Charlotte is practical and cautious; Emily is headstrong and imaginative. But they do have one thing in common: a love of writing. This shared passion will lead them to be two of the first published female novelists and authors of several enduring works of classic literature. But they're not there yet. First, they have to figure out if there is a connection between a string of local burglaries, rumors that a neighbor's death may not have been accidental, and the appearance on the moors of a mysterious and handsome stranger. The girls have a lot of knots to untangle— before someone else gets killed.

Includes bonus material!
- Book Club Discussion Guide
- Sneak peek chapter from The Revelation of Louisa May by Michaela MacColl
From Publishers Weekly
Jan 27, 2014 –
MacColl (Nobody's Secret) weaves a suspenseful story set on the English moors in this historical novel loosely based on the Bront family. Focusing on the personality clashes between petite, prudent Charlotte and tall, headstrong Emily, she crafts a well-paced period mystery with just the right dash of romance to make the book appropriate for sophisticated readers even younger than the target audience. Echoing the Bront s' own fictions, the desolation of the moors is an ideal setting for frightening encounters and gripping confrontations a fierce dog, a handsome young stranger, a possibly insane runaway woman, and her potentially dangerous brother all figure in the many strands of the plot, along with a multitude of well-drawn minor characters. While the outcomes of some of the tensest scenes are a little unbelievable, the prolonged climax is satisfyingly action-filled and breathtakingly resolved. In an extensive author's note, MacColl presents the Bront s' biographical information and explains the liberties she took; her envoi encourages readers to go to the original novels a worthy challenge that many will likely take up after reading this one. Ages 12 up.
Screenshots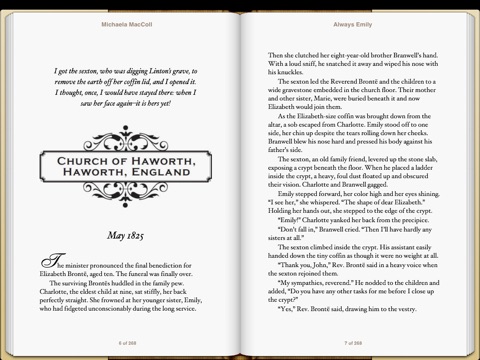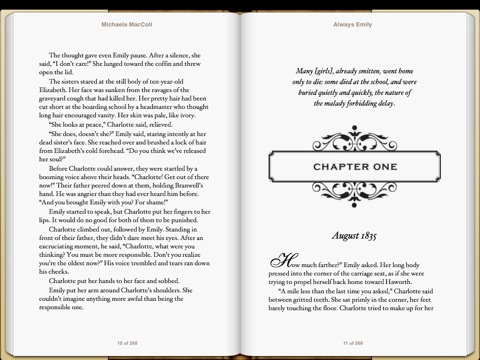 View in iTunes
$6.99

Level: Grades 7-13
Category: Historical
Published: Apr 08, 2014
Publisher: Chronicle Books LLC
Seller: Chronicle Books LLC
Print Length: 296 Pages
Language: English