An Awesome Book of Love!
Awesome Book
Dallas Clayton
This book can be downloaded and read in iBooks on your Mac or iOS device.
Description
When Dallas Clayton wrote An Awesome Book! for his son, everything changed. A self-published sensation, Dallas has visited schools and stores across the United States, hand-selling his book one kid at a time. An Awesome Book of Love!, his heartwarming follow-up, explores the many faces of love. This book is a perfect gift for Valentine's Day—or really for any day you'd like to tell someone special how much you care.
From Publishers Weekly
Dec 10, 2012 –
Clayton s companion to The Awesome Book! is an exclamatory love poem ( I love you so much/ I would scream it from mountains/ And dance like a fool in/ the coldest town fountains ). Quirky drawings in rainbow shades have a psychedelic edge (a purple bear with hearts blasting from its chest could have stumbled off of a Grateful Dead album cover), while the verse might have been sampled from indie rock: Sometimes it s a whisper/ when you feel you could shout/ or just being around/ when the others have gone/ or about/ letting go/ when you want to hold on. Peculiar creatures frolic throughout an elephant parachutes from a plane, a robot embraces a dinosaur creating a fresh and lightly irreverent backdrop for Clayton s earnest verse. Ages 4 8.
Screenshots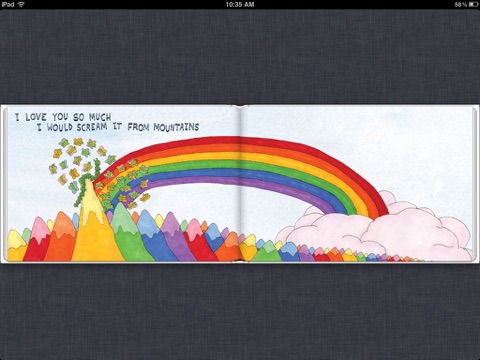 Customer Reviews
Great!
Awesome book and even better illustrations.
Wonderful book!! Beautifully illustrated!!!!
What a delightful book! Simple enough to snuggle with for bedtime stories and poignant enough to share with all those we love. Thank you for a wonderful expression of the love in our hearts!!
Love makes me smile
Great little book.
Other Books in This Series
View in iTunes
$4.99

Level: Grades P-3
Category: Fiction
Published: Dec 26, 2012
Publisher: HarperCollins
Seller: HarperCollins
Print Length: 56 Pages
Language: English
Series: Awesome Book