Anya's Ghost
Vera Brosgol
This book can be downloaded and read in Apple Books on your Mac or iOS device.
Description
Anya could really use a friend. But her new BFF isn't kidding about the "Forever" part . . .
Of all the things Anya expected to find at the bottom of an old well, a new friend was not one of them. Especially not a new friend who's been dead for a century.
Falling down a well is bad enough, but Anya's normal life might actually be worse. She's embarrassed by her family, self-conscious about her body, and she's pretty much given up on fitting in at school. A new friend—even a ghost—is just what she needs.
Or so she thinks.
Spooky, sardonic, and secretly sincere, Anya's Ghost is a wonderfully entertaining debut graphic novel from author/artist Vera Brosgol.

This title has Common Core connections.

Anya's Ghost is a 2011 Kirkus Best Teen Books of the Year title.
One of School Library Journal's Best Fiction Books of 2011.
One of Horn Book's Best Fiction Books of 2011.
Winner of the 2012 Eisner Award for Best Publication for Young Adults (Ages 12-17)
From Publishers Weekly
Apr 11, 2011 –
Anya Borzakovskaya is one frustrated, grouchy teenager. She's embarrassed by her Russian- migr mom; her little brother drives her bats; she doesn't fit in at school; she can't get the boy she likes to notice her; and her only weapons are her sharp tongue and perpetual sneer. Then she falls down a well and makes a friend: the very lonely ghost of a girl named Emily, who died there a hundred years before and can't leave her bones. Anya's the only one who can see Emily, of course, but Emily's excited enough to be out in the world again (via a tiny bone Anya carries around with her) that she offers to help her new pal out in all sorts of poltergeisty ways; Anya, in return, resolves to try to solve the mystery of Emily's murder. Brosgol's debut graphic novel taut, witty, and breezily paced seems to be heading in a very familiar direction, and then, abruptly, veers off toward a completely different and much more clever third act. Brosgol's two-toned purple-and-black images have a bold, cartoony flair, underscoring her knack for comic timing and pacing, and making nearly every stance and facial expression her characters adopt at least a little bit funny.
Screenshots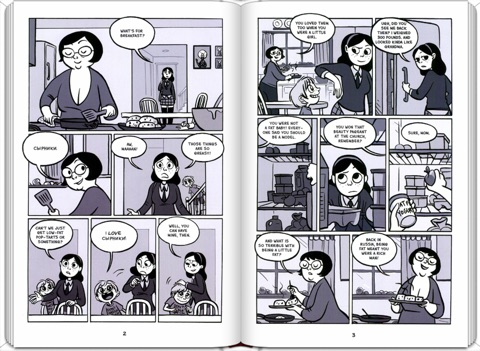 Customer Reviews
Awesome
I love this book to pieces
Buy it :)
I wasn't sure about this book but I loved it! Really hoping there will be a second book😋
My review
This book was really good and it was exciting to know what's gonna happen next
View in iTunes
$7.99

Level: Grades 7-12
Category: Comics & Graphic Novels
Published: Jun 07, 2011
Publisher: First Second
Seller: Macmillan
Print Length: 224 Pages
Language: English