The Autoimmune Wellness Handbook
A DIY Guide to Living Well with Chronic Illness
Mickey Trescott & Angie Alt
This book can be downloaded and read in iBooks on your Mac or iOS device.
Description
The way autoimmune disease is viewed and treated is undergoing a major change as an estimated 50 million Americans (and growing) suffer from these conditions. For many patients, the key to true wellness is in holistic treatment, although they might not know how to begin their journey to total recovery.

The Autoimmune Wellness Handbook, from Mickey Trescott and Angie Alt of Autoimmune-Paleo.com, is a comprehensive guide to living healthfully with autoimmune disease. While conventional medicine is limited to medication or even surgical fixes, Trescott and Alt introduce a complementary solution that focuses on seven key steps to recovery: inform, collaborate, nourish, rest, breathe, move, and connect.

Each step demystifies the process to reclaim total mind and body health. With five autoimmune conditions between them, Trescott and Alt have achieved astounding results using the premises laid out in the book. The Autoimmune Wellness Handbook goes well beyond nutrition and provides the missing link so that you can get back to living a vibrant, healthy life.
From Publishers Weekly
Oct 31, 2016 –
"With five autoimmune diseases between ," Trescott (The Autoimmune Paleo Cookbook) and Alt (The Alternative Autoimmune Cookbook) searched online for answers and became guinea pigs for paleo diet pioneer Loren Cordain's autoimmune protocol, a prescriptive eating plan. Both Trescott and Alt found relief, and a new goal: "to make this easier for the next person." They turned the protocol into a holistic seven-step program: inform, collaborate, nourish, rest, breathe, move, and connect. The eating plan, the most important component, sets out foods to avoid and include, and provides detailed shopping lists for four weeks of menus using the recipes provided. Recipes are paleo-level protein-rich; merely reading a suggested Tuesday breakfast-lunch-dinner lineup of double-pork pesto patties, hidden liver chili, and curried chicken salad will be enough to make some swoon. The liver isn't even the most dubious thing about the chili: it also calls for two cans of pumpkin puree and no chili peppers whatsoever, as capsicums are part of the nightshade family, whose members are all firmly in the "avoid" column.This volume will be of greatest interest to followers of the paleo diet.
Screenshots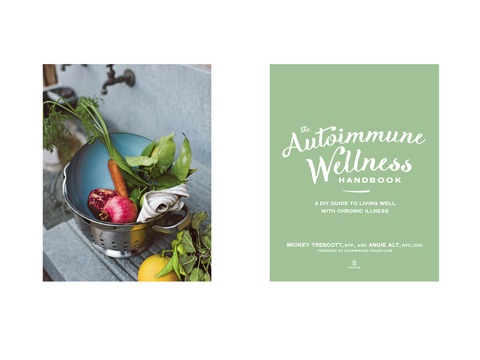 Customer Reviews
Super helpful!
This book and the accompanying podcast have helped me so much. I especially loved how practical it is in helping to implement an AIP lifestyle. I had tried AIP cold turkey for 2 months and then fell off the bandwagon completely. But now I started the 6 week slow transition outlined in the book and am hopeful. Mickey and Angie have such a compassionate, empathetic and humble perspective... makes it a real pleasure to hear from them.
View in iTunes
$12.99

Category: Health & Fitness
Published: Nov 01, 2016
Publisher: Rodale
Seller: Rodale Inc.
Print Length: 304 Pages
Language: English
More by Mickey Trescott & Angie Alt