Aviary Wonders Inc. Spring Catalog and Instruction Manual
Kate Samworth
This book can be downloaded and read in iBooks on your Mac or iOS device.
Description
Since 2031, Aviary Wonders Inc. has offered bird lovers a unique opportunity: Assemble your own bird from stunningly beautiful and carefully hand-crafted parts. The birds can even be taught to fly and to sing! This slyly satirical crafter's delight is offered as the perfect antidote to extinction of birds in the wild.

Brilliantly illustrated with oil paintings and filled with laugh-aloud asides as well as sobering facts about extinct species, this mock catalog is a clever send-up of contemporary sales spin and a thought-provoking look into an all-too-possible future.
From Publishers Weekly
Jan 20, 2014 –
Unsettling and unforgettable, this faux-catalog purports to replace extinct bird species with build-a-bird automatons. Sub-subtitled "Renewing the World's Bird Supply Since 2031," the compendium opens with earnest words from its founder, who "discovered a passion for bird watching while working for my family's logging company": "We can't replace the birds that have been lost. But we can provide you with the opportunity to create an exquisite alternative." Samworth, making her debut, marries conventional sales language to florid multimedia illustrations of disembodied bird parts "handcrafted and made to order by world-class artisans." Bird bodies (e.g., moa, swan, condor), sans beaks, wings, or feet, are presented as basic options. Shoppers choose from "hardwood or porcelain" strap-on beaks, screw-on legs, durable silk wings, and optional "embellishments" like the gaudy "Rockette" crest or the ocean-blue "Rachel Carson" wattles "made from recycled rubber." A closing section on assembly, with instructions for teaching the robotic birds to fly and sing, only deepens the uncanny sense of loss. This cautionary guidebook mimes ads that fetishize wildlife; Samworth's bracing irony will stimulate discussion among conservationists. Ages 9 12.
Screenshots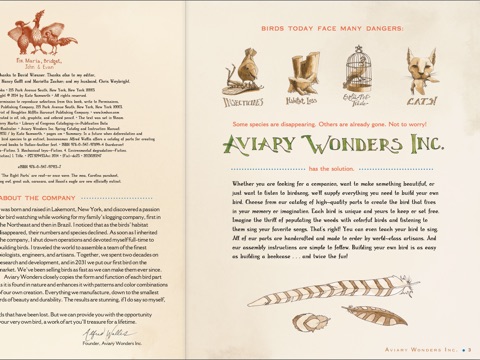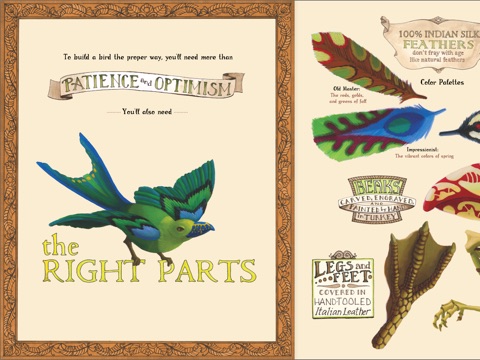 View in iTunes
$12.99

Level: Grades 5-7
Category: Animals
Published: Mar 04, 2014
Publisher: Houghton Mifflin Harcourt
Seller: Houghton Mifflin Harcourt Publishing Company
Print Length: 32 Pages
Language: English