Baby Bear Sees Blue
Wth Audio Recording
Ashley Wolff
This book can be downloaded and read in iBooks on your Mac or iOS device.
Description
Explore the world of color with Baby Bear, complete with an audio recording!

Baby Bear has so much to learn about the world! From the moment he wakes until it's time to curl up and go to sleep, he explores outside with his mama. They see green leaves, blue jays, brown trout, and—best of all—a patch of yummy red strawberries.

From bestselling picture book creator Ashley Wolff, here is a clever concept book that combines engaging and intricate linocut illustrations with a story that enthusiastically encourages children to identify a variety of vibrant colors. Young readers will delight in this chance to join Baby Bear as he discovers the colorful wonders of his lively, leafy forest home.
From Publishers Weekly
Dec 05, 2011 –
Wolff s (Compost Stew) watercolor-tinted linocuts make each page of this story simultaneously cozy and dramatic cozy because they star a fuzzy bear cub and his mother, and dramatic because each one contrasts dark shapes with washes of light and color. This is Baby Bear s first spring, and everything is new to him. Who is warming me, Mama? Baby Bear asks, clambering over his mother to get a better look at the light outside. That is the sun, his mother tells him. At the cave entrance, golden sunbeams stream in Baby Bear sees yellow and Baby Bear is shown in silhouette as he sits just where the cave s blackness meets the light of the outside world. The line Baby Bear sees is repeated for the brown of a trout, the blue of a jay, the red of a strawberry, and more, linking every color to something in the natural world. Children will be absorbed by the complex textures of Wolff s linocuts, the Japanese woodblock style graded shades of the sky, and the reassuring comfort of a world that is always safely guarded by Mama Bear. Ages 2 6.
Screenshots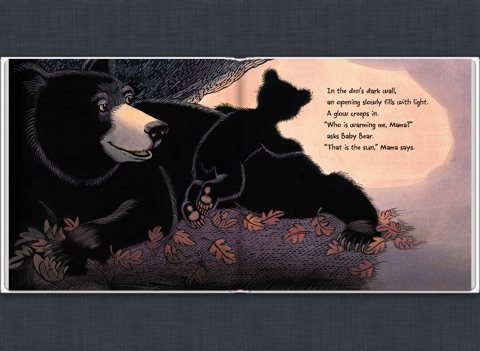 View in iTunes
$7.99

Level: Grades P-1
Category: Animals
Published: Feb 07, 2012
Publisher: Beach Lane Books
Seller: Simon and Schuster Digital Sales Inc.
Print Length: 40 Pages
Language: English