Become a SuperLearner
Learn Speed Reading & Advanced Memorization
Jonathan Levi and Others
This book can be downloaded and read in iBooks on your Mac or iOS device.
Description
Develop the Skills to Learn Anything Faster, Easier, and More Effectively
Written by the creators of the #1 bestselling course of the same name, this book will teach you how to "hack" your learning, reading, and memory skills, empowering you to learn everything faster and more effectively.

What Would You Do If You Could Learn Anything 3 Times Faster?
In our rapidly changing and information-driven society, the ability to learn quickly is the single most important skill. Whether you're a student, a professional, or simply embarking on a new hobby, you are forced to grapple with an every-increasing amount of information and knowledge. We've all experienced the frustration of an ever-growing reading list, struggling to learn a new language, or forgetting things you learned in even your favorite subjects.

This Book Will Teach You 3 Major Skills:
• Speed reading with high (80%+) comprehension and understanding
• Memory techniques for storing and recalling vast amounts of information quickly and accurately
• Developing the cognitive infrastructure to support this flood of new information long-term
However, the SuperLearning skills you'll learn in this course are applicable to many aspects of your every day life, from remembering phone numbers to acquiring new skills or even speaking new languages.

Anyone Can Develop Super-Learning Skills
This course is about improving your ability to learn new skills or information quickly and effectively. We go far beyond the kinds of "speed reading" (or glorified skimming) you may have been exposed to, diving into the actual cognitive and neurological factors that make learning easier and more successful. We also give you advanced memory techniques to grapple with the huge loads of information you'll soon be able to process.

"This book should be the go-to reference for anyone looking to upgrade their mind's firmware!"
-Benny Lewis, Language Learning Expert

Learn How to Absorb and Retain Information in a Whole New Way - A Faster, Better Way

The Authors' Proprietary Method for Teaching Speed Reading & Memory Improvement
You may have even taken an ineffective speed reading course in the past, only to realize that you didn't retain anything you read. The sad irony is that in order to properly learn things like speed reading skills and memory techniques in the past, you had to read dozens of books and psychological journals to decode the science behind it. Or, you had to hire an expensive private tutor who specializes in SuperLearning. That's what I did. And it changed my life.

Fortunately, my co-authors (experts and innovators in the fields of superlearning, memory improvement, and speed reading) agreed to help me transform their materials into the first ever digital course. 30,000 satisfied students later, we have transformed that digital course into a book you can take anywhere.

Our teaching methodology is based heavily on at-home exercises. The chapters themselves are only a small part of what you're buying. You will be practicing various exercises and assignments on a regular basis over the course of 7 weeks.

In addition to the lectures, there is are hours of supplemental video and articles which are considered part of the course curriculum.

"This vital book contains all the tools needed to learn, memorize, and reproduce anything you want with the joy that ease brings. Don't take another class until you've read it!"
-Anythony Metivier, Author & Memory Expert

If you wish to improve memory and concentration, learn more effectively, read faster, and learn the techniques of memory champions - look no further!
"An awesome read that will push the limits of your brain. Levi does an incredible job of guiding you through, to bring your brain from average to UNSTOPPABLE!"
-Nelson Dellis, 4-Time USA Memory Champion
Screenshots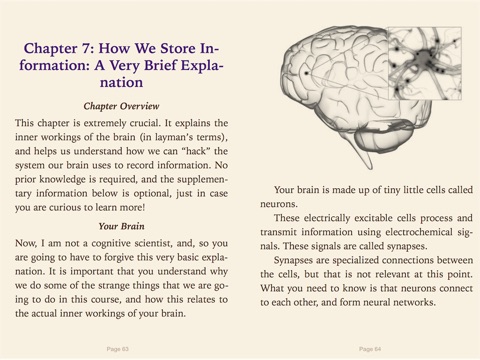 Customer Reviews
Amazing Book..Quality Material
This book is Amazing ,it covers many examples and Practical ways to improve on reading skills.It has Personally helped me improve on my retention and Reading speed as I am now using these techniques in University.The Author is well informed ,this is definitely quality material and would totally recommend this book to many of my friends and family.
View in iTunes
$4.99

Category:

Self-Improvement

Published:

Apr 01, 2015

Publisher:

J. Levi Publishing

Seller:

Jonathan Levi

Print Length:

220 Pages

Language:

English
More by Jonathan Levi, Lev Goldentouch & Anna Goldentouch