Before Watchmen: Minutemen/Silk Spectre
Darwyn Cooke & Amanda Conner
This book can be downloaded and read in iBooks on your Mac or iOS device.
Description
The controversial, long-awaited prequels to the best-selling graphic novel of all-time are finally here: BEFORE WATCHMEN! For over twenty years, the back stories of the now-iconic characters from Alan Moore and Dave Gibbon's landmark graphic novel had been the subject of much debate and theorizing. Now, DC Comics has assembled the greatest creators in the industry to further paint the world of WATCHMEN, starting with this first volume starring MINUTEMEN and SILK SPECTRE

The critically acclaimed and Eisner Award-winning creator of DC: THE NEW FRONTIER Darwyn Cooke lends his talents MINUTEMEN. As the predecessor to the Watchmen, the Minutemen were assembled to fight against a world that have more and more rapidly begun to spin out of control. Can these heroes from completely different backgrounds and with completely different attitudes on crime come together? Or will they fall apart before they begin? 

SILK SPECTRE takes an introspective look at the WATCHMEN feature player's struggles with her overbearing superhero mother and her scattered path toward taking the mantle of the Silk Spectre. With gorgeous art by co-writer and illustrator Amanda Conner (POWER GIRL, The Pro), SILK SPECTRE takes a very different perspective at the world of BEFORE WATCHMEN. 

Collects BEFORE WATCHMEN: MINUTEMEN 1-6 and BEFORE WATCHMEN: SILK SPECTRE 1-4.
From Publishers Weekly
Jul 08, 2013 –
The two stories in in this collection cover characters originally introduced in Alan Moore s Watchmen. The Minutemen tale is the strongest in the collection and feel like a real expansion, not just an imitation of the source material. Cooke s art is flawless, loaded with his distinct sharp, vintage look that is perfectly suited for the rise and fall of America s first team of superheroes. Nite Owl s narration through the comic provides the perfect voice to describe their exploits, including the tragedy of Silhouette and the surprising metamorphosis of the Comedian during the war. The only real letdown is that the storytelling feels rushed. In the Silk Spectre story drawn by Conner, Laurie Jupiter, frustrated with her overbearing mother, leaves Los Angeles with a new boyfriend and sets up shop in counterculture San Francisco. Her world is a peaceful patchwork of young love and part-time work until a Frank Sinatra look-alike called the Chairman initiates an evil scheme on the local populace to lace LSD with a substance that convinces hippies to become obsessed with buying things. The Chairman plot and the depiction of counterculture 1960s San Francisco feel forced and gimmicky, and undermine the portrayal of Laurie.
Screenshots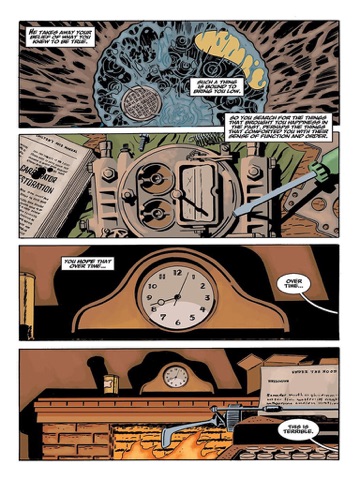 View in iTunes
$12.99

Category: Graphic Novels
Published: Jul 02, 2013
Publisher: DC Comics
Seller: DC Comics
Print Length: 288 Pages
Language: English
More by Darwyn Cooke & Amanda Conner