Born to Rock
Gordon Korman
This book can be downloaded and read in Apple Books on your Mac or iOS device.
Description
Leo Caraway-high school senior, president of the Young Republicans club, 4.0 GPA, future Harvard student-had his entire future perfectly planned out. That was, until the X factor. As in Marion X. McMurphy, aka King Maggot, the lead singer of Purge, the most popular, most destructive band punk rock has ever seen. He's also Leo's biological father. When Leo discovers that his real father is a punk rock legend, he is disgusted. Not only is Leo not a punk rock fan, but he believes the X factor (the Maggot blood that is running through his veins) is a dangerous time bomb just waiting to explode. And sure enough it does-Leo stubbornly defends the unlikeliest of people, thereby getting himself falsely accused of cheating on a test. Because of the blemish on his record, the once star pupil finds his scholarship to Harvard taken away. So he hatches the crazy plan of going on tour with King Maggot for Purge's summer revival tour, all the while secretly hoping to convince Maggot to pay for his tuition. But life on the r
From Publishers Weekly
May 08, 2006 –
Every book should be this entertaining. Korman (No More Dead Dogs) hooks readers with a prologue in which Young Republican Leo Caraway teasingly relates that he's had firsthand experience of a "cavity search.... It has nothing to do with the dentist. If only it did." The set-up is brilliant because, as readers are about to learn, Leo is on the verge of graduating from high school with Least-Likely-to-Have-a-Cavity-Searched honors early acceptance to Harvard and a full scholarship until two wrenches are thrown into the works. He's accused of helping another student cheat on a test and, trolling the Internet, he learns the identity of his birth father. Leo loses his scholarship because of his ethics violation; Dad is none other than King Maggot, lead singer of Purge, the "punk rebel who defined 'attitude' for an entire decade." Hoping those 25 million CDs and vinyl records Purge sold during its heyday means the King has the resources to finance an Ivy League education, Leo signs on as a roadie for his aging father's comeback tour. His mostly PG tour of duty keeps this suitable for middle school readers. What makes the book irresistible is its well-crafted plot, full of fate-reversing twists and bountiful humor. This one enters the chart with a bullet: it has the goods to go platinum. Ages 12-up.
Screenshots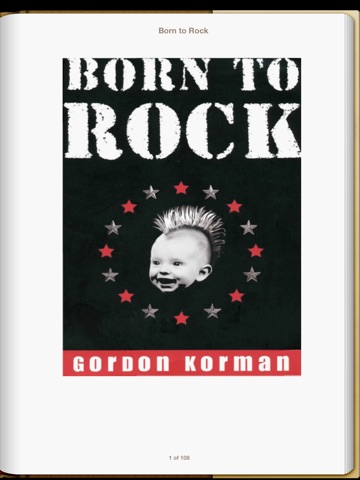 Customer Reviews
Amazing
This book deserves to be king! X if only there was a sequel!
View in iTunes
$7.99

Category: Coming of Age
Published: Feb 12, 2013
Publisher: Disney Publishing Worldwide
Seller: Disney Electronic Content, Inc.
Print Length: 272 Pages
Language: English