Catching Cassidy
Book 1, Harborside Nights
Melissa Foster
This book can be downloaded and read in iBooks on your Mac or iOS device.
Description
When tragedy strikes, best friends turn to insatiable lovers...But harsh realities may tear them apart. Harborside Nights is a sexy, hot, and evocatively real contemporary romance series featuring a group of friends who have known one another for years as "summer" friends, and come together after college to build their lives. They're tough, edgy, and accepting--most of the time. 

Catching Cassidy is told in first person POV and written in the loving, raw, and emotional voice readers have come to love by New York Times bestseller Melissa Foster.  

IN CATCHING CASSIDY...
Wyatt Armstrong never imagined that instead of celebrating his college graduation, he and his twin sister would be dealing with the death of their parents. Then again, Wyatt had never been one to think past tomorrow. He heads to their summer home in Harborside, Massachusetts, with his best friend Cassidy Lowell in tow, to deal with his parents' death and to try to figure out his next step.

Six foot two, infuriatingly handsome, and flirtatious, Wyatt Armstrong has always been there for Cassidy, helping her pass her classes and fend off unwanted advances, while driving her insane with his one-night stands--but that's what best friends are for, isn't it? Having each other's backs. There was never any doubt that she would accompany him to his family's summer home--but she never expected to begin seeing Wyatt as more than a friend. Or has she been ignoring her feelings all along?

It's impossible to ignore the sizzling heat between them as Wyatt and Cassidy get even closer, but Cassidy knows Wyatt's past, and she has a real job to begin in the fall. Wyatt may be a sure thing for the summer, but Cassidy needs more. For the first time in his life, Wyatt is forced to look toward the future if he doesn't want to lose the one woman who's shared his past and owns his heart.

Catching Cassidy is told in first person POV and written in the loving, raw, and emotional voice readers have come to love by New York Times bestseller Melissa Foster. 

Characters from the Love in Bloom series will appear in the Harborside Nights books. Wyatt is the cousin of Max Armstrong ("Lovers at Heart, The Bradens).

Harborside Nights series:
Catching Cassidy (Het)
Discovering Delilah (F/F)
Tempting Tristan (M/M)
More coming soon

CATCHING CASSIDY is a SILVER MEDAL Winner, Readers' Favorite Award, Realistic Fiction 

"Catching Cassidy is laugh out loud funny, heartwarming, sexy, and hands down one of my favorite reads so far this year!" -- #1 NYT Bestselling Author of The Bet, Rachel Van Dyken

"A wonderful emotional and touching story, about friends to lovers, family and friendship that will pull on our heartstrings. If you love romance, great stories, wonderful characters, family, and steamy sex; Melissa Foster is one of the best." Barb Liebman, The Reading Cafe

"You can always rely on Melissa Foster to deliver a story that's fresh, emotional and entertaining. Every book's a winner!" -- New York Times Bestselling Author Brenda Novak

"The whole Love in Bloom series is pretty amazing, but Bursting with Love just blew me away. It's sweet and heartbreaking and sexy and easily one of the best romances I've ever read." -- Fic Central

"Melissa Foster has an amazing penmanship in being able to create a world where family is of utmost importance, friendship is never to be abused, and that true love and trust is something that you can never break." Kathleen, Alpha Book Club

"Like Nora Roberts, Melissa Foster has captivated me with her fantastic, sexy, romantic stories." K. Winning

"Sensual, sexy, and satisfying. A captivating blend of the dance between lust, love, and life." -- Bestselling author, Keri Nola (on The Bradens)

"Melissa Foster writes the best contemporary romance I have ever read. She does it in bundles, topped it with great plots, hot guys, strong heroines, and sprinkled it with family dynamics - you got yourself an amazing read." -- Reviews of a Book Maniac
Screenshots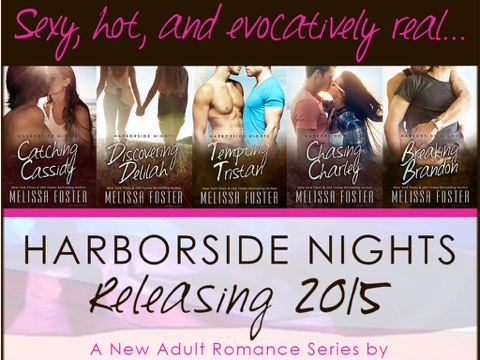 Customer Reviews
Friends to Lovers tale done right!!
**ARC REVIEW - SPOILER FREE**

Catching Cassidy is my first Melissa Foster read, and I can honestly say it won't be my last. Wyatt & Cassidy's "friends to lovers" tale pulled me in from the very first chapter. I love how their story made me alternated between laughter, lust, hope and sorrow. Ms. Foster's ability to make you physically feel the charters emotions is truly amazing. For every bad hand they were dealt, Wyatt & Cassidy managed to overcome each obstacle and find happiness. Catching Cassidy is a sweet but torturously steamy read full of sexual tension! I instantly fell in love with the Harborside crew of characters and am praying they each get their own books! Give it a chance, I'm confident you won't be disappointed.
The icing on the awesome cake
Wyatt's always been one to live in the moment, spending time with his friends and his sister, navigating a string of casual hook-ups, and never really thinking about the future. But when his parents are killed, the future he'd always taken for granted is suddenly unclear, and he's got some growing up to do if he's ever going to figure things out.

Cassidy can't deny her attraction to Wyatt, but he's her best friend, and he's never had any interest in a girl for longer than a night or two. He's a great guy to have on her side, but he's not right for a relationship. But when her boyfriend is caught cheating on her, Wyatt is the first one to come to her defense, and when he needs her friendship just as much as she needs his, she doesn't hesitate to try and be there for him. Even when the lines between them begin to get a little blurred.

Judging Covers: Isn't it gorgeous? Stock images are just that — stock images. But this design by far beats the few other covers I've seen this couple on. Something about that color and texture overlaying the bottom contrasts perfectly to highlight that sunburst. I probably would have gone with something lighter, pastel maybe, and as this cover shows, that would have been a big mistake. Someone's certainly got a good eye…

The Verdict: Best friends + New Adult + one of my all-time favorite authors? It's like this one was written just for me!

Cassidy, Wyatt, and Wyatt's twin sister Delilah have just graduated from college and are celebrating when everything comes crashing down. They stumble across Cassidy's long-time boyfriend cheating on her, something that's apparently been going on for quite some time, and Wyatt lets his fists fly. But Cassidy's relationship troubles are nothing compared to what Wyatt and Delilah are about to go through.

When their parents are suddenly killed in a car accident, Wyatt and Delilah are crushed. Trying to deal with the loss and everything that comes with it, they decide to spend the summer in Harborside, a small town where their parents had a vacation home and a bar & grill. Cassidy joins them, both to support her friends and because there's not much left for her at home anyway.

Wyatt's immaturity stands out almost like another character in the book, and throughout the story we see him giving into it, facing it head-on, and finally overcoming it. He and Delilah are both dealing with so much more than anyone their age should, and at a time in their lives when they thought the future was theirs to shape. Instead they're dealing with post-college life, the loss of their family, the inheritance of a business they know nothing about, a close family friend who's starting to come off as a bit sketchy, and Cassidy, who had planned on moving to New York once summer was up.

Obviously there's a heavy load of angst in the story, but it's tempered well with hope, selfless friends, and the romantic potential between Wyatt and Cassidy. But most refreshing is the realism with which the characters are portrayed. They act their ages, which often means they're reacting to things emotionally, immaturely, and without any semblance of reason. But they all truly care about each other, so even when things get awful, they never turn their backs on each other. And of course, there's Delilah. To be honest, I sort of expected her to find a relationship somewhere in this story, a secondary plot in which we wouldn't get much insight but would be told about, and I set myself up for that disappointment early on. Needless to say, I was thrilled when I found out that Delilah's story will be told in the next book!

It's no secret that I love Melissa Foster's books. They're all classic romance plots, complete with everything that keeps us going back to the genre, and yet her characters are just different enough, each with unique stories, that not only is each book different from the rest of the series, but they're a fresh change from just about everything else in the romance category. Throwing some New Adult and LGBT into the mix is just the icing on the awesome cake.

***FicCentral received this book from Tasty Book Tours for free in exchange for an honest review.
Another Great Beach Book!!
I was absolutely 💕 Wyatt and Cassidy's story and Harborside nights gang. It draws you in with the Harborside gang. Melissa Foster has away of putting right in the center the action of the story like you are one with the characters.
Other Books in This Series
View in iTunes
Free

Category:

Contemporary

Published:

Apr 28, 2015

Publisher:

World Literary Press

Seller:

World Literary Press, LLC

Print Length:

300 Pages

Language:

English

Series:

Book 1, Harborside Nights