Choice Without Chaos
Anne Bedrick
This book is available for download with iBooks on your Mac or iOS device. Multi-touch books can be read with iBooks on your Mac or iOS device. Books with interactive features may work best on an iOS device. iBooks on your Mac requires OS X 10.9 or later.
Description
What is your goal as an art teacher? Do you want to help build students who know how to be self-directed, find joy in their work, and are able to recognize emerging possibilities in all kinds of situations? 

Teaching with choice is in the best interest of students. It not only respects them as learners, but it also helps them to develop traits we value in adults; creativity, perseverance, flexibility, self-expression, and diligence.  An art class built around choice is the perfect place to develop skills for an ambiguous and ever-changing world. Rather than follow a teacher's "recipe" for artwork that is supposed to look a certain way, students test their own hypotheses. "What happens if I press hard? How many different colors can I make using blue?  Is there a way to make this move?" As a result, they understand why they are doing what they are doing and engage much more deeply with their learning. 

Through text, photos, and movies this interactive iPad book will help you understand how to lay the foundation for successfully teaching with choice.

About the Author
Anne has spoken at both national and state conferences about teaching with choice.  She currently teaches choice to grades K-4 at the Rye Country Day School in New York.
Screenshots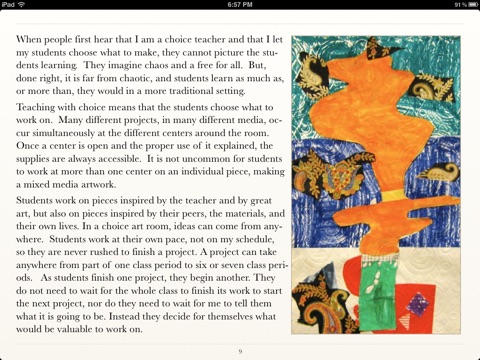 Customer Reviews
Great starter guide to choice
I personally have been teaching modified choice at the middle school level for years, but I was excited to gain some new insights and tips in this book. I was not disappointed. It was a quick read for me, but one that i will return to, and continue to highlight and make notes as I start my classroom set up for this school year. It is also inspiring me to do some writing of my own to share how this style of teaching art can also work for the ever mercurial tween set.
A must for any teacher serious about making the art classroom a studio for students
Anne Bedrick invites the reader into the choice-based art education classroom where self-directed learning and imagination are considered standards. Building upon years of teaching experience, Bedrick weaves a framework for teachers new to the idea of choice and provides encouragement for those who are currently practicing. This text is for any art educator who feels limited by the whole class project approach. Through an incredible amount of images and interactive video placed in key sections of the text, the reader becomes more of a participant than a passive collector of facts. You will find yourself transported back to college when art education was about experimenting, when the emphasis was on art making, and when students were viewed as artists.

Not only does Bedrick cover philosophy and purpose, but she lays out with concise precision parts of her own classroom, also called centers, that demonstrate the heart of the choice classroom. Within ever center there are suggestions for projects and techniques as well as clean up procedures. Careful consideration is given to the way in which the choice classroom is a highly managed one but instead of all direction coming from the teacher, it is coordinated by the students so that the room functions for all. In the text she shares stories of how students collaborate, share materials, and make decisions that will benefit their peers. This is ownership at it's finest.

If that wasn't enough, you won't have to dig deep to find connections to 21st century skills. Embedded into her practice are those innovative and creative techniques that all teachers desire and administrators look for when evaluating an art program. Connections with other content areas can be a rich source of student creation when given the studio space that only choice can offer. Instead of the teacher crafting that one specific lesson and project which parallels other curriculum pacing guides, students are encouraged to take the knowledge learned in science, math, history, or the related arts and apply their knowledge through art making. We need students who can not only demonstrate factual knowledge but we need students who can apply that knowledge in ways that are responsive to their community, business, and personal advancement.

After reading this text you will be invigorated to learn more and start your own choice program as it fits with your personal teaching style and your student's needs. Bedrick provides a list of resources and links to interactive listservs where many choice teachers share stories of just starting out and where veteran teachers advise crafted by decades of trail and error.

Finally, you will get the sense that choice-based art education is an extension of how you as an artist practice your craft. Bedrick reminds us that art is about exploring the uniqueness that resides in us all.
Choice Without Chaos
I am a retired art educator who supervises student teachers. I have recently observed in two classrooms who use the choice based approach and have been very enthused about what I have seen. This book will be an invaluable resource for people considering the chance to a choice environment. It is very readable and an exciting use of the ipad format with the embedded video and slide shows. I am recommending it to all of my student teachers.....and the established teachers I know.
View in iTunes
$14.99

Category:

Teaching & Learning

Published:

Aug 13, 2012

Publisher:

Anne Bedrick

Seller:

Anne Bedrick

Print Length:

194 Pages

Language:

English