Discover To Deliver: Agile Product Planning and Analysis
Ellen Gottesdiener & Mary Gorman
This book can be downloaded and read in iBooks on your Mac or iOS device.
Description
Discover to Deliver: Agile Product Planning and Analysis is a practical guide for rapidly discovering product needs in your lean/agile project. Ellen Gottesdiener and Mary Gorman, leading agile practitioners and consultants, share key concepts, practices, examples, a case study, tips, and powerful planning and analysis tools. This book is for professionals who need to collaboratively conceive, deliver and support software products and systems. You'll learn how to continually discover and deliver high-value products. 

Gottesdiener and Gorman introduce a visual language and employ navigation aids to engage readers. The case study is woven throughout the discussion of concepts and detailed practices and is the subject of 80 examples. The "Structured Conversation" section details how to explore and evaluate each of the 7 Product Dimensions, an analysis framework designed to streamline planning and development.  The "Adapting Your Practices" section offers ways to calibrate and adjust planning and analysis for a variety of contexts. Some 41 essential tools and techniques are explained and illustrated with case study examples. 
See how to: 
Rapidly discover product needs to deliver valued results Engage stakeholders to enable shared understanding of product needs Collaborate continually to discover and deliver an evolving product Holistically analyze requirements using the 7 Product Dimensions Guide planning with the Business Value Model  Use structured conversations to make value-based decisions about product options and allocate them to planning horizons Whatever type of software product or system you build, whatever your area of expertise—product or project management and leadership; business analysis; development, testing and quality assurance; or business management—Discover to Deliver explains essential practices you can use in your daily work as you collaborate to rapidly discover product needs and deliver valued results.  
Screenshots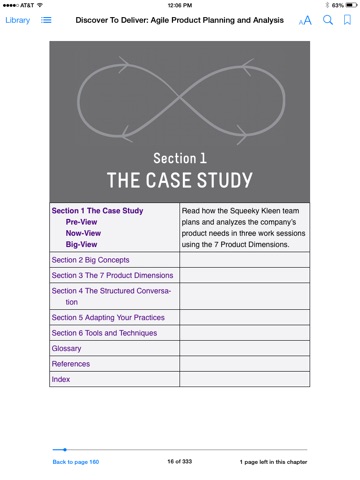 Customer Reviews
A highly recommended read for anyone involved in Agile (software) product delivery
Working as Business Analyst in an IT organization that is undergoing a massive transformation into becoming Agile, I've seen and experienced the challenges of Agile (software) product delivery. Nowadays, delivering products that create the most value for our business owners and our customers has become the main theme in everything we do. We tell our business owners that they might not get everything they -want-, but they will definitely get what they -need-. But finding out exactly what product capabilities create the most value is a challenge, and where the art of requirements elicitation comes in.

By means of Discover to Deliver the authors, leading Agile consultants Ellen Gottesdiener and Mary Gorman, have provided an accessible, highly visual and collaborative approach to discover which product capabilities deliver the most value for business and customers. In their book they describe an approach to come to an holistic view on the product to be delivered by exploring seven functional and non-functional product dimensions: user, interface, action, data, control, environment and quality attribute. To aid in creating this view they provide a detailed explanation of an elicitation approach called structured conversation, in which customer, business and technology (IT) stakeholders go through exploring, evaluating and confirming the product capabilities. Via continuous interaction, true to Agile, the long term program (Big View), mid term release (Pre View) and short term sprint (Now View) deliverables are explored and planned on a backlog. On top of the provided framework, the book has a section with over 30 tools and techniques for analysis, collaboration and planning.

The authors have a pleasant and accessible style of writing and guide you through the process by means of a case study introduced in the first chapter of the book. Being a visual person, I particularly liked their highly visual approach that was inspired by the Business Model Generation book. The texts are concise, not too long and not too short, and provide enough background and detail to become acquainted with the framework. This style of writing plus the extensive section on tools and techniques sets Discover to Deliver apart as not a one-time read but a reference guide to revisit frequently.

Discover to Deliver is of great value not only for Business Analysts in Agile environments, but for anyone who's involved in (software) product delivery, be it Agile or not. A highly recommended read that I'm sure to take from my e-book library for reference frequently.
View in iTunes
$25.99

Category:

Computers

Published:

Aug 01, 2012

Publisher:

EBG Consulting, Inc.

Seller:

EBG Consulting, Inc

Print Length:

312 Pages

Language:

English
More by Ellen Gottesdiener & Mary Gorman