Donuts
Hippo and Gorilla
Bryan Langdo
This book can be downloaded and read in iBooks on your Mac or iOS device.
Description
Hippo is eating too many donuts. Gorilla warns him that he'll get sick, but Hippo just can't stop eating them. They're all he can think about. Somehow, Hippo needs to get his mind off donuts. And he just might have a plan...
Screenshots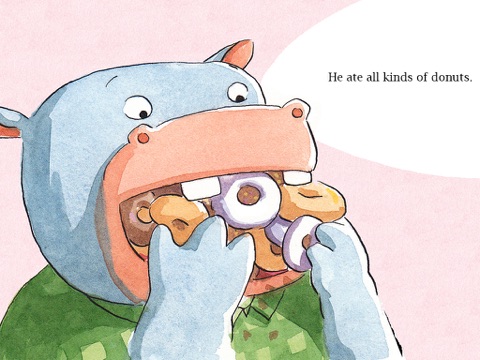 Customer Reviews
Lovable Characters!!!
Cute book! Fun story, it's makes you laugh. Great voices too. I will enjoy sharing this story with my nephew and nieces.
Funny, Cute, and Entertaining
Hippo and Gorilla is a great series. In "Donuts", Hippo eats too many donuts, and Gorilla warns him that he will get a stomach ache. Of course Hippo doesn't listen, and he gets sick to his stomach.
In this series, Hippo gets into all sorts of trouble, and Gorilla is always trying to stay out of trouble. They are good friends though, and always work things out in the end. The watercolor artwork is expressive, and adds to the humorous adventures. My son loves reading about the two pals, and the iPad format is a lot of fun for him. It is great that the book has an audio component that highlights words as they are being read. Great for fans of Curious George!
Adorable book!!
I love donuts so I can totally relate to hippo in the story! This book was somehow amazingly FREE?!! The ones that come after it are incredibly low priced and just as good!! Such a treat to find high-quality storytelling, illustration, music and sound like this in a reasonably priced iBook!! Yay! I recommend these for anybody that's looking for sweet, high-quality children's books that's totally entertaining and a great price!!
Other Books in This Series
View in iTunes
Free

Level:

Grades P-3

Category:

Early Readers

Published:

Dec 05, 2012

Publisher:

Gorilla Publishing

Seller:

Gorilla Publishing

Print Length:

21 Pages

Language:

English

Series:

Hippo and Gorilla