Dragon Sim-13
Book 2, The Green Beret Series - The Green Berets
Bob Mayer
This book can be downloaded and read in iBooks on your Mac or iOS device.
Description
Bob Mayer is a New York Times bestselling author, a graduate of West Point, former Special Operations, and the feeder of two yellow Labs, most famously Cool Gus. He's had over seventy books published, including the #1 bestselling series Area 51, Atlantis, and the Green Berets. Born in the Bronx and having traveled the world (usually not the tourist spots), he now lives peacefully with his wife and his Labs. He has a free Reader's Guide listing all books with information about them here on Amazon. He also has free eBooks, short stories and audiobooks on his web site www.bobmayer.com He wrote under a number of pen names including Robert Doherty (Area 51) and Greg Donegan (Atlantis)
From Publishers Weekly
Aug 03, 1992 –
Mayer follow up Eyes of the Hammer with a pulsing techno-thriller set in June 1989. As Chinese students are dying in Tiananmen Square, the U.S. stages Dragon SIM-13--a routine computer exercise involving a simulated Special Forces raid on a Chinese oil pipeline. But the program has been written by Doctor Meng, a refugee determined to strike a blow against his onetime tormentors in Beijing, and Sgt. Dave Riley and his Green Beret A-team find themselves actually in China, confronting disaster when a helicopter crash leaves half the men stranded in hostile territory. Mayer, an expert on special warfare operations, convincingly presents a situation in which no one in authority can quite believe the sudden connection between computer screens and real life. He equally successfully demonstrates how lower-echelon uncritical obedience to orders can make sense individually but add up to absurdity. The book's greatest strength, however, is its story line. In particular, the final rescue mission--featuring a hotshot female helicopter pilot--is a nail-biter in the best tradition of adventure fiction.
Screenshots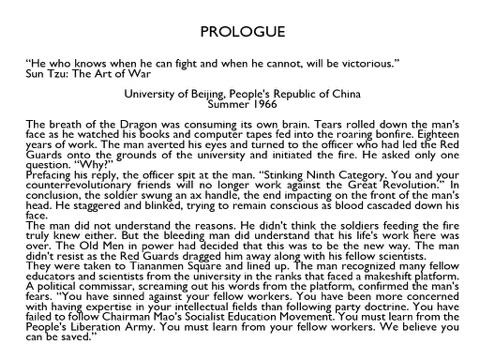 Other Books in This Series
View in iTunes
$4.99

Category: Fiction & Literature
Published: Jun 21, 2011
Publisher: Cool Gus Publishing (St. Martins)
Seller: Robert Mayer
Print Length: 300 Pages
Language: English
Series: Book 2, The Green Beret Series