This book can be downloaded and read in iBooks on your Mac or iOS device.
Description
From Raina Telgemeier, the #1 New York Times bestselling, multiple Eisner Award-winning author of Smile and Sisters! Callie loves theater. And while she would totally try out for her middle school's production of Moon over Mississippi, she can't really sing. Instead she's the set designer for the drama department's stage crew, and this year she's determined to create a set worthy of Broadway on a middle-school budget. But how can she, when she doesn't know much about carpentry, ticket sales are down, and the crew members are having trouble working together? Not to mention the onstage AND offstage drama that occurs once the actors are chosen. And when two cute brothers enter the picture, things get even crazier!
From Publishers Weekly
Jun 04, 2012 –
Seventh-grader Callie has been in love with the stage ever since she saw Les Miz when she was younger. Since her singing skills leave much to be desired, she s forged a place for herself at the drama club as the set decorator. While her love for the stage is clear, which boy she loves is a different matter. Is it Greg, the handsome eighth-grade jock who trifled with her while on a break from his diva girlfriend, Bonnie? Or Justin, the cute boy who is playing the comic relief in the middle school production of Moon over Mississippi? who happens to be gay. Or what about his twin brother, Jesse, who isn t gay and is helping Callie with set decorating? The author follows up her award-winning graphic novel Smile with another dead-on look at the confusing world of middle school, sweetly capturing all the drama swirling around the school production: from jealousies and misunderstandings to the last-minute surprise stage substitution that may not make a star, but helps settle who likes who. Telgemeier s manga-infused art has some moments of heartache, but the generally cheerful and affirming story should be eagerly devoured by her many fans. Ages 10-14.
Screenshots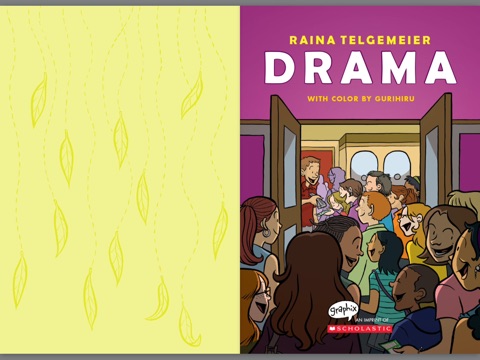 Customer Reviews
Loved it
It was incredibly awsome 😘🍱🍣🍥🍘🍘🍚🍩🍦🍧🎂🍨🍪🍫🍹🍷🍴🍼🍤🍕🍔🍟🍗🍖🍻🍺☕️
Drama
This is a very good book so s all of her as we'll my favorite is drama it the best book.I don't like reading but she bring to life so much that when they cry you.When they laugh you laugh . I can't wait to see what see writes next I going to be the 1st to read it
Great
What a nice touching book with many unexpected but well appreciated twists!!! Wow! This is by far some of the authors best work and Raina shouldn't stop anytime soon. Bravo!
View in iTunes
$6.99

Level: Grades 3-7
Category: Comics & Graphic Novels
Published: Jul 29, 2014
Publisher: Scholastic Inc.
Seller: Scholastic Inc.
Print Length: 240 Pages
Language: English