East Meets West: A Collision of Medicines
Jerry Rankin PhD DOM
This book can be downloaded and read in Apple Books on your Mac or iOS device.
Description
East Meets West: A Collision of Medicines is a guide to the theories and practices behind Oriental medicine. Written in easy to read language that is not peppered with foreign terms, this book breaks down the practice of Eastern medicine into easily digestible bites anyone can understand. The book covers the following issues:
-How drug companies "spin" data
-What drives drugs over herbs
-Alternative therapies that outperform conventional treatments
-Medicinal diets that actually treat disease
-Exercises that elevate your immune system
-Secret Eastern practices that increase your lifespan
The book begins with the politics of medicine and how we in the West suffer because of the power structure that has taken over Western medicine. This power structure relies solely on the experimental method to "prove" the effectiveness of drugs and treatments. This method leaves out a critical factor that taints the results of all its data. That critical factor is the existence of the energetic nature of the human body - a fact accepted by Eastern medicine for thousands of years. The book continues with a description of how the Oriental mind sees the world and how this view can be very beneficial to medical treatment. In fact, the Eastern view of the world and of the human body allows the Doctor of Oriental medicine to successfully treat diseases that conventional western medicine cannot. This alternative view of the body is described in detail with interesting illustrations to drive the points home.
Eastern medicine is then described using illustrations and charts to outline the main ideas that separate Eastern and Western medicine. Dr. Rankin explains the examination and treatment processes of Oriental medicine in detail. He explains your specific diagnosis and how it affects your organs. Eastern medicine focuses on the body's energetic systems in relationship to the internal organs. Not only do the organs need to be balanced, but we need to be in harmony with our environment and the entirety of nature.
In Chapter two, Dr. Rankin describes the more concrete aspects of Oriental medicine; treatment techniques. He lists all the therapies available to the Doctor of Oriental medicine and provides details on how they are done. A typical treatment is described along with a patient's do's and don'ts prior to and after treatment. The effectiveness of these treatments and the handling of serious diseases is provided.
Chapter three is on wellness. Dr. Rankin describes in detail how to stay well and avoid disease. All information is uniquely from an Oriental medicine point of view. He goes into diet, detox, meditation, exercises, mental and spiritual stimulation, supplements and a recommended daily schedule to stay healthy. This chapter ends with commonly asked questions about Oriental medicine and gives detailed answers to these questions.
Chapter four goes into great detail about meditation and exercise. It provides the reader with meditations they can do on their own to lower blood pressure and center themselves to feel more relaxed and in control. There are over two hundred photos of the author demonstrating formally secret exercises designed to build internal strength and lengthen life.
The appendices round out the book with information on different styles of Oriental medicine, Energy medicine, the Chakra system, some historical perspective on Oriental medicine, medicinal diets and a sample four day fast for rapid detoxing. A lengthy glossary is included.
Overall, East Meets West: A Collision of Medicines provides the reader with a thorough guide through the foreign land of Oriental medicine from the viewpoint of Western eyes. It makes Eastern thought understandable and a trip to the acupuncturist much more inviting, even appealing.
Screenshots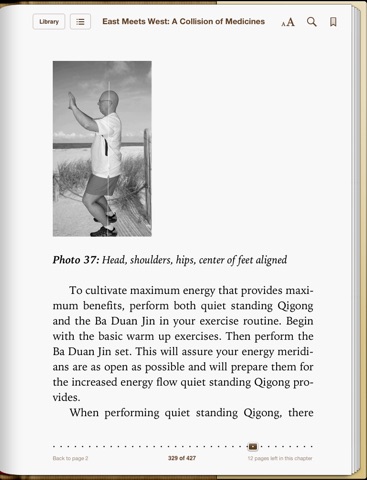 View in iTunes
$5.99

Category:

Medical

Published:

Mar 17, 2013

Publisher:

Magic Light Press

Seller:

Jevgenij Smirnov

Print Length:

359 Pages

Language:

English
More by Jerry Rankin PhD DOM