El Fuzzy
Cambio de la comprensión de la ADD, ADHD y dislexia
Mark Wood
This book can be downloaded and read in iBooks on your Mac or iOS device.
Description
Cambio de la comprensión de la ADD, ADHD y dislexia.

Este libro se esfuerza por cambiar el entendimiento común de ADD, ADHD y dislexia. 
El autor propone que la mayoría de las personas con ADD, ADHD y dislexia - ver estática. Como resultado de esta estática que hay una oportunidad para diagnosticar a las personas con dislexia, ADD y ADHD a una edad muy temprana. El libro también explica cómo se puede ayudar a definir el color específico estática que una persona ve lo que los lentes polarizados se pueden asegurar para ayudar a eliminar la estática en la mayoría de las personas. También se examina cómo quitar parte de la estática a través de minerales, y el proceso de cómo las personas con dislexia ADD y ADHD pueden bajar a un pensamiento a la vez (las personas con dislexia y ADD / ADHD puede pensar en tres separados y distintos cosas al mismo tiempo.)

Esta versión funciona en el iPod, iPhone y iPad
Screenshots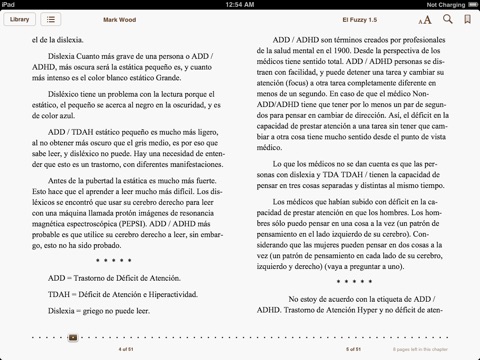 Customer Reviews
Looking at Dyslexia through Rose colored Glasses
I was lucky enough to read a preview copy of this book. Having suffered from Dyslexia my entire life, and spending said life trying to conquer this through Western Medicine, as well as hacking my brain, the only thing that worked was the theory presented in this book. I do see the Fuzzy's, and have had my glasses & contacts tinted pink, which helps me see the words the way they are written. Truly a revolutionary theory and practice from a highly intelligent man, who also lives life with the same issues he writes about.

Definitely give this book a chance if you have Dyslexia (and/or ADHD/ADD).
WOW!
I did't realize that I saw static, and most that people don't. This book was so helpful, and had a lot of useful information. I fond out what color static that I see.
She's so much calmer.
I have a 5 year old girl that was bouncing off the wall. I was franticly looking though the book store, and I found this book. I asked my daughter if she see's static, and she said she did. I downloaded this book, and found out her color. Hear grades improved, and she's now manageable. This book is a GOD send.
View in iTunes
$2.99

Category:

Psychology

Published:

Sep 05, 2012

Publisher:

Poofy Hair Productions

Seller:

Mark Wood

Print Length:

34 Pages

Language:

Spanish