Email
The MacSparky Field Guides - Learn the Best Tools and Workflows to Tame Your Email
David Sparks
This book is available for download with iBooks on your Mac or iOS device. Multi-touch books can be read with iBooks on your Mac or iOS device. Books with interactive features may work best on an iOS device. iBooks on your Mac requires OS X 10.9 or later.
Description
This book tackles your over-stuffed inbox. The Email Field Guide covers both why email has become such a problem for everyone and how to manage it more effectively. The book was built entirely in iBooks Author and features a gorgeous craftsman-inspired design. There are 36 screencasts, 8 audio interviews, over 46,000 words, and other rich-media assets to help you become the boss of your email. The material is accessible to beginners and power users alike with a thoughtful, fun, and systematic approach to managing your email.

Chapters include:
1. The Email Problem
What is it about email and why does it make us crazy? This problem of overwhelming mail isn't new. It has existed a long time but the digital age makes it worse, exponentially.

2. Tactical Email
This chapter explains some of the best practices for managing email from any platform. Topics include inbox management, email bankruptcy, best practices for processing your inbox including a detailed workflow, email notifications, reply write order, best practices for Cc: and Bcc: email, how and when to Reply All, creating useful subject lines, inline replies, email signatures, and automated replies.

3. How Email Works
If you want a leg up against email, you need to understand how it ticks. This chapter explains in plain language the basics of most email technologies including POP, IMAP, iCloud, Gmail, and Microsoft Exchange. This chapter also explains the most common email settings and how they work. Finally, this chapter describes some third party services that use these email technologies to help you manage your email better.

4. Apple Mail
Apple's own email application is the most popular email client for the Mac, iPad, and iPhone. There is a lot of power under the hood in Apple Mail and this chapter explains how to get the most from Apple Mail on the Mac, iPad, and iPhone including set-up, sending, receiving, filing, keyboard shortcuts, managing email, VIPs, smart mailboxes, mail rules, automation, Apple Mail plug-ins, and much more.

5. Gmail
Gmail has some truly unique features. Learn how to use Gmail features like inbox categories, labels, stars, keyboard shortcuts, server-side mail rules, and other power user tips to get the most from Gmail.

6. Other Mail Clients
This chapter includes a survey of other mail clients for the Mac, iPad, and iPhone with explanations of their best features and ideal uses.

7. Fighting Spam
Learn about why you get so much Spam and the best tools and workflows to get rid of it.

8. Email Security
Security should be important to every email users. This chapter explains about common email security issues including appropriate passwords, 2-factor authentication, phishing attacks, and email encryption. This chapter also demonstrates how to encrypt PDFs before sending as email attachments.

9. Archiving and Storing Email
As our email libraries grow, we require tools to archive, PDF, and save all or portions of our email. This chapter shows you how.

10. Email Workflows
The author shares an extended explanation of how he manages email. Also, listen to audio interviews of other power users from several walks of life, ranging from surgeons to movie stars, and learn and how they manage email. Interviews include Serenity Caldwell, Rob Corddry, Merlin Mann, Fraser Speirs, Jeff Taekman, Aisha Tyler, David Wain, and Gabe Weatherhead. 

This is the fourth book in the MacSparky Field Guide Series. This book is a large file (1.1 GB) and includes extensive media, screenshots, illustrations, audio interviews, and nearly 1.5 hours of video screencasts. 
What's New in Version 1.2
* Added additional Gmail backup solution, Backupify * Added Google Takeout to archiving chapter. * Added new section on Apple Mail Drop. * Added new section and screencast on the Apple Mail Markup Extension. * Added new section and screencast on minimizing draft messages on iPad and iPhone. * Updated section on Swipe Options based on iOS 8 improvements. * Added an explanation of Apple Mail Handoff. * Added a new section for VIP Threads in Apple Mail. * Added KeyRocket for Gmail Chrome extension * Added bacn remover Unroll.me * Updated for Microsoft Outlook 2014 * I topped the coolant and wiper fluid
Screenshots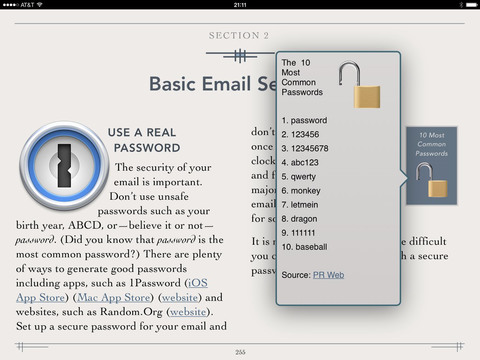 Customer Reviews
Great way to brainstorm email management
This book cannot fix your email problem…only you can do that. What this book does is provide a tremendous amount of information to help you troubleshoot and stimulate you to review your email systems. I highly recommend this book and Mr. Sparks' other field guides for that matter. They are all exceptionally well done!
The Glossary does not display properly
I have two iPads (both with a retina display - 3rd and 5th generation), and neither one displays the Glossary properly. Both show only one entry for the letter Y, and it's in a foreign language. There are no other letters or entries in the Glossary.

I have repeatedly re-downloaded the book from iTunes, but no difference. The rest of the book works properly, and is very well done.

Any suggestions David? 5+ Stars otherwise.
An indispensable tool
What an outstanding book, full of truly practical, useful content. I'm a fast reader, but this book is taking me FOREVER to get through, not only because I refuse to skip a single of the fantastic screencasts, but because about every third page I have to stop reading, go into my Mac or one of my "iThingies" and make changes to settings or set up email rules. There's not a wasted word in this book, and there are nuggets of humor in there for those paying attention ("pork chops & applesauce" . . . I literally laughed out loud). I only wish he had written this book sooner; no telling how much time I could've saved in dealing with the masses of email I get. Another home run for Mr. Sparks.
Other Books in This Series
View in iTunes
$9.99

Category:

Computers

Published:

Nov 12, 2013

Publisher:

David Sparks

Seller:

David Sparks

Print Length:

323 Pages

Language:

English

Series:

The MacSparky Field Guides

Version:

1.2