Ensign, May 2013
The Church of Jesus Christ of Latter-day Saints
This book can be downloaded and read in iBooks on your Mac or iOS device.
Description
"Contents
Saturday Morning Session
Welcome to Conference
These Things I Know
A Sure Foundation
We Are Daughters of Our Heavenly Father
The Savior Wants to Forgive
"This Is My Work and Glory"
"Come unto Me"
Saturday Afternoon Session
The Sustaining of Church Officers
Church Auditing Department Report, 2012
Statistical Report, 2012
For Peace at Home
Personal Peace: The Reward of Righteousness
The Lord's Way
The Gospel to All the World
We Believe in Being Chaste
Catch the Wave
Priesthood Session
Stand Strong in Holy Places
The Power of the Priesthood in the Boy
Your Sacred Duty to Minister
Four Titles
We Are One
Come, All Ye Sons of God
Sunday Morning Session
The Hope of God's Light
It's a Miracle
The Words We Speak
Marriage: Watch and Learn
Obedience to Law Is Liberty
Obedience Brings Blessings
Sunday Afternoon Session
"Lord, I Believe"
Followers of Christ
The Father and the Son
The Home: The School of Life
Being Accepted of the Lord
Beautiful Mornings
Redemption
Until We Meet Again
General Young Women Meeting
Your Holy Places
When You Save a Girl, You Save Generations
Be Not Moved!
Your Wonderful Journey Home
General Authorities of The Church of Jesus Christ of Latter-day Saints
Summary for the 183rd Annual General Conference
News of the Church
183rd General Conference Includes New Young Women General Presidency
The Church Needs Senior Couples' Maturity and Experience
New Online Tools Help Preserve and Share Family Photos and Memories
Family History Changes Hearts
Elder Eldred G. Smith Dies at Age 106
Elder Ulisses Soares
Elder Edward Dube
Elder S. Gifford Nielsen
Elder Arnulfo Valenzuela
Elder Timothy J. Dyches
Elder Randy D. Funk
Elder Kevin S. Hamilton
Elder Adrián Ochoa
Elder Terence M. Vinson
Bonnie L. Oscarson
Carol F. McConkie
Neill F. Marriott"
Screenshots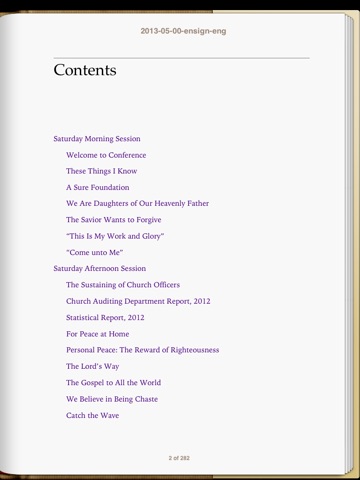 View in iTunes
Free

Category:

Christianity

Published:

May 07, 2013

Publisher:

The Church of Jesus Christ of Latter-day

Seller:

The Church of Jesus Christ of Latter-day

Print Length:

328 Pages

Language:

English
More by The Church of Jesus Christ of Latter-day Saints