Faithful Elephants
A True Story of Animals, People and War
Ted Lewin y Yukio Tsuchiya
Este libro se puede descargar y leer en iBooks desde tu Mac o dispositivo iOS.
Descripción
A sobering lesson about the horrors of war is depicted through the fate of three elephants at the Ueno Zoo in Tokyo during World War II.
De Publishers Weekly
05/08/1988 –
A zookeeper narrates the story of how there came to be graves at the zoo: when Tokyo was showered with bombs during the bleak days of World War II, the authorities feared that if the zoo were destroyed, the animals might accidentally be freed and wreak havoc on the city. So they decided that all the zoo animals would be killed. But the elephants wouldn't eat the poisonous food they were offered, and the needles in the syringes containing poison broke before they could penetrate the elephants' rough skin. So the elephants were starved to death, a slow and painful process watched by the zookeepers who loved them. An upsetting story for children or adults, this powerfully conveys the deadly side effects of war. Lewin's watercolors show the massive gray bodies in their state of decline; it is impossible not to appreciate the heartbreak of the animals' plight. But this is a book that provokes questions about the nature of death and dying (children may read into this that some may be killed for the greater good of all), and so should be chosen with care. All ages.
Capturas de pantalla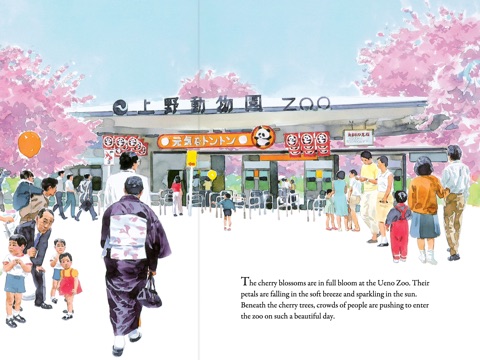 Ver en iTunes
$4.99

Nivel: Cursos: 5-7
Categoría: Animales
Publicación: 30/10/1997
Editorial: Houghton Mifflin Harcourt
Vendedor: Houghton Mifflin Harcourt Publishing Company
Páginas impresas: 32 páginas
Idioma: Inglés
Más de Ted Lewin & Yukio Tsuchiya