Farmyard Beat
Lindsey Craig & Marc Brown
This book can be downloaded and read in iBooks on your Mac or iOS device.
Description
Author Lindsey Craig teams up with Arthur creator and bestselling artist Marc Brown in a toe-tapping farmyard dance-a-thon—perfect for toddler and preschooler read-alouds. As soon as the sun goes down, the animals are up! ("Sheep can't sleep. Sheep can't sleep. Sheep can't sleep 'cause they got that beat!") Before long, there's a giant farmyard dance party, complete with funny animal sounds. But what happens when all the racket wakes up Farmer Sue? Here's a colorful bedtime story that begs to be read aloud.

From the Hardcover edition.
From Publishers Weekly
Apr 11, 2011 –
Craig and Brown are again in playful sync in this rhythmic companion to Dancing Feet! (2010). Reviving the cut-paper collage style he debuted in that book, Brown demonstrates that he's mastered the medium. Hand-painted papers cut into basic geometric shapes create animals and scenes composed of a boldly contrasting amalgam of textures and patterns; his palette incorporates soft pastels, earth tones, and primary colors set against deeply hued, striped backdrops. Using bouncy repetition, Craig explains that farm animals are too busy dancing to sleep: "Chicks can't sleep./ Chicks can't sleep./ Chicks can't sleep 'cause they got that beat!" Each species has its own beat and rhyme scheme, which usually relates to the sound the animal makes, and also leads into whatever animal is next seen busting a move ("Puuurrrr! Mee-ooow!/ Puuurrrr! Mee-ooow!/ All that racket wakes up... Cow!"). Although all the animals (as well as pigtailed Farmer Sue, who comes out to investigate all the noise) eventually "fall in a heap! Asleep!" the emphasis rests squarely on the joy of exuberant, slightly mischievous dancing. A calming bedtime book this is not. Ages 1 4.
Screenshots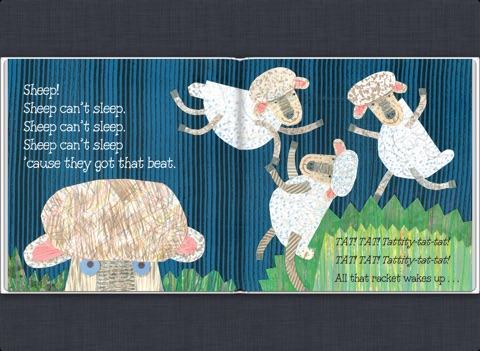 View in iTunes
$4.99

Category: Animals
Published: Jun 14, 2011
Publisher: Random House Children's Books
Seller: Penguin Random House LLC
Print Length: 32 Pages
Language: English
More by Lindsey Craig & Marc Brown